With chaotic sounds echoing over James Sloan Jr.'s cellphone line, the steady voice of American Medical Response dispatcher David Burnside on the other end directed Sloan's wife, Donneka, to push.
Six minutes and 18 seconds later, 6-pound, 10-ounce Parker Rae Sloan was delivered into the world.
"We had gone to the doctor the day before, and they told us we had a week or so left, so this was my first day off," James Sloan said. "At around 6 a.m., she went to the restroom. I then hear her yell my name, and as soon as I walk into the bathroom, I hear her water break."
Donneka Sloan, 30, started to feel contractions, so James helped her into the bathtub in their China Spring home and called 911. They were connected to Burnside, an AMR dispatcher since June. With a calming demeanor carrying through his voice, Burnside walked James Sloan through how to deliver the family's newest addition.
"I was freaking out. I was panicking," Donneka Sloan said. "The phone was sitting on the toilet on speaker phone, so I recognize David's voice now, but he stayed so calm the whole time. I remember him saying 'Ma'am, can you push?' and me saying I didn't want to."
"The way he talked to me and coached me through, he helped me stay calm," James Sloan said.
The Sloans said they recognized Burnside's voice when they met him for the first time Monday at AMR headquarters, more than two months after the early-morning delivery.
Burnside was recognized Jan. 8 with AMR's stork pin, an honor given to dispatchers who assists with the delivery of a baby over the telephone. Burnside was the first AMR dispatcher in Waco to receive the honor.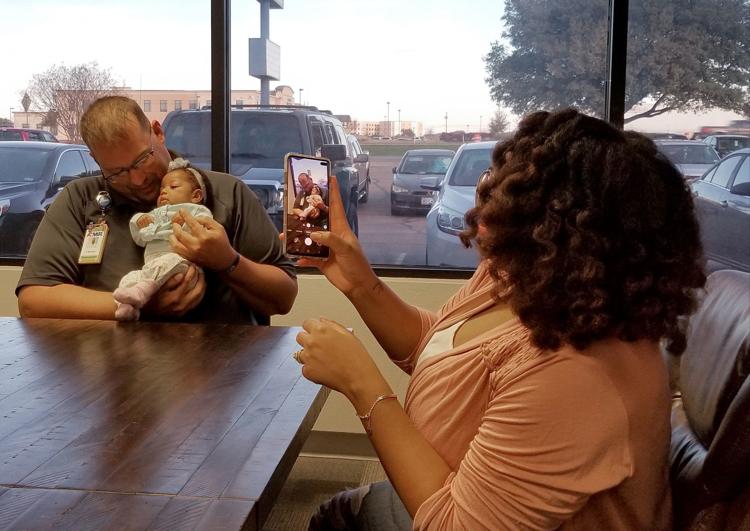 'First one in Waco'
"For David to get that pin, it was just amazing, because everyone wanted to be the first one in Waco," AMR Communications Supervisor Ragan Young said. "The training that he used and our protocols that we use are very straight forward, but it takes the person to be able to get through it and remain calm and David did exactly that."
James Sloan, a 33-year-old rookie Waco police officer, said Burnside's instructions helped him focus on the successful delivery of his daughter in what he admitted was a stressful and overwhelming situation.
"It means a lot to know we have people here in Waco that are very professional and can help even if they aren't there," James Sloan said. "It really puts things into perspective for you."
The Sloans, with with their 5-year-old daughter, Kennedy, thanked Burnside and the AMR team for their dedication. Donneka Sloan said she is happy the ordeal had a happy outcome.
"This was a crazy experience to the point where sometimes it keeps me up at night," Donneka Sloan said. "It could have gone real bad considering my pregnancy and the high-risk stuff I had to go through, so it was a real calming thing to have someone to help us like David did."
Be the first to know
Get local news delivered to your inbox!