Law enforcement colleagues and family remembered the smile and blue eyes of fallen Deputy Matt Jones at emotional memorial tribute to the Falls County Sheriff's Office K-9 handler who died in the line of duty last week.
"If he could pull my leg, he would," Falls County Sheriff Ricky Scaman said during a eulogy as part of a service that drew officers from around the state. "He enjoyed life, enjoyed every minute of it. He enjoyed his family, enjoyed his friends, he enjoyed his job. He enjoyed every minute of it and lived life to the fullest.
"Rest easy, my friend. You served us well. Now it's our turn. We will take it from here," Scaman said, fighting back tears.
A crowd of 1,400 people in First Woodway Baptist Church listened to fond memories, jovial encounters and stories about Jones' dedication to the people of Falls County during his four years on the job.
Jones died last week at the age of 30 while assisting a motorist on the side of northbound Highway 6, near Falls County Road 190. A car hydroplaned off a wet roadway, striking him and Riesel Police Chief Danny Krumnow, who was seriously injured.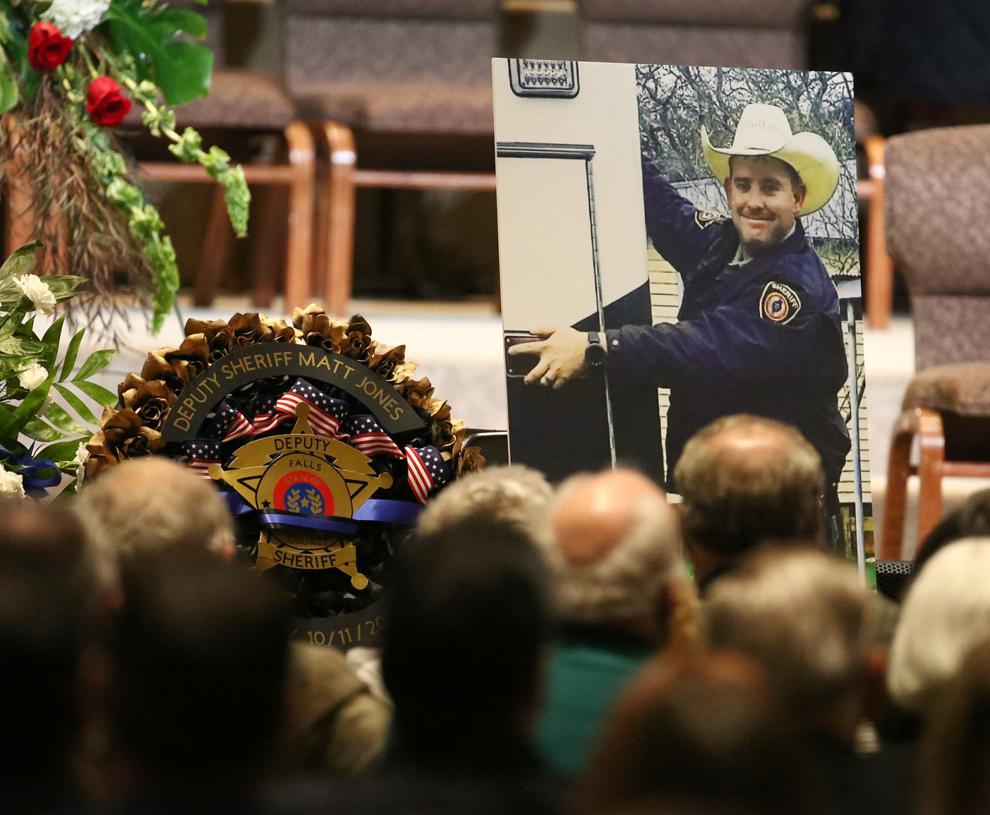 "Sometimes things just don't go the way they are supposed to," said Dr. John Babler, a board member with the Texas Line of Duty Death Task Force who officiated the memorial. "Kids aren't supposed to die first. Grandkids aren't supposed to die first. Wives aren't supposed to lose husbands when they are 30 years old. It's not supposed to happen."
Jones' wife, Courtney, sat with family members including Jones' parents, Ronnie and Debbie Jones. The deputy's basset hound, Flash, was also in attendance with family members to bid farewell to his owner.
Scaman and his chief deputy, W. Derrick Johnson, presented badges to the family, and Waco Police Chief Ryan Holt presented honor flags.
Waco police officers attended the service with their service dogs. Each dog let out a bark to show support for Jones' police dog, Thor, who was not injured in the fatal crash last week.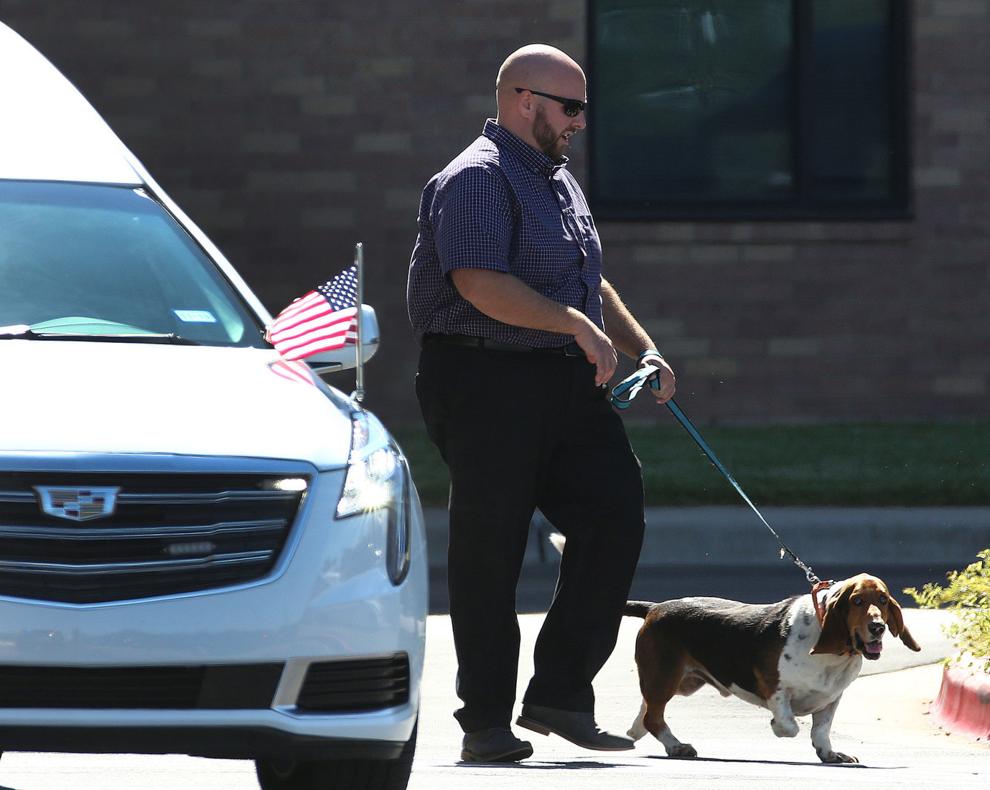 Representatives of law enforcement agencies from across the state and members of the Texas Department of Public Safety Honor Guard also paid respects to Jones.
Although he had only briefly met Jones, Lorena Police Chief Tom Dickson said he has known Scaman for 14 years. He said Lorena officers worked in Falls County the Sunday after Jones' death, and he wanted to attend the funeral to support his longtime friend.
"We've not only known Sheriff Scaman, but we know the deputies over in Falls County," Dickson said. "This is something that every chief or agency head constantly worries about — one of your officers getting hurt or killed, and the thought is something you wake up with and go to bed thinking about."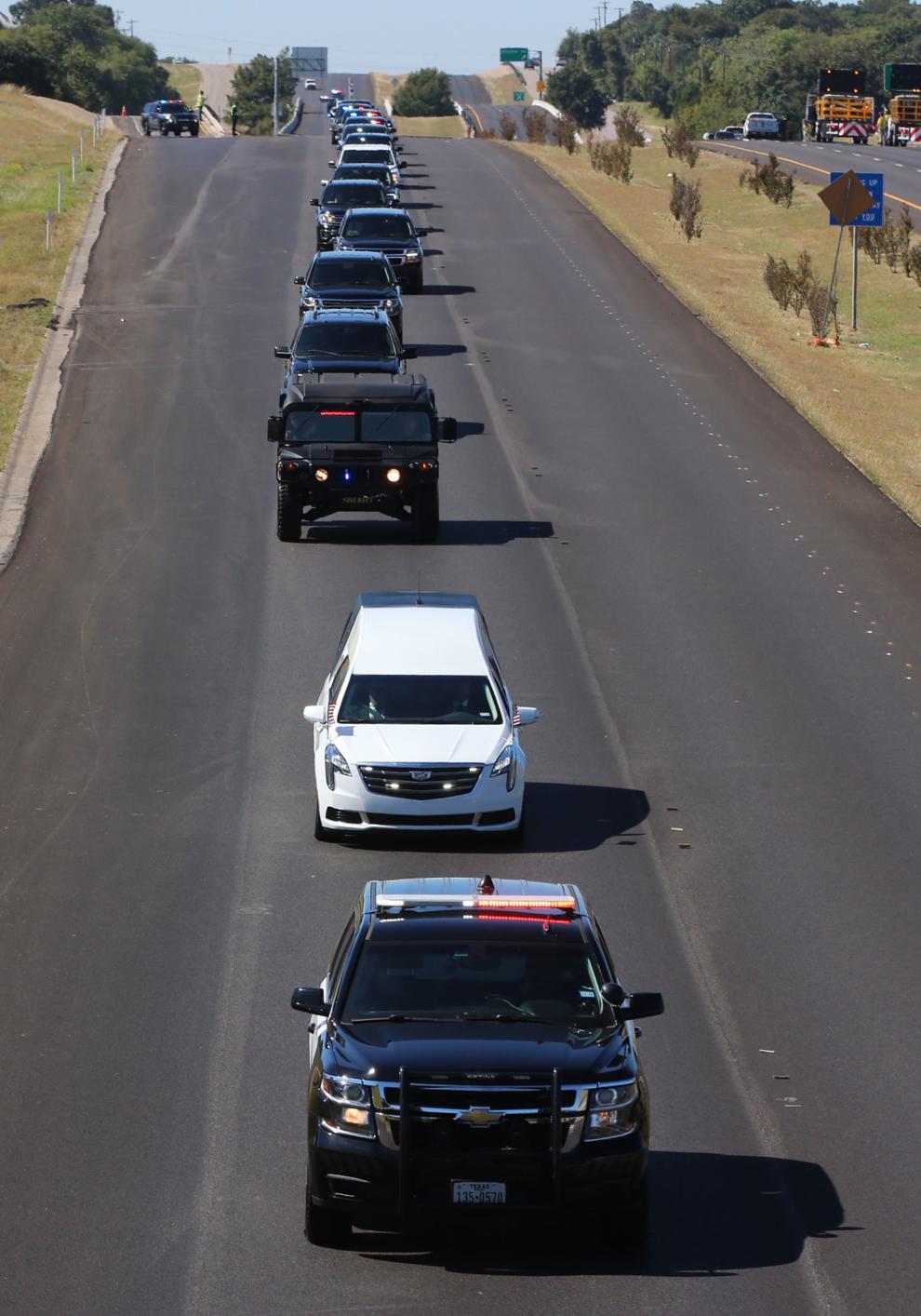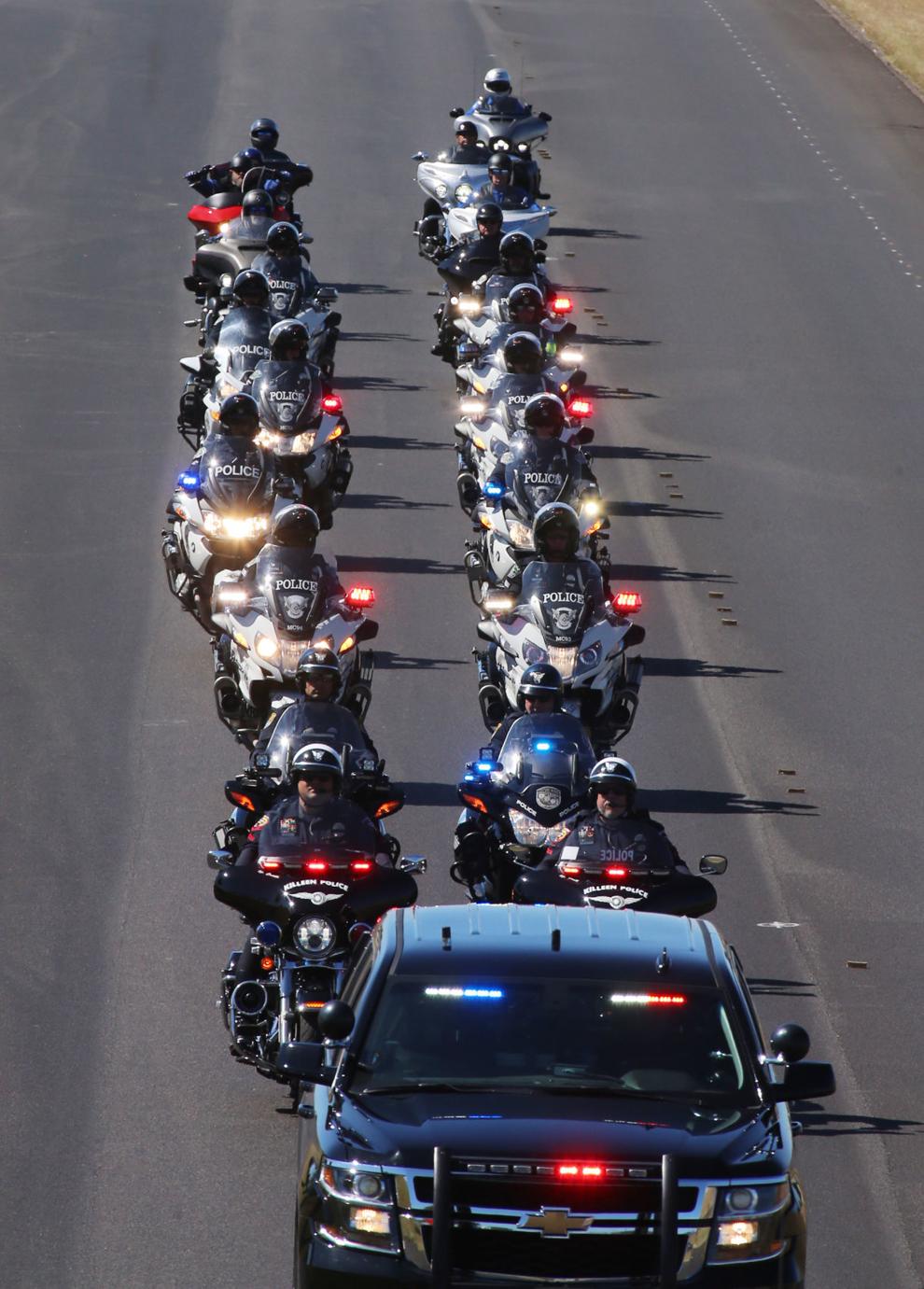 After the memorial, mourners followed Deputy Jones' body to Gerald Cemetery, about 16 miles north of Waco, for graveside services. Officers gave a 21-gun salute, played taps, and made a last call to Jones over a loudspeaker.
A helicopter flyover accompanied bagpipes playing "Amazing Grace," and a lone bagpiper walked off to close the ceremony.
"This is something you never want to happen," Dickson said. "It is certainly not pleasant, but these men and women go to work every day to help."
Krumnow hospitalized
The Riesel chief, meanwhile, remains hospitalized. Krumnow suffered several broken ribs, a dislocated knee and a lacerated spleen, which was removed the night of the crash.
His condition is beginning to stabilize, and doctors anticipate being able to perform surgery on his ribs Saturday, Riesel police Sgt. Ryan Dieterich said.
The department and Krumnow family appreciate the community's support and prayers for the chief, Dieterich said.
"This will be an uphill battle which he will prevail," he said.