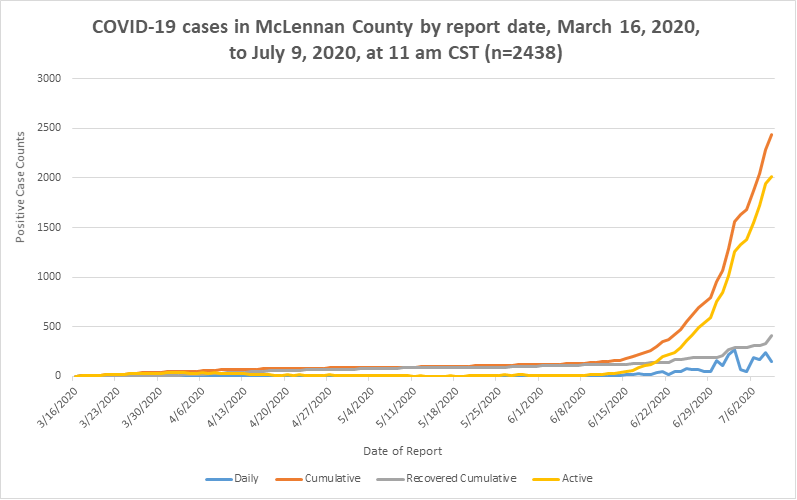 The 15th person in McLennan County whose death was attributed to COVID-19 is also the youngest.
The death of the patient, a 41-year-old Black woman, was announced Thursday afternoon, a day after the county's 14th COVID-19 death, which in turn was announced a day after the county's 12th and 13th deaths attributed to the disease.
Also Thursday, Texas Gov. Greg Abbott reinstated a ban on elective surgeries at hospitals through much of the state, including in McLennan, Bosque, Falls, Hill and Limestone counties, in an effort to preserve medical resources while the demands of COVID-19 treatment tax health care systems. In recent weeks, Abbott had already reinstated the requirement around the state's largest cities and in hard-hit South Texas counties that hospitals "postpone surgeries and procedures that are not immediately, medically necessary … as determined by the patient's physician"
In McLennan County, 53 of the local hospitals' 54 previously licensed intensive care unit beds were occupied Thursday, but local officials have said the hospitals are equipped to set up more ICU space in their facilities in a matter of hours. A total of 45 COVID-19 patients were in local hospitals, including 10 on ventilators.
Waco Mayor Kyle Deaver said the local rise in occupied beds has happened faster than he expected, but both Ascension Providence and Baylor Scott & White Hillcrest are prepared to convert their other beds into ICU beds.
"It's not a dire situation at the hospital yet, but we know the hospitalizations and ICU commitments lag behind new cases by seven to 14 days," Deaver said. "So, that's a concern."
Deaver said the rapid increase in the number of COVID-19-related deaths is concerning, as is an increasing number of older people testing positive for the virus.
"It's the older people that are more likely to end up in the ICUs, and it is more likely to be fatal," he said.
The Waco-McLennan County Public Health District confirmed 155 more residents had tested positive by Thursday. Six are 10 or younger, 17 are between the ages of 11 and 19, 36 are between 20 and 29, 22 are between 30 and 39, 17 are between 40 and 49, 21 are between 50 and 59, and 35 are 60 or older, with one person's age is unreported.
The 155 new cases bring the total to 2,438, with 2,010 active cases, 413 residents who have recovered and 15 who have died. Residents in their 20s make up about a quarter of the 2,438 with confirmed cases, with the older age groups not far behind that share. All of those who have died have been 41 or older. Thursday's press release on the 15th fatality does not specify if the woman died at a McLennan County hospital.
People associated with 13 group living or assisted living facilities in the county have tested positive, but the health district has not disclosed how many cases are in each establishment.
The county's positivity rate, calculated by dividing the number of cases by the number of tests conducted, stood at 21% Tuesday, on a rolling 7-day average basis.
In neighboring Bell County, 104 more people tested positive as of Thursday, bringing the county's total to 1,886. 13 people have died as a result. The county, which has a higher population than McLennan County, has a positivity rate of 6.8%.
The Texas Department of State Health Services announced 9,782 new cases statewide Thursday, bringing the total to 230,346, with 109,102 active. The state also announced 105 more deaths Thursday, bringing the total to 2,918.
On Wednesday, Deaver announced the Waco Police Department would start enforcing a statewide mask order Abbott approved last week. It requires anyone 10 and older to wear a covering over their mouth and nose when in public places, businesses and outdoors when it is not possible to maintain 6 feet of separation from others.
"I hope that, as I said at the press conference (on Wednesday), all we have to do is issue warnings and talk to folks and help educate them on why we need to do this," the mayor said. "But with the numbers we've got, we'll do what we have to do."
Deaver said the governor's orders requiring masks and limiting elective surgeries will make more of a difference than a local order could on its own.
"I think the statewide measures are really important, and I appreciate that the governor put that in place," he said. "I think based on all the evidence we've seen from other jurisdictions that have put mask orders in place, it will make a difference."
The Waco-McLennan County Public Health District is monitoring 20 COVID-19 patients for contact tracing, and the Texas Department of State Health Services is monitoring 500 McLennan County residents.
Health district spokesperson Kelly Craine said the statewide mask order's effect on the overall number of new cases will likely be gradual because of the virus' exponential spread in recent weeks.
"It's going to take until the middle of July to start taking effect," Craine said. "We have to be patient. It's widespread. It's everywhere."
Out of 2,438 McLennan County residents who have tested positive, 66% are Hispanic, 20% are non-Hispanic white and 10% are non-Hispanic Black. Of the 15 people who have who have died of the virus locally, five have been listed as Black, seven have been listed as Hispanic and three have been listed as white.
Concerned about COVID-19?
Sign up now to get the most recent coronavirus headlines and other important local and national news sent to your email inbox daily.