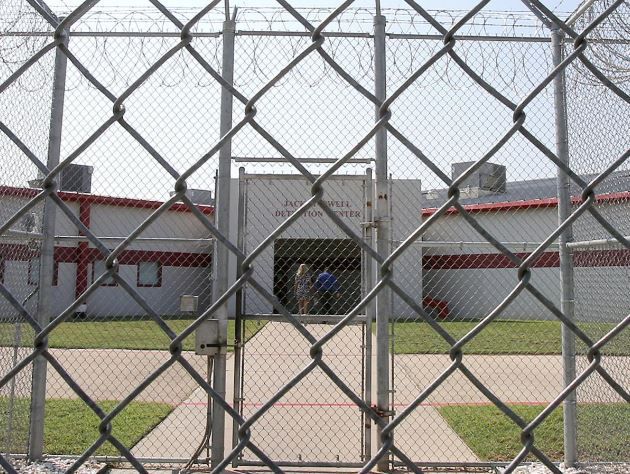 The Jack Harwell Detention Center has failed a state inspection for the third time in seven months, at a time when McLennan County officials are considering taking the facility back from its private operators.
A report on a recent Texas Commission on Jail Standards inspection sent to the county Tuesday cites Harwell jail staff in three areas of noncompliance, echoing inspection results in August and November. Inspectors found staff failed to apply identification procedures for inmates, used inappropriate screening procedures for mental health and suicide concerns, and did not adequately observe inmates who were aggressive or mentally ill or who showed "bizarre behavior."
"Whenever we have facilities that the areas of noncompliance are being repeated, that is cause for concern," commission Executive Director Brandon Wood said. "The facility must create a corrective plan of action in the next 30 days once they receive the notice of noncompliance. Then we will review that plan to ensure it addresses all of the concerns we identified."
In August, jail inspectors cited Jack Harwell for conducting face-to-face checks of general-population inmates at intervals longer than the 60-minute maximum and for conducting face-to-face checks of higher-risk inmates at intervals longer than the 30-minute maximum. The August inspection also found jailers were not in their assigned wings, in violation of staffing agreements, according to the inspection report.
In November, inspectors cited Harwell for not having enough jailers to comply with state law. The minimum is 1 jailer per 48 inmates on each floor.
LaSalle Corrections, the company the county hires to operate the jail adjacent to the county-run McLennan County Jail, submitted corrective plans after the previous inspection failures. The most recent failure marks the fifth in the past six years.
"We will be reviewing their file as a part of their normal risk assessment process and be making a decision as to what action is going to be required," Wood said of Harwell. "We will review their compliance status and determine if they will be placed on the agenda of the commission of jail standards and see if possible administrative enforcement action needs to be taken."
LaSalle did not respond to messages seeking comment Tuesday. Sheriff Parnell McNamara declined to comment on the Harwell inspection.
As of midnight Tuesday, Harwell housed 732 inmates, including 250 federal inmates, 335 McLennan County inmates and 147 from other agencies. McLennan County Jail housed 770 inmates.
McLennan County officials said McLennan County Jail was also inspected late last week. The inspection report was not made public by Tuesday, but officials said the jail passed inspection.
The commission has the option of asking Harwell jail administrators to address the board during its next quarterly meeting, scheduled for May in Austin. Enforcement action, though none has been proposed, could include the commission issuing a remedial order, requiring the facility to comply, vacate portions of the facility or reduce jail population, Wood said.
Amid the trio of recent failed inspections, McLennan County leaders are continuing to contemplate taking over operation of the Harwell facility. Officials with the sheriff's office, which runs the McLennan County Jail, presented a plan to commissioners last week proposing to use Harwell as a base for pre-release reintegration programs and services for inmates with mental health or substance abuse treatment needs.
County Judge Scott Felton said commissioners are disappointed by Harwell's recent compliance issues and that they will take the issues into account as they consider whether to take over operation of the jail.
"We entrust them to take care of our inmates as well as others that come into the county, but yes this would be something that we would look at," Felton said. "We are currently trying to calculate the numbers and how we would administratively handle something like that. In the next month or so, we will be bringing a lot of that information into court."
The county stands to save money by reducing recidivism, and moving services to Harwell could help services expand, sheriff's office jail administrator Capt. Ricky Armstrong said last week. The sheriff's office also presented an analysis to commissioners in September showing the county could save up to $1 million in annual costs by ending its contract with LaSalle Corrections and taking over Harwell from the for-profit company.
The analysis came after the cost to hire LaSalle to run the county-owned facility increased from $6 million to $8.1 million per year.
Felton said a decision would likely have to be reached by July to notify LaSalle before the end of the county's budget year in October and to comply with contractual requirements.
"For many years, they went without any problems, but it seems like in this last year we've had several things pop up that are obviously problems," Felton said. "We will take all that into consideration moving forward."
Limestone County Jail, also operated by LaSalle, failed an inspection in August, according to jail commission reports. Violations found in Limestone County Jail include jailers exceeding the required 30-minute intervals for face-to-face observations of inmates who are "assaultive, potentially suicidal, mentally ill" or showing "bizarre behavior," according to the jail standards commission.