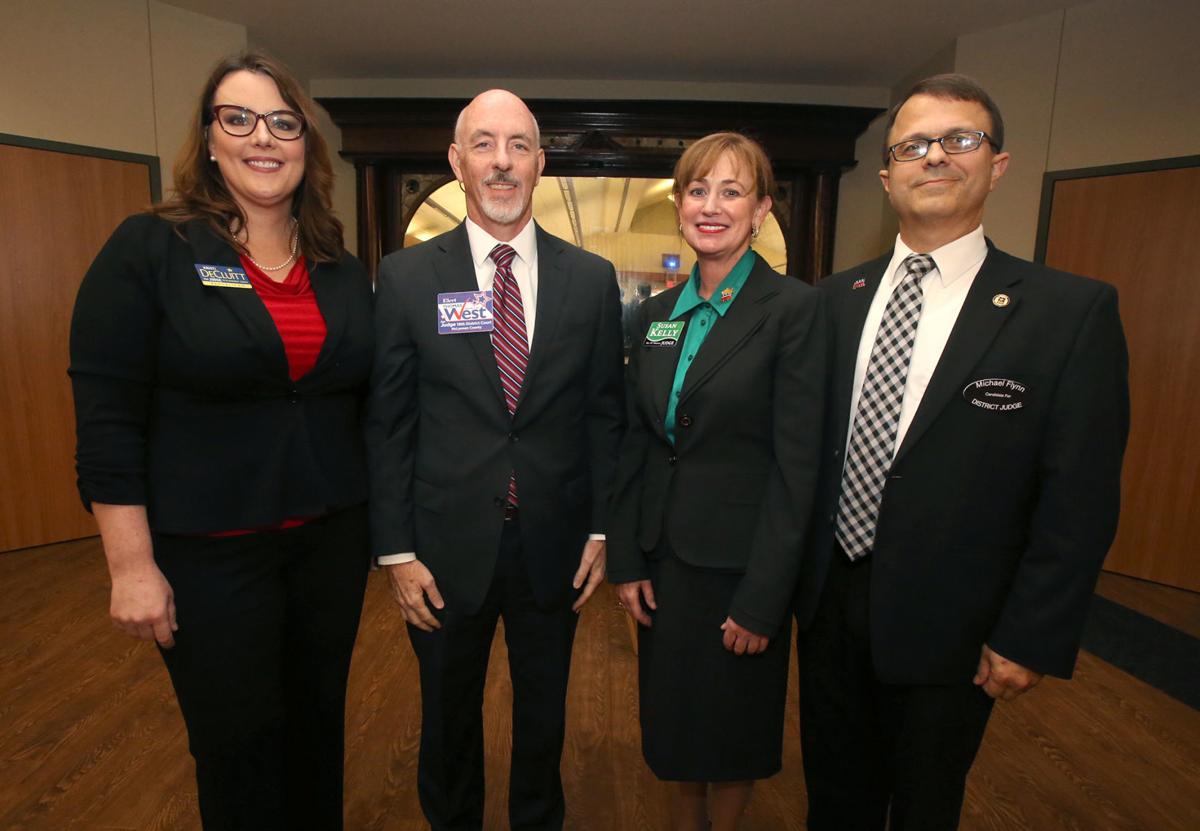 Four Republican candidates vying to succeed the retiring 19th State District Judge Ralph Strother touted their experience and willingness to serve Thursday, with all pledging to be fair, hard-working and even-handed.
Kristi DeCluitt, Michael Flynn, Susan Kelly and Thomas West extolled their conservative, community-minded virtues at a McLennan County Republican Club lunch.
So far, no Democratic candidates have announced plans to run for the criminal court bench, which Strother has presided over since his appointment by former Gov. George W. Bush in 1999. Strother reluctantly is retiring at the end of next year because he turned 75, the mandatory retirement age for state district judges.
DeCluitt
DeCluitt, 48, a Waco assistant city attorney and former justice of the peace, said she is uniquely qualified for the job.
"I promise you as judge of the court I will follow the law faithfully," she said. "Everyone in my court will be treated the same. I don't care if you are a doctor, a lawyer or a janitor. You are going to be treated with dignity and respect and your rights will be preserved. And I promise you, I will follow the law, even when it is not popular."
DeCluitt has been an assistant city attorney in Waco since May 2016. Before that she served as McLennan County justice of the peace for Precinct 1, Place 1, from April 2006 to January 2015.
A native of Stratford, north of Amarillo, DeCluitt graduated from West Texas A&M University in 1994. She graduated from the University of Tulsa College of Law and earned a master of laws in health law from the University of Houston Law Center.
She also served as an assistant city attorney in College Station for a year and was a McLennan County assistant district attorney from 2000 to 2006.
Flynn
Flynn, 59, a retired Army lieutenant colonel in the service 34 years, told the crowd he hopes to continue his public service as 19th State District Court judge. He joined the Army in 1983, graduated from Baylor University Law School in 1988 and served as an Army lawyer until 2016, including tours in Bosnia and Iraq.
He served 28 years on active duty representing the government as a Judge Advocate General and six years in the Army Reserve. While he was in the Army Reserve, he became chief of the criminal law division.
"I have been and will be faithful to the law and fair to all," Flynn said. "I have served my country for 34 years and I will continue to serve. I would hope to earn your vote. I don't deserve it. I want to earn it. … I am open-minded and I hope to use the experience I have gathered from practicing in numerous jurisdictions with numerous criminal professionals to bring, like Johnny Appleseed, some good ideas here to help us with some of the issues we face here in McLennan County."
Flynn practiced law in Waco from 1996 to 2001 after he left active duty. He ran unsuccessfully against former Democratic McLennan County District Attorney John Segrest in 1998, winning just less than 40% of the vote. He completed a master of laws degree in 2004 and graduated from the Army War College with a master of strategic studies degree in 2011.
He said he is 12 hours short of earning a master's degree in mental health counseling, which he said will be beneficial as judge.
Kelly
Kelly, 57, a defense attorney and former prosecutor, pledged not to "legislate from the bench" and to hold criminal defendants accountable for their actions.
She said as a former staff attorney for the 10th Court of Appeals, a former award-winning prosecutor and a defense attorney, she has seen the criminal justice system from the top to bottom and wants now to bring her experience to the bench.
She said she consulted with two of her mentors while trying to determine what to say to the crowd Thursday.
"One said, 'Susan, it's not just your experience, it's your vast variety of experience,'" Kelly said. "I have tried over 100 jury trials, I've been in the battlefield. I'm tired. I'm ready to call balls and strikes. I really am. The other mentor said, "Susan, you are perceptive, you are insightful and you are common-sensical.'
"I have confidence, but I also have humility, and I think sometimes you have to be careful. Wearing that robe can give you an ego, and I won't do that. I have commitment to my faith, my family, the future of this community, our great state of Texas and our one and only United States of America," she said.
Kelly was a McLennan County prosecutor from 1992 to 1998 and was named State Arson Prosecutor of the Year, along with former prosecutor Alan Bennett. She also has received state recognition for her work handling child injury cases.
West
West, 54, also is a former prosecutor who said he has been named a Texas Super Lawyer seven times. He said he has been "conservative to the core" his entire life.
"I am here to take care of McLennan County," West said. "I will strictly interpret the law. I will be tough on crime. I'll protect the victims at all costs. I have been battle-tested. I have been through the fire, 120 jury trials. I know how it works. I know how it needs to be improved and I will make the citizens of McLennan County safer. Experience is the difference, but it's the right experience."
West graduated from the University of Mississippi and from the Baylor University School of Law. He worked as a felony prosecutor and misdemeanor chief in the McLennan County District Attorney's Office from May 1991 to November 2000, when he joined the Waco law firm of Dunnam & Dunnam.
He has served as the municipal court prosecutor in Lorena since 2001 and has been associate city judge in Hewitt for two years.
West is certified in criminal law by the Texas Board of Legal Specialization and is a member of the Texas Bar Foundation, the National Association of Criminal Defense Lawyers, the Texas Criminal Defense Lawyers Association and the McLennan County Criminal Defense Lawyers Association.
Be the first to know
Get local news delivered to your inbox!