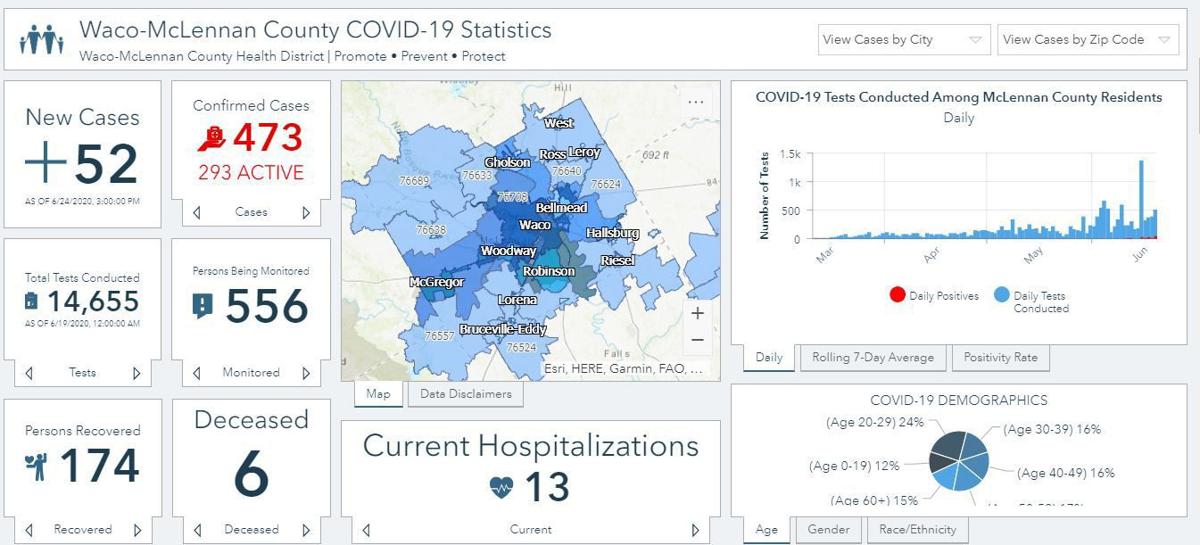 Local leaders stressed the importance of face coverings during a press conference Wednesday as the county reported 52 new COVID-19 cases and a sixth local death attributed to the disease.
The county has recorded 473 cases, which includes 293 residents who are actively sick with the disease. After an initial spike in March, the number of people actively sick had not regularly been more than 10 until recent weeks.
Family Health Center CEO Dr. Jackson Griggs said the county's hospitals currently have "ample capacity" with a total of 96 intensive care unit beds and 441 hospital beds, but the local health care system could be overwhelmed if the spread does not slow down.
"Now is the time for our community to act to prevent a July disaster," Griggs said.
Officials announced Wednesday that a 44-year-old man died at a local hospital Tuesday, bringing the number of deaths attributed to COVID-19 to six. Of the 13 people currently hospitalized in the county, five are on ventilators. Locally, 14,655 tests have been conducted so far.
Statewide, 125,921 COVID-19 cases have been confirmed, and 2,249 Texans have died of the disease. An average of 9.8% of all tests conducted statewide are coming back positive.
Waco Mayor Kyle Deaver Deaver said McLennan County successfully kept the rate of infection low for about three months after reporting the first local cases March 17. The overall case count stayed at less than 100 until May 20, then rose to 200 by June 17, to 300 by Saturday and to more than 400 by Tuesday.
"I am appealing to every person in Central Texas to follow the safety guidelines and the mask order, for the good of our community," Deaver said.
Officials also announced four people who work at the McLennan County Jail have tested positive for COVID-19, and all jail staff and inmates will be tested.
McLennan County Sheriff's Office Maj. Ricky Armstrong said three jailers who work at McLennan County Jail tested positive for COVID-19. One tested positive Tuesday, and two tested positive Wednesday.
A kitchen employee of Trinity Commercial Contractors, which supplies food to McLennan County Jail, also tested positive Friday, Armstrong said. McLennan County Jail and the Jack Harwell Detention Center are connected by the kitchen, but no inmates or staff members at Harwell have tested positive for the virus, Armstrong said.
The process of testing all employees and inmates at both jails as a result of the recent positives will take about 2,100 tests, Armstrong estimated.
A total of 82 inmates were placed in quarantine seven days ago after possible exposure, but none had exhibited symptoms of the illness as of Wednesday.
According to Waco-McLennan County Public Health District spokesperson Kelly Craine, three nursing home staff members — two at Royal Manor and one at Senior Care — tested positive three weeks ago had have since tested negative in follow-up testing.
"The main priority was to make sure all the residents and points of contacts were notified first," Craine said.
Griggs said the health district has identified 10 clusters of members the same households among residents who have tested positive.
The health district is monitoring 556 residents, including those who have tested positive and their close contacts. The district has 80 staff members involved in monitoring and 10 specialists who investigate the virus' spread full-time. Griggs said anyone who tests positive should take quarantine seriously and answer health district staff members' questions to help them monitor the virus.
'Exponential growth'
Deaver said reporting issues delayed the seven-day rolling average of the county's positivity rate, or percentage of tests that come back positive, but he estimates the current daily rate is close to the state's, which sits at a little less than 10% and is trending upward.
Deaver walked through the doubling of active cases over four-day and five-day spans that the county has seen recently.
"This is again exponential growth," Deaver said. "This is what has occurred in many places around the world that has ultimately led to overwhelming the hospitals. As Dr. Griggs mentioned, our hospitals are not close yet to being overwhelmed, but it is this rapidly rising trend that gives us all concern."
Deaver said a recent study published by Texas A&M University researchers was just the latest to find that face coverings are an effective way to limit the spread of COVID-19 and, and he said it was part of the reason he decided to enact a mask order Friday.
"I know this is not popular with many of you, and I'm sorry about," Deaver said of the mas order. "We have to follow the science and do everything we can to stop this rapidly rising disease in our community."
McLennan County Judge Scott Felton said the county commissioners have not issued a similar mask order yet, but are in close conversation with the city leaders. Commissioners are set to discuss the issue during their regularly scheduled meeting Tuesday.
Felton said he is confident in saying the commissioners urge everyone to follow U.S. Centers for Disease Control and Prevention guidelines for preventing the spread of COVID-19. Those guidelines include a recommendation to wear a face covering in public places.
Felton said he urges residents to remain on-guard and think of their at-risk family members.
"It's my responsibility to know what my family is doing and where they've been before I see them, and it's their responsibility to be careful when they come to see me, and it's the same way for everyone else's family as well," Felton said.
When the Waco City Council met to ratify its mask order, public comments in opposition cited fear that masks could cause medical problems or make them sicker.
"There are these claims that masks cause sinus infections or increase carbon dioxide, and these are usually some kind of distorted exaggeration around some scientific fact," Griggs said. "Distorting the truth is much more believable than just outright silly myth."
Griggs said despite misinformation circulating on social media, face coverings pose no risk to the general public, and do not cause elevated carbon dioxide levels in a wearer's blood or cause sinus infections, two common claims. Griggs said it is theoretically possible for face coverings to interfere with someone's breathing if they have advancing emphysema and respiratory acidosis.
Griggs said doctors, surgeons and workers in various fields long have worn masks daily without adverse effects.
Churches are not subject to the mask order, which only applies to commercial establishments, but Deaver asked churches to implement a mask policy for the sake of worshipers' safety. Enclosed spaces where people are singing or shouting in close proximity are especially dangerous for spreading the disease, Griggs said.
"Ultimately, it's not about the numbers," Griggs said. "This is not an abstract idea. We are not fearing some unnamed, lurking pestilence. What our community is experiencing is a known virus with specific characteristics of transmissions and particular behaviors we have an option to enact to either invite or limit the spread of the virus."
Concerned about COVID-19?
Sign up now to get the most recent coronavirus headlines and other important local and national news sent to your email inbox daily.