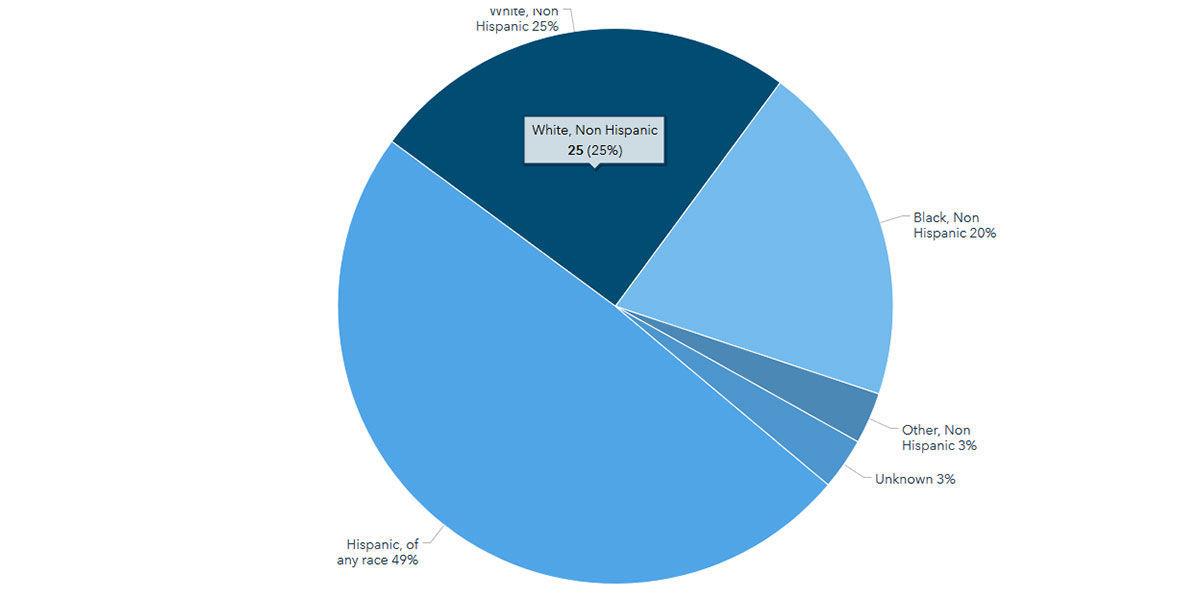 COVID-19's rapid spread in McLennan County is disproportionately affecting Hispanic and black residents, mirroring worrying national trends.
17 more people had tested positive for the virus in McLennan County as of Friday afternoon, bringing the rapidly rising total of active cases to 118 and total cases to 262, according to the Waco-McLennan County Public Health District. Seven COVID-19 patients are in local hospitals, and five McLennan County residents have died of the disease. Texas had confirmed 103,305 cases and 2,140 fatalities as of Friday.
Locally, 49% of COVID-19 patients have been Hispanic, and 20% have been black. Early on in the disease's local spread, white residents made up the majority of patients. According to U.S. Census Bureau estimates, the county is about 56% non-Hispanic white, 27% Hispanic and 15% black.
"I'm trying to struggle through what the causative factor is and I just don't know," Family Health Center CEO Dr. Jackson Griggs said.
The current wave of infections is composed largely of cases involving members of the same household as others who have tested positive, health district spokesperson Kelly Craine said.
"At this point, what we can tell you is that there is no specific location or event or place or work that's been associated with it," Craine said.
Isolating anyone who is suspected to have the virus and stopping them from interacting with anyone else is key. Separating items like towels and toothbrushes is important for families who cannot set aside a designated bathroom for the sick person.
A growing body of evidence is forming around the virus' toll on Latinos as researchers develop a more advanced data analysis about COVID-19 and race.
This disparity among Latinos is similar to a national trend in African American deaths. An Associated Press analysis has found black Americans make up 26% of the deaths in nearly 40 states that kept detailed death data, even though they comprise only 13% of the population.
Researchers are also pointing out another noteworthy trend emerging in Latino cases. Because Latinos are much younger on average than U.S. whites, and the virus kills older people at higher rates, researchers are using "age-adjusted" data to provide a more accurate picture of the disproportionate toll.
A Brookings Institution study this week examined federal data to show the age-adjusted COVID-19 death rate for African Americans is 3.6 times that for whites. The age-adjusted death rate for Latinos is 2.5 times higher than white Americans. A Harvard paper used similar metrics to determine "years of potential life lost," finding that Latinos lost 48,204 years, compared with 45,777 for African Americans and 33,446 for non-Hispanic whites.
Waco Mayor Kyle Deaver noted the rising percentage of Hispanic and black patients during a weekly press conference Wednesday. Waco City Councilman Hector Sabido, who co-leads a strategic communication work group focused on getting information about the virus to the population, said the problem is two-fold.
"We're realizing now more than ever that it just touches so many aspects of life," Sabido said. "All of us are playing catch-up to this virus."
Sabido gave interviews with Telemundo and Spanish radio station La Ley 104.1 alongside Dr. Iliana Neumann, who teaches residents at the Waco Family Health Center to raise awareness. They are also planning conference calls with local Hispanic church leaders to try to get the message out.
Sabido said Hispanic households are more likely to include extended family. With right to 10 people living under the same roof, the virus could easily spread.
"They do it out of necessity, coming to the states to try to find a better life and get established, of course they're going to live with relatives or people they know and trust," Sabido said.
Neumann said it's too soon to know why the Hispanic population has been hit so badly, but she is concerned that messaging hasn't been strong enough to reach Spanish speakers.
"That's what I've been hearing a lot, that they're not getting some of these messages, that they don't understand the importance of wearing masks and social distancing," Neumann said.
Neumann said she believes Hispanic essential workers, particularly immigrants, are in frontline essential jobs and would have to risk frequent exposure. In some cases, bosses make employees feel unsafe.
"I had one of my patients tell me recently that she works at a local restaurant, and she was feeling some pressure from her employer to not wear a face covering, because he thought that would make customers nervous," Neumann said. "She was worried about speaking up about it. … I've been out in the community, and I'm noticing such a huge decline in mask usage. What people don't recognize is when they're not wearing masks, they're putting the frontline workers who are keeping our communities going at risk of getting infections."
The Associated Press contributed to this report
Concerned about COVID-19?
Sign up now to get the most recent coronavirus headlines and other important local and national news sent to your email inbox daily.