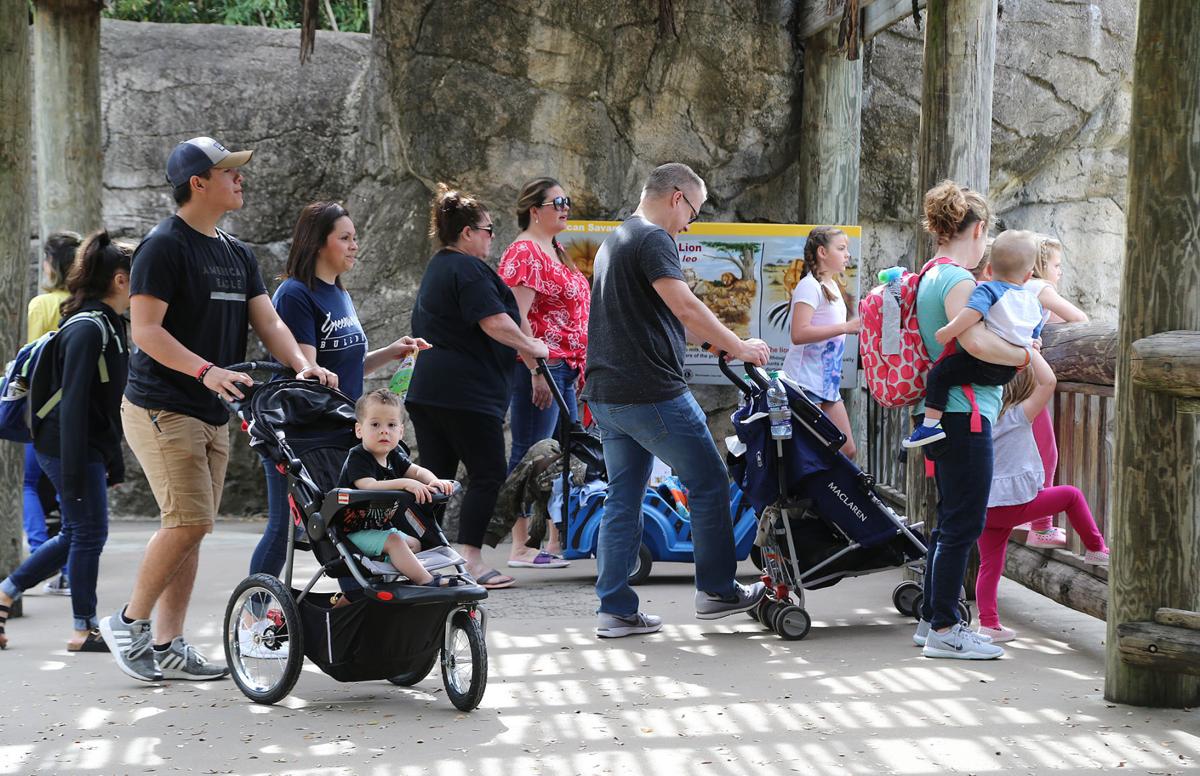 A new exhibit showcasing penguins that can tolerate the Texas heat would anchor a new exhibit at Cameron Park Zoo, part of a bond-financed upgrade voters will consider in less than three months.
McLennan County Commissioners agreed Tuesday to set Nov. 5 as Election Day on the matter. County Judge Scott Felton called the bond issue "tax-rate neutral," as approval would not require a tax increase. He said some existing bond-related debt is scheduled to "roll off" county books in July next year, paid in full, and the zoo debt would replace it.
"Residents will not see an increase in property taxes to repay the zoo bonds," Felton said during an interview. "I think it's good for my grandkids, but it was our job to put it on the ballot and let taxpayers decide if they want it or not. If they want it, we will fund the bonds. If they don't, we will not."
An exhibit featuring the endangered black footed African penguin would anchor the addition and cost an estimated $4.5 million. An education and veterinary complex would carry a combined $8.3 million price tag.
Funds also will go for an animal commissary and hoof-stock barn.
The proposed $14.5 million bond issue includes a 10% contingency fee should construction estimates prove low.
Terri Cox, new executive director of the Cameron Park Zoological and Botanical Society, told commissioners that longtime zoo benefactors Carol and Dutch Schmidhauser have pledged $1 million toward the improvements. Half would go to buy medical supplies and equipment for the veterinary hospital, while the balance is designated for "brick-and-mortar" elements, Cox told commissioners.
Another $220,000 was raised at the annual Zoobilee celebration, she said.
Cox said the zoo will award contracts in four phases, possibly giving more and smaller construction companies a chance to participate.
"This is good for the community and expedient to getting it built," she said.
The project is scheduled for completion between fall 2021 and spring 2022.
Cameron Park Zoo attracted 360,661 visitors in 2018, making it the second most popular tourist attraction locally, behind only Magnolia Market at the Silos, according to a presentation by Cox and interim zoo director Johnny Binder, who last week appeared before the Waco City Council.
Council members voiced support for calling the election.
Cox said 51% of those entering the zoo gates are from outside Waco. A fact sheet states 8% are from outside the state.
Much of the presentation focused on the role the city, county and private funding sources have played in moving the 52-acre zoo forward since a $9.5 million bond issue made its opening possible in 1993.
Three major expansions have been made possible through a combination of countywide bond issues, interest on bond proceeds and private donations, according to the fact sheet. These include the herpetarium, Brazos River Country area and the two-phased Asian Forest, zoo officials said.
The city of Waco budgets $2.7 million annually to subsidize the zoo's operation.
That in mind, the zoo has proposed increasing adult admission by $2, to $12, in the new budget year. Also under consideration is increasing the cost of admission by 50 cents per person each of the next five years.
"We still consider Cameron Park Zoo a lot of value for the money, and even with the increases, admission will be below that of other zoos around the state," Cox said in an interview. "We continually hear that from visitors."
The fact sheet shows adult, child and senior prices at 11 Texas zoos and aquariums sanctioned by the Associations of Zoos and Aquariums. At the low end is the $7-per-adult admission fee at the Ellen Trout Zoo in Lufkin, with the Fossil Rim Wildlife Center in Glen Rose the most costly at $25.95.
Other adult admission fees include Abilene at $8, El Paso at $12, Cameron Park Zoo at $12, Brownsville at $13, Dallas at $15, Fort Worth at $16, Houston at $19.95, and San Antonio at $18.99. The Caldwell Zoo in Tyler, which charges $14.50 for adults, is probably most comparable to Cameron Park Zoo, officials said.
Commissioner Kelly Snell suggested Cameron Park Zoo, like the Caldwell Zoo, offer admission discounts to county residents.
Be the first to know
Get local news delivered to your inbox!