Scooters for rent have finally come to downtown and East Waco to stay, along with a team on the ground to sanitize them multiple times a day.
Blue Duck, the third scooter rental company to try to come to Waco through an exclusive contract with the city, brought a fleet of 50 blue scooters to town Friday morning for a one-year pilot program in a limited area. The scooters can be checked out from 7 a.m. to 10 p.m. daily, and rides will be half-price for the first week.
"Our operations team is here on the ground in Waco and they'll clean scooters as we speak," said Megan McNamara, Blue Duck senior director of government partnerships. "We'll be there for some time to make sure everything is properly put out and organized."
McNamara said early data show the ongoing pandemic has not affected the shared mobility industry as badly as it could have, partly because the scooters are for individual riders, as opposed to a bus or rideshare vehicle, and more people seem to be spending time outdoors. A report from Cities Today states many companies have seen a drop in ridership, but one that most likely will not be a long-term threat.
"There's been some data since COVID-19 began that points to the fact that a lot of people are actually taking more trips on bikeshare bikes and scootershare scooters in the midst of COVID-19," McNamara said. "So we find that to be promising."
She said Waco appealed to the San Antonio-based company as a location right away.
"Waco has a healthy mix of residents, students and visitors, and we like to provide transportation options for all of those different trends and needs," McNamara said. "Furthermore, the city has put a lot of effort into developing and improving the downtown areas to make it more walkable, more bike friendly, and those types of initiatives are always something we appreciate when we look for cities to partner with."
Like most shared mobility companies, the devices are being tracked by GPS and monitored by the company.
Geofencing limits scooters' use to an area that includes the central city, East Waco, part of North Waco and the neighborhoods surrounding Baylor University. The setup renders Cameron Park and most of Baylor University's campus off-limits, and it makes parts of the riverwalk and park areas around the Suspension Bridge and the Doris Miller Memorial slow-zones. McNamara said a scooter in an off-limits area would start to slow itself down gradually and would not allow the user to park and end the ride until they are back in the permitted area.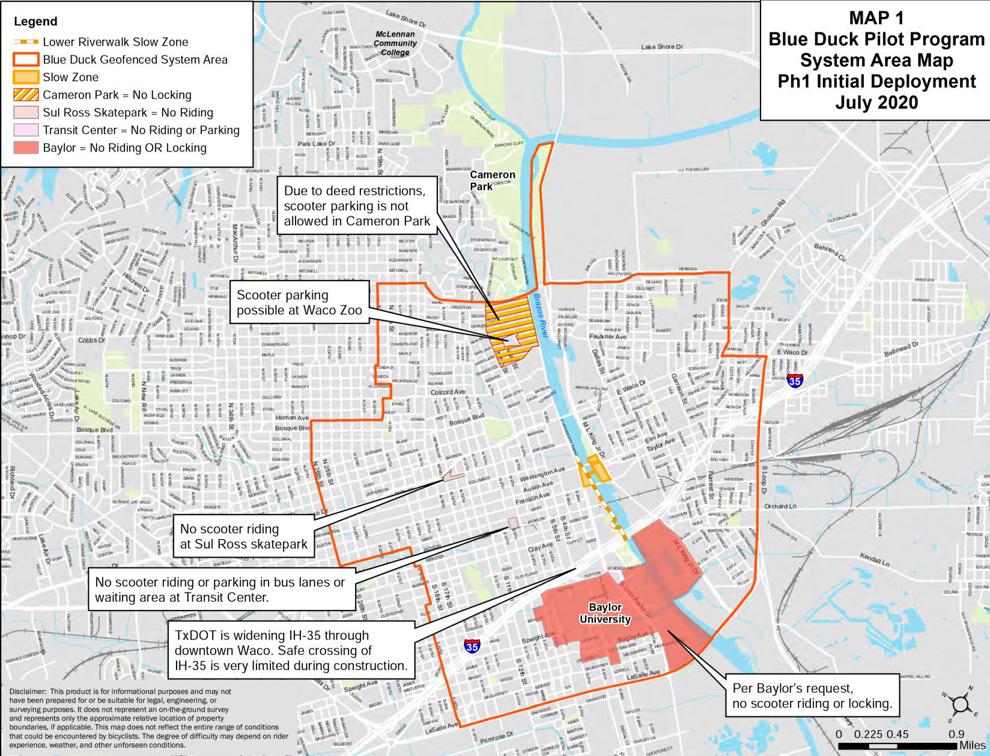 "That's designated within the app," McNamara said. "If you go onto the map you can see that you can't go onto Baylor's campus, you can't go into Cameron Park."
Customers must download the Blue Duck app to access a map showing the locations of parked scooters. Users logging in for the first time must complete a brief safety tutorial before they are allowed to rent a scooter.
"The city of Waco is excited to have a new transportation option in our community," city traffic engineer Christine Miller said. "The scooters will provide another way for Wacoans and visitors to get around in downtown and East Waco. We look forward to working alongside Blue Duck and our community for this one-year pilot program."
Agreements with two other shared mobility companies fell through before the Waco City Council voted to approve Blue Duck.
The city reached an agreement with another company, Gotcha Bikes, in 2018 to bring electric bikes and scooters, but that deal fell through by last summer. The summer before that, Bird Rides brought scooters to town and started renting them out without reaching a deal with the city first, and the city kicked them out within two days.
In early March, Lime was the latest company slated to bring scooters to Waco, but the fleet of green scooters never made it to town.