Waco police will start enforcing the statewide mask order, local officials announced Wednesday as McLennan County's number of COVID-19 cases per capita reached the fifth highest among urban Texas counties and the county saw its 14th death attributed to the disease.
Waco Mayor Kyle Deaver said during a press conference Wednesday that Waco police will now respond to calls about people refusing to wear masks. Officers will start by talking to the maskless person, then issue warnings, followed by citations for repeat offenders. Mask violations should be reported to the city's code enforcement department at 254-750-5970, not 911.
"That's important, because we don't want to have our businesses acting as police," Deaver said of the potential police involvement. "We don't want to have to use police at all, but we are continuing to get reports and complaints about people either entering businesses without masks, or entering with a mask and then taking the masks off."
Under the statewide order Gov. Greg Abbott signed last Thursday, everyone 10 and older must wear face coverings over their mouth and nose while in businesses, public places and in outdoor areas where people from separate households are less than 6 feet apart. The order exempts voting places and places of worship but strongly recommends masks there as well. Deaver recommended joggers and runners keep a face covering on hand, in case they cross paths with someone else and cannot maintain 6 feet of separation.
With Wednesday's announcement that another McLennan County resident has died because of COVID-19, the county's death toll from the disease stands at 14. Five deaths have been announced in the past eight days, and nine have been announced since June 18. The resident whose death was announced Wednesday was a 72-year-old white man. The Waco-McLennan County Health District also has reported 100 more COVID-19 cases were confirmed in McLennan County residents Wednesday, bringing the number of active cases to about 1,800.
"We are, and continue to be, in a really bad situation," Deaver said.
Local hospitals were treating 42 COVID-19 patients Wednesday, including 6 on ventilators, according to CovidWaco.com.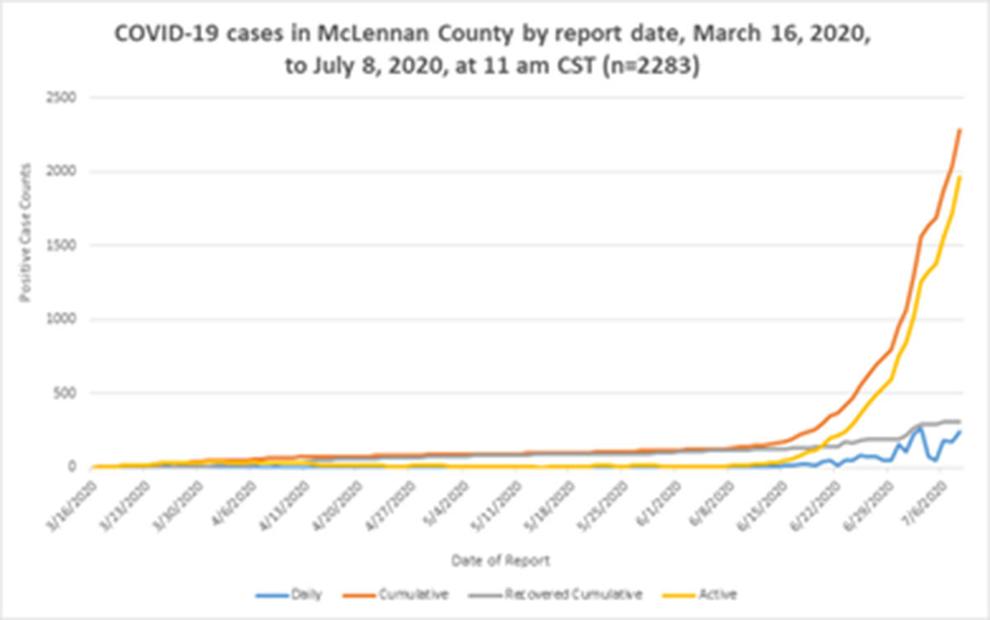 Deaver said the local situation has worsened since last week. Just two weeks ago, the county had confirmed 473 cases, compared to more than 2,000 as of Wednesday. Recent numbers bring McLennan County's case count to the fifth-highest per capita in Texas with populations of more than 200,000, behind Jefferson, Galveston, Nueces and Hays counties, officials said during the press conference.
As case counts rise, hospitalization counts will follow on a one- to two-week delay, Deaver said.
"Our hospitals currently report that they're in OK shape but are starting to be concerned about staffing as these numbers continue to grow," Deaver said. "It is putting a strain on our health care system and also subjects many more people to the opportunity to fall ill to this."
Hispanic population
Waco City Council Member Hector Sabido discussed the virus' disproportionate impact on McLennan County's Hispanic population, particularly in the 76706, 76707 and 76708 ZIP codes. About half the McLennan County residents who have died are Hispanic, while about 21% of those who have recovered are Hispanic, he said. According to U.S. Census Bureau data, the county is 27% Hispanic.
Of the 14 who have died, six were Hispanic, five were Black and three were white, according to the health district's announcements.
"We are being impacted tremendously and we want to see the virus stop, not only in the Hispanic community, but in the county and the state overall," Sabido said.
Family Health Center CEO Dr. Jackson Griggs said Texas' hospitalization rate has doubled over the past two weeks, and the rate of tests coming back positive also has spiked. The state has a 14.4% positivity rate on a seven-day rolling average. In McLennan County, the positivity rate is more than 20%, twice the rate Abbott has previously said would be a red flag.
Sixteen inmates at McLennan County Jail have tested positive for the coronavirus and three inmates at the adjoining Jack Harwell Detention Center have tested positive, McLennan County Sheriff's Office Maj. Ricky Armstrong said. All inmates who tested positive, males between the ages of 19 and 61, are asymptomatic and are in quarantine at each facility.
Griggs said of all symptomatic patients, about 20% require hospitalization and 5% need intensive care. Of that 5% needing intensive care, about a third will die. He said the county's emergency operations center will coordinate an alternate surge site if the hospitals become overwhelmed.
"Right now there is no immediate threat of the hospitals reaching capacity threshold for their ventilators or their COVID-19 wards," Griggs said.
The Texas Department of State Health Services has taken on monitoring for 250 McLennan County cases for the local public health district. Griggs said between June 28 and July 4, the health district identified 20 family "clusters" of people with COVID-19 living in the same household, 65% of which were Latino. One of the families is Black, and the rest are white. Of patients who have tested positive, 13% reported traveling in the 48 hours before showing symptoms, 6% reported attending church and 26% reported known contact with another COVID-19 patient.