At Greenwood Cemetery, a chain-link fence cuts Waco's history in half.
On one side of the city-owned cemetery in East Waco lie a century's worth of burials of white Waco residents, including pioneers, paupers and Civil War veterans.
On the other side are more than 1,000 black residents, including college presidents, business leaders, a state legislator, a baseball star and Broadway baritone Jules Bledsoe. But those visiting the white side must exit the cemetery and re-enter on the black side to see their tombstones.
Soon that fence, a rusting legacy of Jim Crow segregation, is likely to become history, too.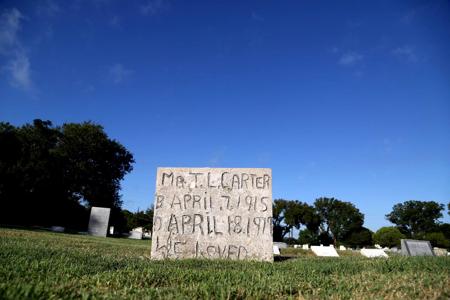 A headstone in Waco's Greenwood Cemetery shows some families had very little money but wanted their loved ones remembered. Those interred on both sides of the dividing fence include pioneers, paupers, Civil War veterans, college presidents, business leaders, a baseball star and Broadway baritone Jules Bledsoe.
Photo by Rod Aydelotte
The city of Waco, which has maintained the black side of Greenwood since 2007, has informally agreed to take over maintenance of the white side from the East Waco Greenwood Cemetery Association in the coming year. The city intends to remove the separating fence and unify the entire cemetery within a new fence.
"That should have been taken out 75 years ago," said Councilman Wilbert Austin, whose district includes East Waco. "There was a separation there, but now we need to open that whole cemetery up."
City parks and recreation director Rusty Black said development in the area, including the Baylor Research Innovation Collaborative research park across Business 77 from Greenwood Cemetery, has given the city impetus to clean up the cemetery. The city also plans to replace a state historical marker that was stolen recently from the cemetery and to create a new decorative entrance to the cemetery.
The city established Greenwood in 1875 as a segregated cemetery. For most of the cemetery's life, each side of the cemetery has been maintained by separate volunteer organizations with a small contribution from the city.
Noah J. Jackson, last living member of the People's Cemetery Association, at the headstone of Broadway baritone Jules Bledsoe, who originated the role of Joe in "Showboat," singing its signature "Old Man River." Bledsoe is buried on the black side of the segregated cemetery. Photo by Rod Aydelotte
Starting in 1967, the People's Cemetery Association tended the black side, but as its membership dwindled to almost nothing, it turned over maintenance to the city in 2007. The East Waco Greenwood Cemetery Association, which maintains the white side, voted this summer to turn it over to the city.
"Everybody's getting old, members are dying off, and the money's not coming in to take care of it," said Greenwood vice president Robert Nussman. "We agreed to go ahead and let the city take it over and take the fence down."
No one associated with the cemetery knows the origin of the fence or seems to blame anyone alive for its existence.
Noah J. Jackson, last living member of the People's Cemetery Association board, said he has found his counterparts on the other side of the fence to be "good people," serving to honor the dead just as he did.
Jackson, a 1953 graduate of all-black A.J. Moore High School who went on to be a Veterans Affairs manager and contractor, grew up visiting the cemetery and has relatives buried there. But as a youth he never gave much thought to the fact that blacks and whites were segregated in death.
"It was the norm," he said on a tour of the cemetery Friday. "We paid very little attention to the fence being here. It was like another graveyard over there. We just focused on what we had."
Annie Randle, a leader of the People's Cemetery Association, told the Tribune-Herald in March 1971 that the fence had been there as long as she could remember.
"I suppose they wanted that so the black ghosts wouldn't go over there and bother the white ghosts," Randle told the newspaper.
Newspaper clippings from the early 1970s to the 2000s chronicle how both associations struggled to muster the money and volunteer hours needed to keep up their sides year after year.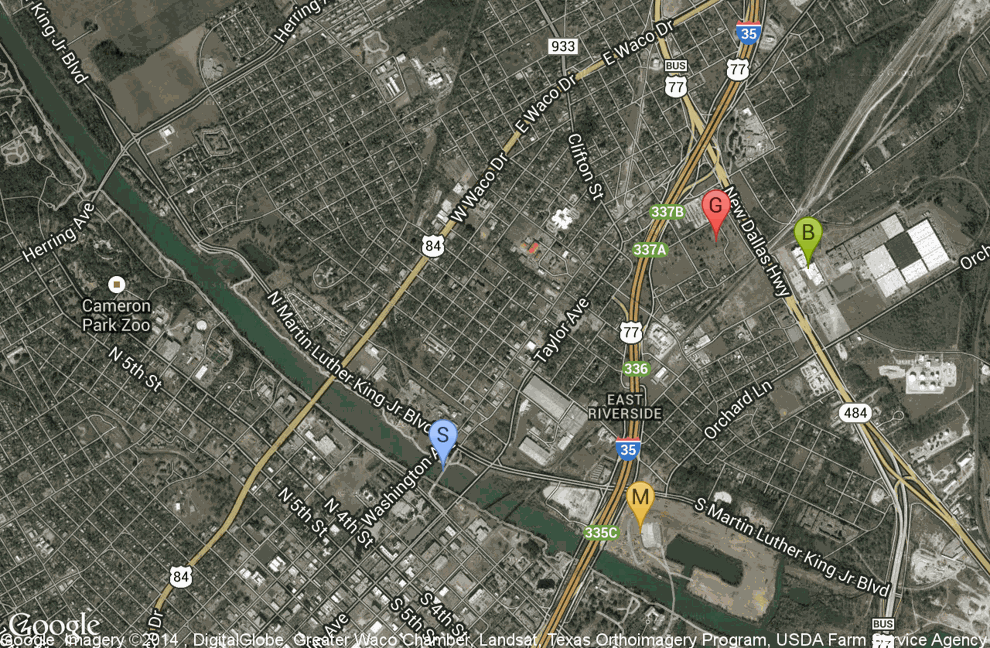 In the early 1970s, the white section was reportedly watered and well-mowed, while the black side was choked with weeds and trash.
The black community stepped up to do a months-long cleanup in 1975, and by the late 1980s, it was the black side that was well-kept, thanks to the work of the People's association, which drew on city funds and annual dues of $50 per family.
The white side fell into disarray by 1990, then the East Waco Greenwood Cemetery Association was reborn with a new board and a dues-paying membership of 93. The association has mowed the section regularly since then, but it has struggled to keep up with the job as membership has fallen by nearly half.
"We've already mowed it six times this year, and next week we're going to get it mowed again," Nussman said. "You're talking about $400 for every mowing."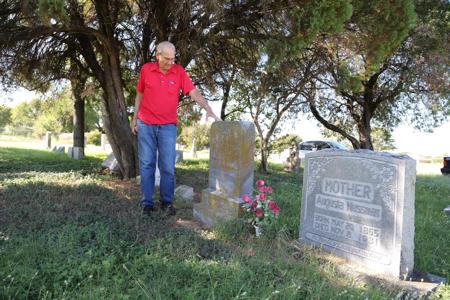 Robert Nussman, vice president of the East Waco Greenwood Cemetery Association, stands near the headstones of his German immigrant grandfather, Herman Nussman, and grandmother, Augusta Nussman.
Photo by Rod Aydelotte
Nussman, 83, is no longer able to help with physical work at the cemetery, such as clearing brush and tree limbs.
Since about 2000, County Commissioner Lester Gibson organized crews to clean up parts of the cemetery, including a county-owned section that happened to fall within the white side of the fence.
Research from the Waco city attorney's office shows that McLennan County created a pauper cemetery on the Earle Street side of Greenwood in 1883. Scores of victims of the 1918-19 Spanish influenza pandemic were buried in an unmarked mass grave there, according to past news articles.
Gibson said he's pleased to see the city taking over maintenance and removing the traces of bygone segregation.
"I think it's a positive move," he sad. "It unifies that area into one cemetery. I can understand the division back in that day, but we've moved forward since that time. It's one cemetery. When you're dead, you're gone. There's no color out there, just a whole cemetery that needs to be protected."
A Waco Parks and Recreation crew trims around headstones on the black side of Greenwood Cemetery. City of Waco officials say they will take over maintenance of the entire property and remove the fence that segregates the gravesites. Photo by Rod Aydelotte
The city's plans to unite and enclose Greenwood may face some challenges, starting with the fact that the city doesn't own all of it. Deed records show that parts are owned by private parties, including the defunct People's Cemetery Association and the heirs of mortuary owner E.G. Boykins.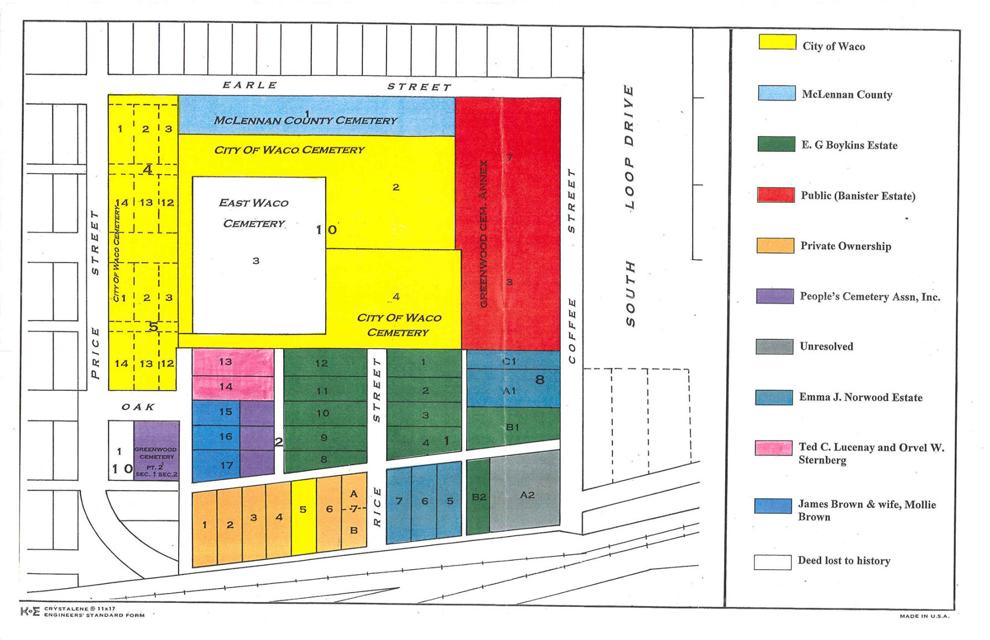 Assistant City Attorney Annette Jones said it may be impossible to establish the rightful owners. It's possible that the city could assume full ownership after declaring the privately owned sections abandoned. But she questioned whether anyone would want to claim those sections, since by law they can't be sold and no further burials are allowed there.
"From a legal perspective it would be nice" to have title to the whole cemetery, she said. "It's a management question as to what risk you want to take."
Also in question is whether old fences can be removed and new fences erected without disturbing unmarked graves below. City officials said they will work with the Texas Historical Commission to seek fencing solutions that won't disturb graves.
It's anyone's guess as to how many people are buried at Greenwood, because original burial records and many markers have been lost. Volunteer surveys in the 1980s found more than 2,000 markers remaining in the entire cemetery.
According to volunteer transcriptions on the website findagrave.com, the Waco Day newspaper in 1889 listed 22 Confederate veterans in the cemetery, along with five Union veterans and four War of 1812 soldiers. But many of those markers are long gone.
Donald Crockett, president of the East Waco Greenwood Cemetery Association, said he has tried for years to locate the grave of his grandfather, Samuel Thomas Crockett, who died in August 1938.
"He was so poor, he didn't have money for a marker," Crockett said. "My grandmother's last wish was that we could find her husband."
Nussman, the vice president, said he has served on the cemetery board for years out of duty to his family buried there, including his German immigrant grandfather, Herman Nussman, and grandmother.
Also buried there but without a stone is his uncle, Henry, who drowned in the Brazos River in 1910.
"One of the articles said he was drowned by a big fish," he said.
Noah Jackson said he still goes to visit Greenwood to see family buried there and to be inspired by the black leaders of yesteryear.
A bed frame marks the grave of a baby in the white section of Waco's Greenwood Cemetery. The cemetery has been segregated since the city created it in 1875. Now the city will remove the fence and maintain both sides as a unified cemetery. Photo by Rod Aydelotte
Those include educators such as J.H. Hines, G.L. Wiley and L.M. Sublett. Two Paul Quinn College presidents are buried there: William Laws and H.T. Kealing, who was also the black college's first student. R.L. Smith, who founded the Farmers Home Improvement Society to help black farmers become financially independent, is also notable for being elected to the state Legislature in 1894.
Also interred is Andrew "Lefty" Cooper, a star pitcher in the Negro Leagues in the 1920s and '30s. Cooper, who lived from 1898 to 1941, was inducted into the National Baseball Hall of Fame in 2006.
Most famous of all is Waco native Jules Bledsoe, 1899-1943, who wielded his powerful baritone voice in operas, movies and Broadway shows including the original production of "Showboat."
As the character Joe, he introduced "Old Man River" to the world, and his tombstone is inscribed with the lyrics, "Ol' Man River/ He just keeps rolling along."
Jackson said he never got to see Bledsoe when he performed in Waco, but through a family connection he once owned a costume of the famous singer.
Just knowing that a man like Bledsoe could succeed was an inspiration to a young boy growing up in segregated Waco, Jackson said.
"It made you feel better to know he could make it," Jackson said.
The black side of Greenwood has improved under city maintenance, Jackson said, adding he'd like to see more attention paid to old markers.
"This needs to be fenced and gated, and there needs to be more research done on who's buried here," he said.
The neighborhood deserves better, especially now that the BRIC is bringing high-level researchers and jobs to East Waco, he said.
"That project is going to help the city move forward," he said. "All this has to be raised to the level around it."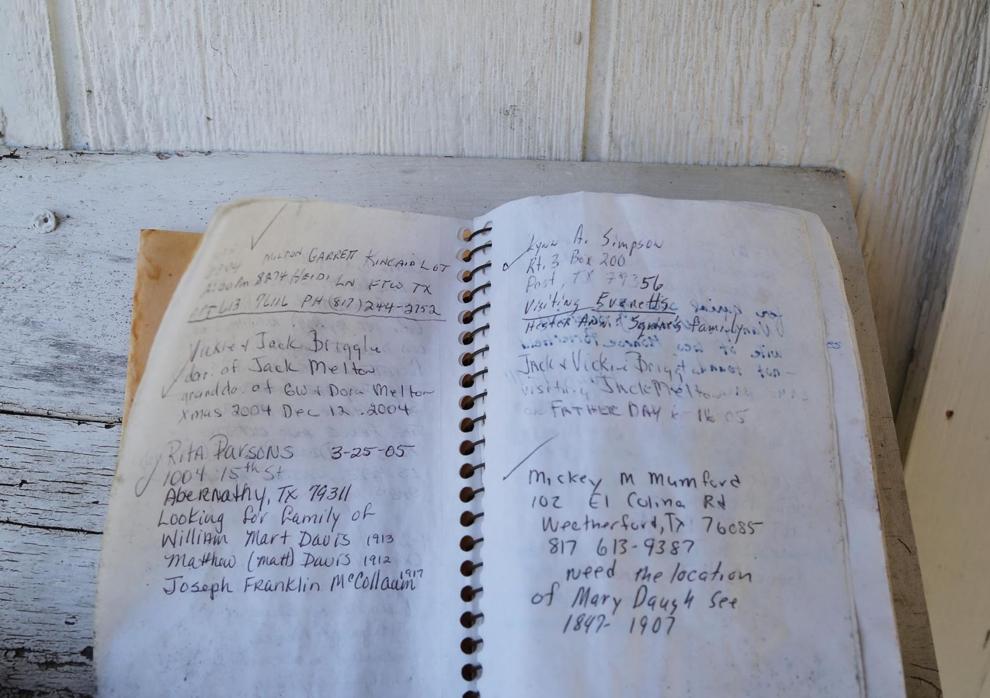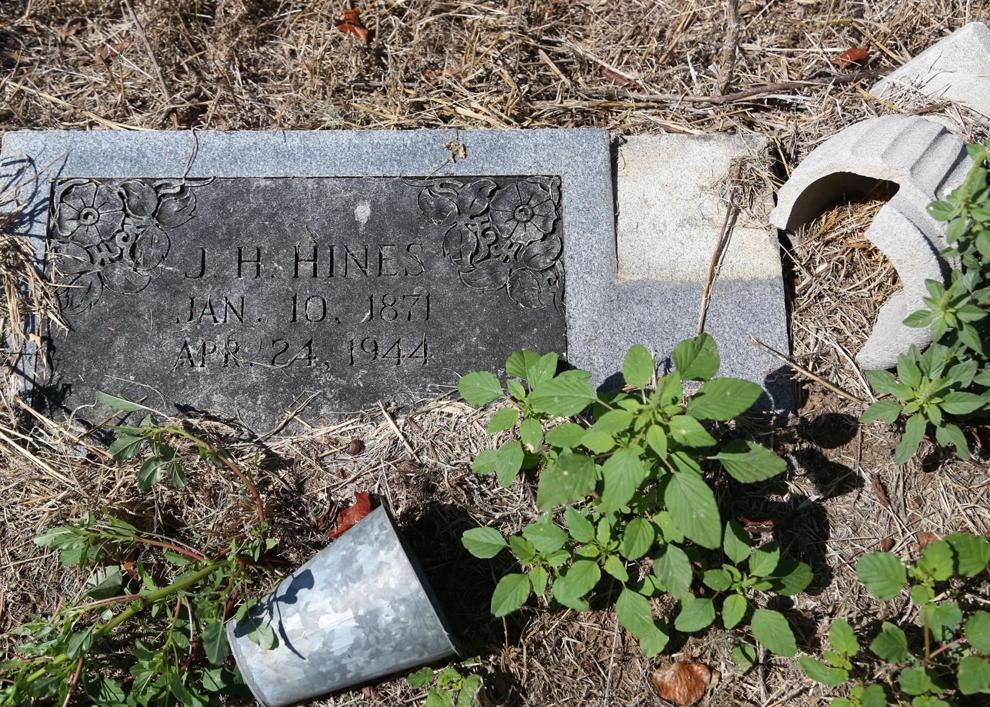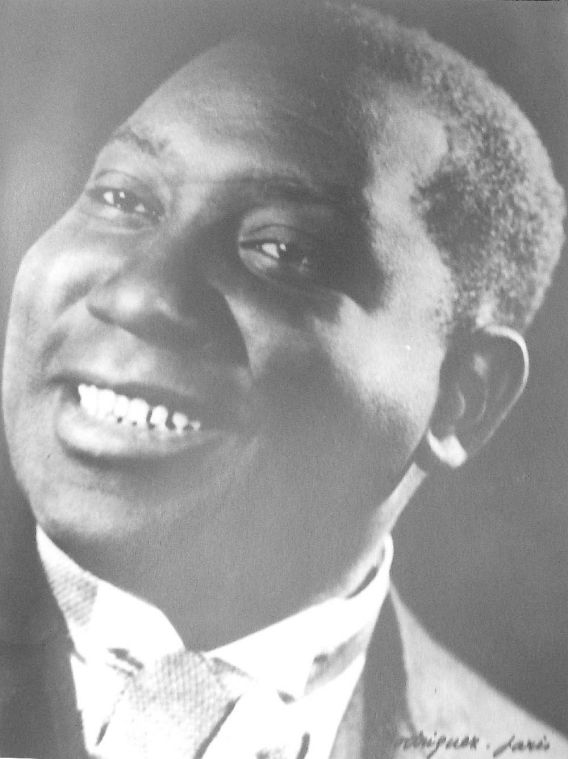 Famed baritone Jules Bledsoe (1899-1943) starred in operas, movies and Broadway shows. Watch a rare video of him singing below.
Greenwood notables
H.T. Kealing
Louis M. Sublett
G.L. Wiley
Compiled by Brad Willis and J.B. Smith