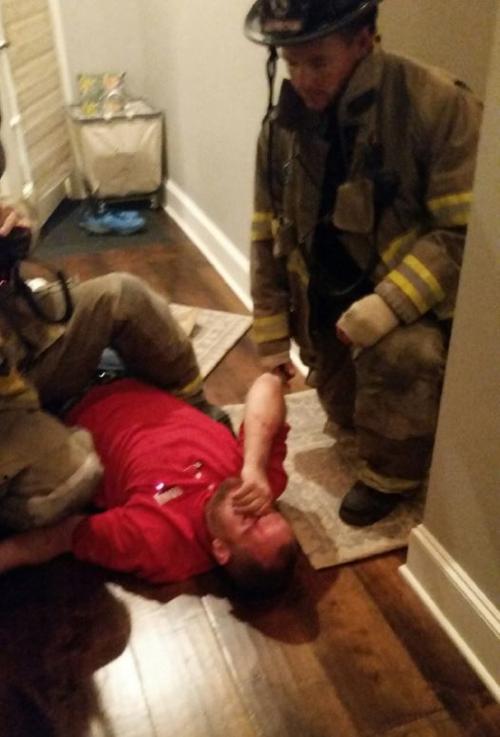 When Ethan Kennedy saw a car speeding south on 19th Street, he said he never imagined it would crash through the front of a "Fixer Upper" house in the North Waco neighborhood.
"My manager and I saw the car go speeding by, probably at least 80 mph or more," said Kennedy, who works as a bouncer at Connect Night Club. "He went up in their yard and went airborne, right into the house."
Police arrested Allen Wayne Miller, 31, of Waco, on a charge of DWI after he crashed through the house at 1902 Alexander Ave.
"He started crawling out (of the car) and kind of came to, I am standing next to him and he says, 'I did all this?' " Kennedy said. "I told him just to calm down, but he freaked out a little bit, so I held him by the shirt."
Kennedy and the neighbor knocked on the damaged house's door and were met by Kelly Downs.
Kennedy said he went inside the home and found the Hyundai Accent wedged in the front room, the driver still attempting to start the car by way of a push-button starter.
"He was still in the car, the cops or the fire department weren't there yet and he kept starting the car, stopping the car, starting the car, stopping the car," Kennedy said. "He was trying to back up, but he was kind of realizing what he did, so he was kind of out of it."
Kennedy said he tried to keep Miller from leaving the house. Unsure if Miller was injured, Kennedy tried to keep him calm before he exited the car and tried to run from the house.
"I guess he saw that their back door was open and he takes off, so I take off after him. Mrs. Downs was in the kitchen and Mr. Downs was down the hallway, so he took off toward the back door and I grabbed him, threw him over my hip, body slammed him and put him in an arm-bar until firefighters got there."
Kennedy detained Miller until firefighters arrived, he said. Miller had minor injuries from the crash.
Owners Ken and Kelly Downs were asleep in a bedroom at the time of the crash and were not hurt, police said.
Calls to the Downses were not returned Monday and a call to Magnolia spokesman Brock Murphy was not returned.
The Downses told the Tribune-Herald Saturday that commotion from the nearby neighborhood and other concerns have caused the couple to feel "deceived" by Magnolia Realty and by the city of Waco. Their comments about the popular Waco-based HGTV show caused a national reaction following the crash.
Kelly Downs said that neighbors have complained about increased taxes in the neighborhood stemming from the presence of a "Fixer Upper" home. The hit show has renovated about 60 homes in the McLennan County area, but there is no direct correlation to higher taxes in neighborhoods where a "Fixer Upper" home is located, Chief Appraiser Andrew J. Hahn said.
"We have a different neighborhood code for those than other homes in the neighborhood, because they are actually selling for more than regular homes," he said. "We don't use them as comparable for other homes that are renovated by other homeowners."
Hahn said the appraisal district has received about 7,500 appeals on assessed property values this year. He said each appeal is considered for that individual property, but basic supply and demand in Texas is also causing increased property values.
"Overall, there probably is some effect to all the houses in the area because of (the show), but not because of the 'Fixer Upper' itself," he said. "How much? Who knows, but it is not the total effect, because if you look all over the state of Texas, all values are going up.
"People are moving to Texas and because people are moving to Texas, there is a greater demand than there is supply. That is the biggest factor."
Waco police Sgt. W. Patrick Swanton said the Downses have also made complaints about the neighborhood and crime. He said patrol commanders have increased patrols in the area and have gone "above and beyond" to address the issues.
"We have assigned a sergeant over there to be a liaison to talk to the folks over there. He has had his squad over there to find a particular problem that they could work on, but there isn't one," Swanton said. "Yes, that neighborhood has traffic. Yes, there are cars that play music when they pull up to the convenience store in front of their home, but nothing legally that we can enforce.
"Crime is not any higher or lower in that particular area than any other part (of the city)."
Kennedy echoed Swanton's statements, saying he has worked for the last two years at Connect and has not had any significant issues in the area. He said he feels comfortable working in the area and being in the neighborhood.
"It is not the prettiest looking neighborhood, but anytime I've ever heard gunshots or anything violent it has never been across the street or a block away," Kennedy said. "It is never in that neighborhood and I've never had any problems with people coming up and trying to cause a problem."