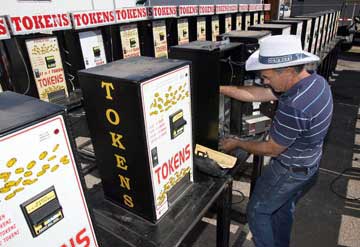 Frugal fairgoers can take advantage of some new promotional deals offered at the Heart O' Texas Fair & Rodeo this year to get free fair entry or deep discounts on carnival attractions.
The fair long has offered savings like free admissions coupons to McLennan County students or $1 rides on the opening Sneak-a-Peek night, which starts at 6 tonight.
This year, the Extraco Events Center, which hosts the fair, also is trying out a few new promotional days.
Military Appreciation Day on Friday will offer free entry and discounts on the Midway wristband for unlimited rides to visitors with a valid military ID.
Another new discount day is Faith and Family Day on Sunday.
The fairgrounds will open at 9 a.m. and grant visitors free admission until noon, along with a free pancake breakfast while supplies last.
"The whole point of this is trying to do things that allow our community to come out to enjoy the fair at the best possible prices that they can," said Wes Allison, executive director of the Extraco Events Center. "To pay full gate admission, you'd have to pretty much live under a rock around here, because of all the advertising (for the promotions)."
For the new Parents' Appreciation Day on Saturday, Allison said the fair recognized that while parents often drop their children off to participate in the activities, they may not want to spend any more money for their own amusement.
Each parent will get free admission with the purchase of a $5 child ticket for children ages 3 to 12 between noon and 4 p.m.
"We know (parents) have got
to bring your kiddos out here," Allison said. "A 3-year-old can't drive, and a 12-year-old probably doesn't need to be spending time out here by themselves. So let's make it a little bit easier for the parents to come out here and enjoy the fair with the kids.
"If you've got two kids and two parents, that's saving $20 to get into the fair for that family, so it's pretty significant."
The lineup of themed discount days also includes traditional offerings like Senior Citizen Appreciation Day and Ladies Night, back by popular demand after being discontinued about five years ago because of low participation.
Women pay $5 admission, while seniors get in for $4.
The events center is banking on the discounts drawing a larger volume of visitors, which would offset any savings that are offered.
Plus, the more people that come in the gates, the more they spend at the concession stands, game booths and rides, which creates more revenue for the events center.
"Obviously, we have partnerships with (the concession and carnival operators) so that a portion of that money comes back to the fair so that we can pay the bills and also invest into scholarships," Allison said.
This year, fair visitors will have to use tokens to pay for food items or rides instead of paying cash.
Allison said the change will help the fair better track the transactions vendors make each night and calculate the events centers' earnings.
About 80 token machines will be stationed around the fairgrounds to exchange bills for tokens. Some machines also will take credit or debit cards, and some vendors are set up to take the cards.
"It's just like going to Chuck E. Cheese . . . you put your dollar in, and each token is worth a dollar," Allison said.
"The prices didn't change, there's none of that happening. (For example), if you've always paid $2 for a Coke or whatever that number is, instead of buying that coke with two dollars, you're going to buy it with two tokens."
Allison said the fair will monitor the response from the different discount programs and tweak them as needed or try out different ideas used by other fairs and festivals.
For example, the Star of Texas Fair and Rodeo in Austin has offered a promotion in which any visitor wearing overalls gets in free.
Here's a rundown of the savings and deals for the fair and rodeo:
*  Sneak-a-Peek: Visitors get free admission to the fair from 6 to 11 tonight using a coupon from participating Cefco convenience stores or by paying a $3 discount admission. All Midway rides cost $1.
*  Faith and Family Day: Free admission to the fair for all visitors from 9 a.m. to noon Sunday, plus a free pancake breakfast while supplies last.
* Ride 'Em Cowboy Day and Waco 100 night: Get free admission to the fair Tuesday by downloading a coupon from the Waco 100 website, www.waco100.com; or pay the regular gate admission and receive a free Midway armband.
If you happen to be . . .
*  A McLennan County student: With a free coupon from your school, you can get free entry to the fair Saturday, Sunday, Monday and Oct. 13 with the purchase of a Midway armband for $15. The armbands are valid from noon to 6 p.m. Saturday through Monday and from 4 p.m. to 11 p.m. Oct. 13.
*  An active-duty military member: Get free admission to the fair Friday during Military Appreciation Day and purchase a Midway armband for $20, a $10 savings.
*  The parent of a toddler or tween: Get one free adult admission for each regular-priced $5 ticket for a child ages 3 to 12 during Parent Appreciation Day on Saturday. The deal is valid from noon to 4 p.m.
*  Ages 55 and older: Relish in the $4 discounted gate admission on Senior Citizen Day on Monday.
*  A cowgirl: Ladies Night on Wednesday features $5 admission. Midway armbands also will be priced at $15.
*  If you go to the fair earlier in the day, you can purchase Midway armbands for $15 and have unlimited rides between noon and 6 p.m.
*  Skip the $5 parking fee by using the free Rodeo Express shuttle bus. Park at the Bosque Square shopping center at State Highway 6 and Bosque Boulevard and ride to the Extraco Events Center.