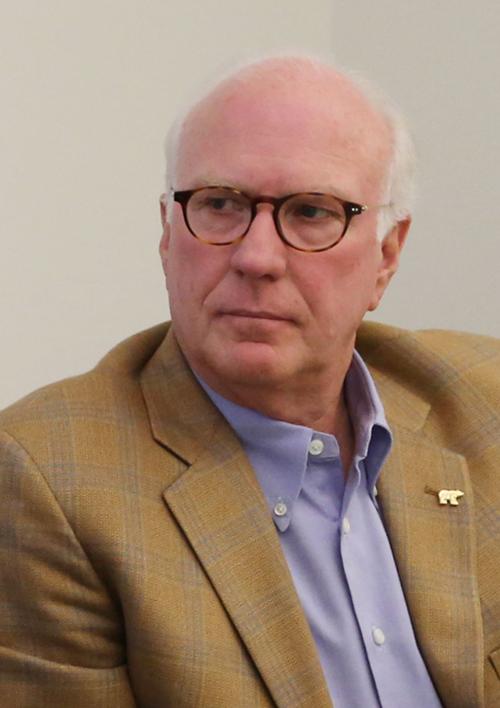 Several Baylor University regents stressed transparency Friday as they walked to their cars after their quarterly meeting. However, they offered no specifics on how the board intends to increase transparency or when more information on the sexual assault scandal that has rocked the university could be released.
"We understand everybody's frustrated. We get that," board Chairman Ron Murff said. "We are going to continue to look for ways that we can provide more information within the common decency and all the parameters that you and I have discussed before. We're going to continue to look for that and see if there's a way we can do that and provide some more information that would be helpful to the whole (Baylor) family."
The school later emailed a press release noting the board's "commitment to rebuild trust with the Baylor family, the community and the public."
"We believe passionately in the importance of integrity and clarity. Those values are at the core of our faith and of our university," Murff stated in the press release. "We know that many people have questions about decisions made over the past weeks and months. They want additional details and greater transparency, and they deserve that. We continue to look for ways to share more information while remaining true to our commitment to protect the survivors and spare them additional suffering. The board is committed to following through."
The press release also did not offer specifics regarding transparency.
Murff would not give a formal interview after the meeting but took questions outside the Baylor Research and Innovation Collaborative for about five minutes.
"Again, we're looking through this and we're trying to figure out ways that would be helpful toward what you call transparency and seeing if there's more information that we would provide," Murff said.
Regents fired Ken Starr as president and Art Briles as head football coach after Philadelphia law firm Pepper Hamilton LLP found a campuswide "fundamental failure" in Baylor's Title IX implementation, according to a summary written by regents. Pepper Hamilton also found a football program "above the rules," regents said. The board has accepted 105 recommendations the law firm offered to improve Baylor's response to sexual assault claims.
"We've listened to alumni. We've listened to students. We've listened to faculty," Regent Richard Willis, a former chairman, said. "I can't tell you when it's going to happen. I honestly don't know, but we're working to see how we can get some more information out to everybody."
The board bears "significant, significant" responsibility in the scandal, Regent Jeff Reeter said. When asked how the board would be held accountable for that responsibility, he said the board is held accountable by a "very high calling."
Regent Bob Beauchamp said Friday's meeting was productive. When asked about Briles, Beauchamp said he donated millions of dollars to fund the Beauchamp Athletic Nutrition Center at Briles' request.
"I have Art Briles' helmet in my study and I have a signed autograph in my office, and all my kids do," Beauchamp said. "I loved Art Briles. He's a wonderful man in my opinion."
Patty Crawford last week resigned as Baylor's first full-time Title IX coordinator and said she never had the authority, resources or independence to do her job. Crawford filed a complaint with the Department of Education's Office for Civil Rights, alleging Baylor is still violating Title IX.
Murff said he disagrees with Crawford's assessment of the Title IX office.
"We take Title IX and all of that very seriously, obviously with all the decisions that have been made, and we've invested a lot of resources, invested a lot of time and we want to make sure our students are safe," Murff said. "We're going to continue to do everything we can to make sure that's the case."
In a recent Facebook post, Crawford wrote that Baylor has hired an outside PR firm. Other reports indicated the presence of an outside firm, but Murff did not confirm those reports. Glenn Bunting, founder of G.F. Bunting + Co. left the meeting Friday. His firm specializes in helping universities repair their reputations amid allegations of Title IX failures.
When asked if Baylor hired a PR firm, Regent Mark Rountree said information will be released in the coming days.
Murff said the board consults with advisers and experts on board governance.
"We continue to look at ways that we can, as a board, be the best that we can be," Murff said. "Are there different committees that we need to look at? Are there different ways of doing our business that we need to address? We're constantly looking at that."
Officials have said the school has made significant progress on implementing Pepper Hamilton's recommendations. The progress is outlined on the Baylor website.
Regent Emeritus Drayton McLane gave a significant donation toward the renovation of Baylor's Louise Herrington School of Nursing in Dallas, according to a Baylor press release. The board approved the $18 million project this week to renovate the former Baptist Building, which will more than triple the size of the School of Nursing campus, the release states. Construction is expected to be complete in fall 2018.
"Our family has been very committed to Baylor University because of its Christian commitment to higher education and also to health care, and this is why we were interested in helping with a gift that will begin the building renovation for Baylor's outstanding Louise Herrington School of Nursing," McLane said in the statement. "We are hopeful that many other alumni of Baylor University will want to assist in creating a brighter future for health care."
Regents also awarded 2016 Meritorious Achievement Awards. Houston physician Tom Rosenbalm was named alumnus of the year, and Jeremy Courtney was named young alumnus of the year. Courtney is the co-founder of Preemptive Love Coalition, a global group of peacemakers to assist people in the Middle East, according to the press release. Rosenbalm earned a bachelor's degree in 1950 and a master's degree the following year. Courtney earned a master's of divinity in 2004.