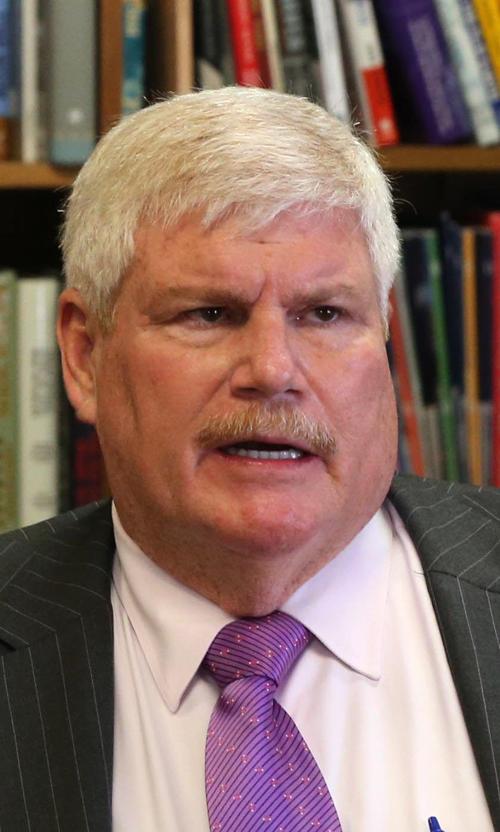 ---
DALLAS — A group of major Baylor University donors has called for an investigation of the conduct of the school's board of regents and administration in a sexual assault scandal that has shaken the community.
After an almost 21/2-hour meeting between three Baylor regents and four members of Bears for Leadership Reform — a group of donors that has publicly criticized the board for its handling of the scandal — the benefactors hosted a press conference.
Houston lawyer John Eddie Williams, a prominent member of the reform group, said he expects Baylor to pay for this independent investigation, and said he would also contribute to what he thinks would be a more than $1 million, third-party probe. He hopes investigators could be hired within the month.
"Let's see what the true facts are and let the chips fall where they may," Williams said. "We hope the board will join us in supporting an independent investigation so that we can let all the facts be known, hear from all parties involved and then let the healing process begin. We emphasize to the regents that this issue is not going away. The distrust that many of the alumni have of the board is not going away."
Temple billionaire Drayton McLane, former Texas Gov. Mark White and former Regent Randy Ferguson also represented the reform group. Board Vice Chairman Joel Allison and regents Cary Gray and Jerry Clements represented the board.
After the meeting, Clements said the board will respond to the group's suggestion of an investigation, which Williams said would include findings of why Title IX was not fully implemented, if there were real or perceived conflicts of interest regarding regents and if the board acted appropriately. Williams said he hopes that response will come within a week.
McLane skipped the press conference because of a prior commitment, and Baylor board Chairman Ron Murff was in Nicaragua doing mission work.
Williams' name adorns the football field at McLane Stadium, which opened in 2014 and itself is named after Drayton McLane. He said he knows of others who have withheld donations to Baylor because of the scandal, and he is in a "difficult situation" because he has already made commitments for the field. He previously told the Tribune-Herald he knows of someone who wrote a $25 million gift to Baylor out of a will.
"It's something that I'm wrestling with at the moment, and I'm hoping the board will go forward with transparency and put all of that behind us," Williams said.
White said the Tuesday meeting was "spirited," and no punches were pulled. White said he recently received a phone call from Allison requesting a meeting.
"I think we made some progress," White said. "I know that they were not in a position to make a commitment on behalf of the whole board, but I don't think they're going to go away from this meeting today with any lack of understanding of our solidarity on these issues and on our complete commitment to see it to a fair conclusion."
Clements said listening to this group, along with alumni, faculty, staff and students, is the best step for Baylor to move forward as a community. Regents are meeting with faculty and staff four times this month.
"We've got to listen, we've got to consider carefully and we've got to let people know they're being heard," Clements said. "And then we're going to talk about it very seriously as a board and figure out, in light of all of those things that have been brought to our attention, the best path forward."
Philadelphia law firm Pepper Hamilton LLP conducted a nine-month investigation into Baylor's handling of sexual assault reports. When it ended in May, regents fired Ken Starr as president and Art Briles as head football coach.
Pepper Hamilton found "fundamental failure" in Baylor's Title IX implementation and a football program operating "above the rules." Two football players have been convicted of sexual assault since 2014, and regents told The Wall Street Journal that 19 players have been accused of sexual or physical violence by 17 women, including four gang rapes.
Ian McCaw resigned as athletics director days later, and he has since been hired to the same job at Liberty University.
Bears for Leadership Reform and the Baylor Line Foundation, formerly the Baylor Alumni Association and an alumni group with a well-chronicled history of tension with the university, have called for a full accounting of the facts in the scandal, in addition to the 13-page findings of fact document the board has released. One hundred and five recommendations from Pepper Hamilton were also released by the board and accepted as mandates.
Williams said he was "stonewalled" after asking how much money the scandal has cost Baylor, including how much Baylor has paid Pepper Hamilton. He also said regents urged his group not to speak to the press.
"It is my impression that (regents) are somewhat inside of a bubble and don't know the depth of the skepticism of the board," he said. "We emphasized it very strongly today. This is not going away. This will not heal itself. This will not be solved with you making a few changes in governance. We were very emphatic about that. I did not get a sense from what they told us that they appreciate or understand the depth of the issue."
Be the first to know
Get local news delivered to your inbox!