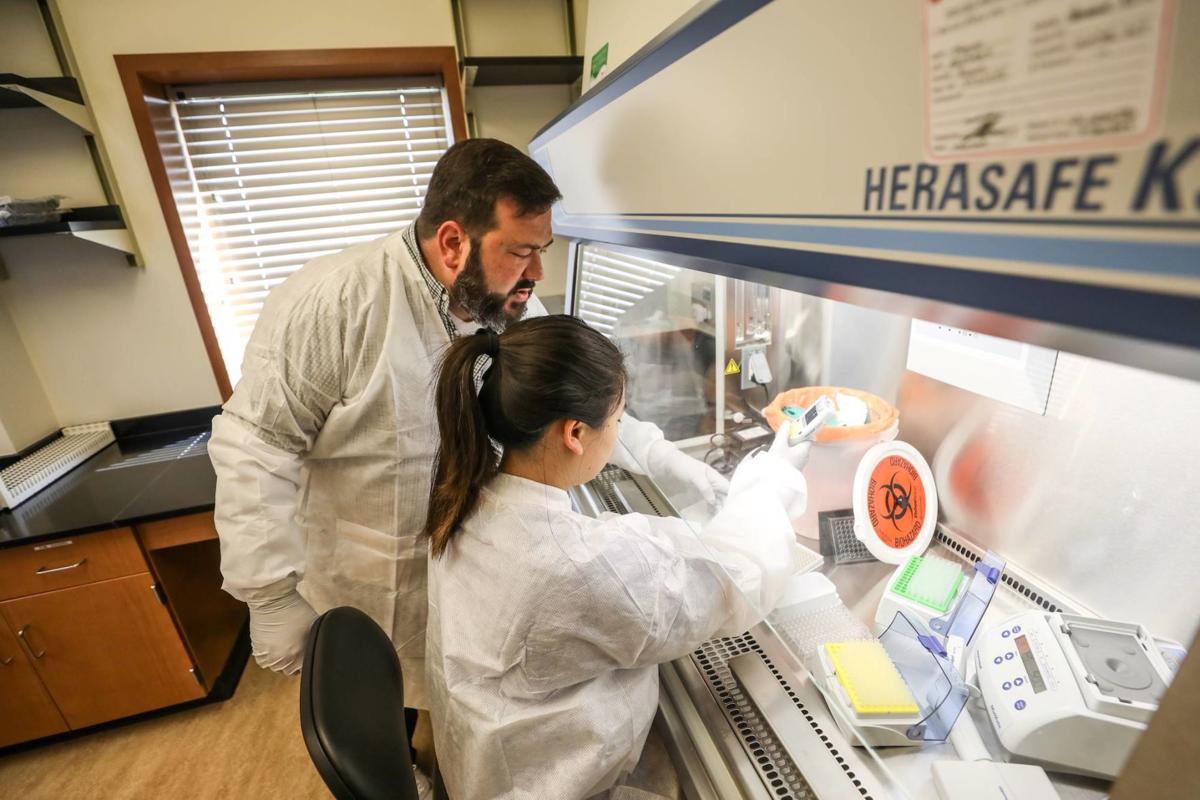 Baylor University and Waco Family Health Center researchers studying how widespread COVID-19 is in McLennan County could help local officials determine whether they should continue to reopen businesses or implement further restrictions, a lead investigator said.
The researchers are taking applications for more than 750 people who have not had any signs or symptoms of COVID-19 since March 13, when the city of Waco issued a stay-at-home order, because many people who get the disease do not have symptoms, said Michael Muehlenbein, one the study's lead investigators and chair of Baylor's anthropology department.
"Hospitalizations and positive molecular tests for the virus do not accurately reflect how widespread the virus actually is in the community because a lot of people who will get infected will not show any signs or symptoms, but could pass it on to someone else," Muehlenbein said.
As of Wednesday, McLennan County had reported 2,283 residents had tested positive for COVID-19 since March. Fourteen of those people have died, while 328 have recovered, according to the Waco-McLennan County Public Health District.
Muehlenbein and his two co-investigators, Erich Baker and Dr. Sally Weaver, are conducting this survey after seeing COVID-19 cases spike after Memorial Day and Gov. Greg Abbott's reopening of businesses at greater capacities. Baker chairs Baylor's computer science department, while Weaver is the research director at the Family Health Center.
"It's not a coincidence that we're seeing an increase in cases as a direct result of people coming out of the lockdown, and we need data that helps us to understand whether or not we should backtrack on any of those openings," Muehlenbein said.
On June 26, Abbott backtracked on some of his phased reopening of the economy, when he shut down bars again and reduced restaurant capacity to 50% from 75%. He also ordered people in counties with 20 or more active COVID-19 cases to wear masks in public and banned large outdoor gatherings.
Health authorities, including those at Johns Hopkins University, the University of Washington, the U.S. Centers for Disease Control and Prevention, and the World Health Organization, warned about additional waves of infection, especially after people started to gather more, Muehlenbein said.
Typically, researchers would measure these other waves of infection by the number of people who develop symptoms, the number of hospitalizations, the number of deaths, the number of tests returned positive out of those given, but again the problem with those metrics is that anywhere between 35% and 40% of people do not show symptoms and could be carriers, placing those who are more susceptible to the disease at "what some of us would deem unnecessary risk," Muehlenbein said.
"There's, of course, a careful trade-off between opening up businesses and also maintaining our physical and mental health," he said. "But the trade-off is getting exposed to a relatively deadly virus."
How it spreads
Weaver said the researchers are hoping the study will give them a better idea of how COVID-19 is spreading throughout the community and how it might have changed with the recent surge in infections in McLennan County.
Selected participants could have their blood drawn as early as this week to see if they may have been exposed to COVID-19, as well as have some physical measurements taken. Participants will be entered into drawings for H-E-B gift cards.
The researchers are looking for people who never developed symptoms of COVID-19 with varying levels of risk of exposure to the virus, from people who lived with someone who had COVID-19 to health care workers, police officers, firefighters and other essential workers like gas station and grocery store clerks. They also want to include about 50 people who had a relatively low risk of being exposed because they followed public health guidelines, stayed home and only went out for essential activities, as well as a small group of about 20 people who have tested positive to make sure the project's tests are accurate.
Representative sample
The project needs to sample about 770 individuals, across the different risk groups. About 650 of those people would be invited back three times to see if there is a change in their exposure. All testing is free for participants of the study.
Weaver said between 400 and 500 people have already tried to sign up for the survey, but the researches are looking for certain varied groups of people. Applicants must fill out the form at wacocovid.ecs.baylor.edu and answer all questions to determine if they qualify for the study. Another problem with the pool of applicants so far is that about 80% were white, she said.
"We really would like it to reflect the ethnic diversity of our community," she said.
This type of survey is called a "prospective cohort study," which Muehlenbein called one of the most informative epidemiological designs because it looks at specifics cohorts of people and randomly samples them over time.
Participants will undergo serological surveillance, which does not include the swabbing of the nose or mouth to test for the active virus. The results of the blood test will not state whether someone is currently infected or immune to the virus. The serological tests determine whether someone likely has been exposed to the virus and had been infected at some point, and participants can share the results with their doctor, Muehlenbein said.
"It gives us a more accurate way of trying to determine how widespread it is in the community, besides just relying on those who voluntarily get tested because they have developed symptoms," he said.
Both the Cooper Foundation and the Bernard & Audre Rapoport Foundation provided grants to help fund the project. The Cooper Foundation provided $48,000, while the Rapoport Foundation provided $20,000. The Family Health Center matched the $20,000 grant, Muehlenbein said.
Rapoport Foundation Grants Manager Jenny Peel said she hopes the study provides critical data about the spread of the coronavirus by people without symptoms that will help local officials respond to the pandemic in the coming weeks and months.
"We're big fans of the Family Health Center and the work that they do," Peel said. "They play a critical role in our community, even more so with the pandemic and the COVID-19 response in our community."
Cooper Foundation Executive Director Felicia Goodman said the foundation was happy to support this health services research project because generally the subject is underfunded.
"Our community and our world needs desperately to better understand the novel coronavirus," Goodman said. "Health services research is a critical part of understanding population health and is, unfortunately, often not adequately funded. If there were ever a time to better understand population health, that time is now."
Concerned about COVID-19?
Sign up now to get the most recent coronavirus headlines and other important local and national news sent to your email inbox daily.