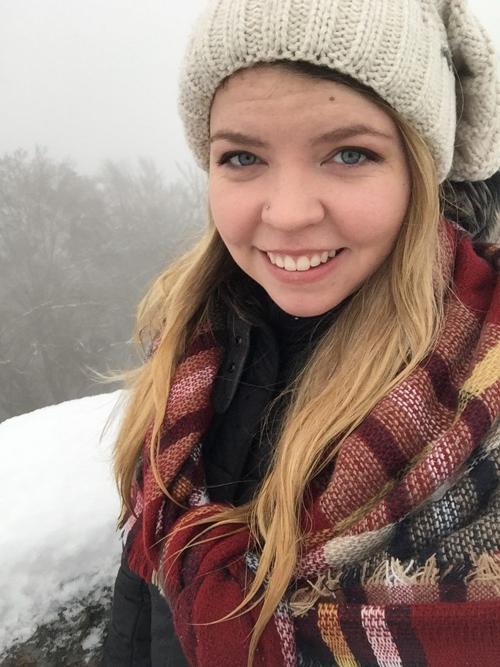 Another Baylor University student came forward this week to share the story of her disappointment with the school's handling of her sexual assault report, saying she felt blamed by the university's police department when she reported the assault.
Baylor junior Cailin Ballard said she was inspired to speak out by a former Baylor student who last week detailed her own account of a March 2015 sexual assault and what she says was Baylor's subsequent mishandling of the allegations.
"They literally told me that if I hadn't been drinking or hadn't gone to the party, I wouldn't be in this scenario," Ballard told the Tribune-Herald of her interaction with Baylor police.
In a Monday blog post, Ballard alleges she was raped in her dorm room bed after a homecoming party in October 2013, when she was a freshman.
Former student Stefanie Mundhenk, who graduated last year, wrote a blog post last week about her reported sexual assault and participated in a Monday vigil with more than 200 students in front of Baylor President Ken Starr's house. Ballard says Mundhenk's courage was the impetus behind Ballard sharing her own experience.
Baylor officials and the Baylor Police Department did not respond to questions asked in repeated phone messages and emails Tuesday, Wednesday and Thursday. The Tribune-Herald was not able to obtain a police report from Waco police or Ballard, and Waco police declined to confirm whether they are handling an investigation. Ballard said her case is now in the hands of Waco police.
Kristen Houser, a spokeswoman for the National Sexual Violence Resource Center, said causing a person who is reporting an assault to feel blamed, such as in Ballard's case, can compound their trauma.
"Frankly, it can be quite silencing," Houser said. "When survivors keep everything on the inside, that's when we know we end up with compounded problems in the long run. The number one predictor for helping people have shorter duration of trauma is whether or not they feel supported."
Ballard published her blog post Monday night, the same night Mundhenk and a group of students organized the candlelight vigil outside President Ken Starr's house to protest how Baylor handles sexual assault allegations. A third woman shared her story at the Monday vigil of surviving a sexual assault.
In a statement Tuesday, Starr thanked students who attended the vigil and said he will take "definitive, responsible actions after we receive the insights and recommendations from Pepper Hamilton."
Philadelphia-based law firm Pepper Hamilton LLP was hired by Baylor to investigate how the university has handled past allegations of sexual assault. The investigation was sparked by the August 2015 sexual assault conviction of former Baylor football player Sam Ukwuachu, who assaulted another Baylor athlete in 2013. The school's response to the victim's report came under scrutiny during and after Ukwuachu's trial. He has since appealed his conviction.
A recent ESPN report included three women who claimed they were raped by former Baylor football player Tevin Elliott. In 2014, Elliott was sentenced to 20 years in prison on two counts of sexually assaulting a former Baylor student in 2012.
Ballard said she is unsatisfied with recent letters from Starr — one of which was released two hours before the Super Bowl — to Baylor constituents.
"He keeps promising false realities," Ballard said. "As great as they sound and hopeful as they sound, we all know nothing will change. It gets tiring for me seeing the same copy-and-paste emails he keeps offering. I've started getting more annoyed than comforted."
Starr's Sunday letter expressed trust in Pepper Hamilton's investigation and the work of Baylor's Title IX office while he grieved for victims of sexual assault.
"Our hearts break for those whose lives are impacted by execrable acts of sexual violence," Starr wrote. "No one should have to endure the trauma of these terrible acts of wrongdoing. We must never lose sight of the long-term, deeply personal effects of such contemptible conduct has on the lives of survivors."
He went on to write, "Here at Baylor, we have a unique opportunity to evaluate culture and climate, to identify challenges and to model the faithful Christian community we continually aspire to be."
Ballard also expressed frustration with the counseling Baylor offered following her assault report. In an interview, she said the university offered her 10 free counseling sessions.
She attended two of them, which were each with different counselors, she said. Ballard said she also attended group counseling at the school but didn't feel comfortable sharing with other alleged victims she did not know or trust.
Ballard said she has since switched to private counseling.
"The only thing helpful (about Baylor's counseling) was that it was a physical representation that I wasn't the only one on campus (who had been sexually assaulted)," she said.
Baylor installed a Title IX office in 2014 — in accordance with requirements handed down by the Department of Education in 2011 for all universities receiving any federal funding — led by coordinator Patty Crawford.
A Feb. 1 university statement said the office "is committed to responding actively to students or third-party reporters. We actively encourage students to use all available resources, recognizing that we are only able to respond to reports that are brought to our attention through a report to the Title IX Office."
Crawford did not respond to requests for comment Tuesday, Wednesday and Thursday. A Baylor spokeswoman said Thursday afternoon that Crawford would be available for an interview Friday morning.
"I do wish that the Title IX office had existed when I was raped," Ballard wrote in her blog. "I believe that it would have helped me a great deal in 2013, regarding supporting me with aid in schoolwork."
Ballard said she missed classes after her assault and that a Baylor police officer told her she would be able to make up any assignments or tests she missed. After meeting with her professors, Ballard said she discovered Baylor would make no such allowances and she suffered academic consequences.
The Title IX document, "Know Your Rights," says, "Once you tell your school about an incident of sexual violence, you have the right to receive some immediate help, such as changing classes, dorms, or transportation. When taking these measures, your school should minimize the burden on you."
It also says university remedies should "help you get your education back on track (like academic support, retaking a class without penalty, and counseling)."