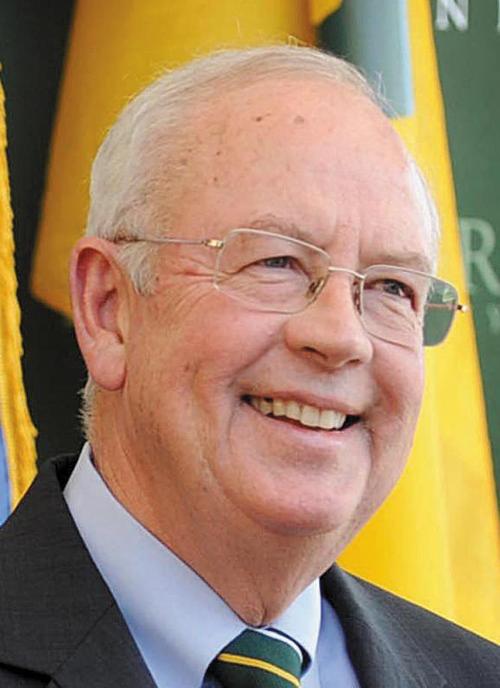 Baylor University students said Tuesday they are disappointed with an apparent lack of transparency from administrators on the school's response to sexual assaults.
Others said they believe officials are taking necessary steps to improve, and President Ken Starr issued a prepared statement, again citing federal privacy laws and an ongoing independent investigation in not commenting on how the school has responded to sexual assault.
Women at Baylor have recently said the school did not provide adequate or legally-required support after they reported sexual assaults, and five Baylor football players have been accused or convicted of sexual assault since 2012.
The most recent accusation is against former football player Shawn Oakman, who was arrested on a sexual assault charge stemming from an April 3 report.
On Monday, media learned Oakman was named in a 2013 Waco police incident report, alleging he physically assaulted his ex-girlfriend. No charges were filed.
Baylor sophomore Daniel Stratz said the school's focus is centered on protecting football players.
"I think it's just sad," Stratz said. "Look at their priorities. Their priority is mainly to win, no matter the cost. We're at Baylor University, which is a Baptist university. It's affiliated with the Baptist church. That's kind of crazy if you think about it. Are we actually a religious institution at this point?"
Another student called for administrative action on the issue, even if the allegations involve football players.
"Well I think the proper thing to do as any administrator at a school is to take action immediately," freshman Mary Grace Schmid said. "So if they knew about it and didn't do anything about it just to preserve the football hype, I think that's really not a good thing."
Baylor alumni Dax Brannan said he was not surprised by the revelation of Oakman's 2013 incident report, and he is unhappy with head football coach Art Briles.
"I find it hard to believe with all that has been revealed that Art Briles didn't know what was going on in his program," Brannan said. "I think that, to be honest, he should lose his job over it. And even if he didn't know ... he shouldn't be that ignorant of what's going on in his program."
University officials have not said when they learned of allegations involving football players, citing federal privacy laws. Briles did not respond to a phone message and email left Tuesday, and Director of Athletics Ian McCaw directed questions to a Baylor spokeswoman.
The university last month announced immediate funding increases to its Title IX office and counseling centers.
Senior Blake Hadley said he is not assured by Baylor social media posts and other indications around campus that the school is responding properly to the problem.
"They're just trying to sugarcoat the fact that it's already happened and they didn't really want to do anything about it before, other than hide it," Hadley said.
Another student said he is not satisfied with administrators' transparency level because they have not promised to release the findings from Pepper Hamilton, a Philadelphia law firm investigating how the school handles sexual assault claims. Two high-profile lawyers with the firm have been conducting an investigation since September.
"By admitting fault, the university could establish some trust in salvaging their reputation with people who have been victimized," senior Keith Sena said. He previously said at a prayer service for sexual assault victims and others that he wrote nine relevant questions in chalk in front of Pat Neff Hall in February.
Another student said perception on a national stage should influence Baylor administrators to be more open.
"I understand they have rights to privacy just like any other students," freshman Johanna Lippert said. "But I think because they are in a spot where they put our school in the national spotlight, how they are perceived is how we are all perceived. I think that holds them to a higher level of transparency than if they were just a student."
Sophomore Shailee Williams said she supports administrators' actions so far.
"I feel like they're doing more than necessary," Williams said. "I know Baylor's being hit hard with all the Title IX, and they're doing training for students and trying to respect the privacy of their players, as well as addressing the issue. I feel like they've been getting a lot of negativity toward how a lot of their players have had these incidents come up, but I support Baylor and all the actions they've taken so far."
In Starr's statement Tuesday, he said students are the university's highest priority, and that led to the Pepper Hamilton review.
"Baylor expects a candid assessment and clear recommendations for improvement and will determine how best to act on the recommendations once received," Starr said.
He said it is vital to the review's integrity to refrain from commenting on institutional responses to sexual assault until the review is complete. Starr also cited federal privacy laws in not speaking about individual cases.
"During this interim period, we have focused our energies on listening to our students, implementing prevention programs and taking actions that best ensure all students have full access to support services and the important resources of our Title IX office," Starr said.
In 2014, former football player Tevin Elliott was convicted of sexual assault and sentenced to a 20-year prison term. At the trial, three other women testified Elliott raped them.
Former players Tre'Von Armstead and Myke Chatman were named by Waco police in an April 2013 incident report involving sexual assault, but they were never charged. Armstead was removed from the football program in September 2015, and the university expelled him in February. Chatman transferred to Sam Houston State University.
Oakman was arrested April 13 on charges he sexually assaulted a student after leaving a Waco nightclub with her early April 3.
The January 2013 incident detailed in a police report made public Monday allegedly occurred shortly after Oakman arrived at Baylor. He was previously kicked off the football team at Penn State University, accused of physically assaulting a female cashier at a campus store.
Be the first to know
Get local news delivered to your inbox!