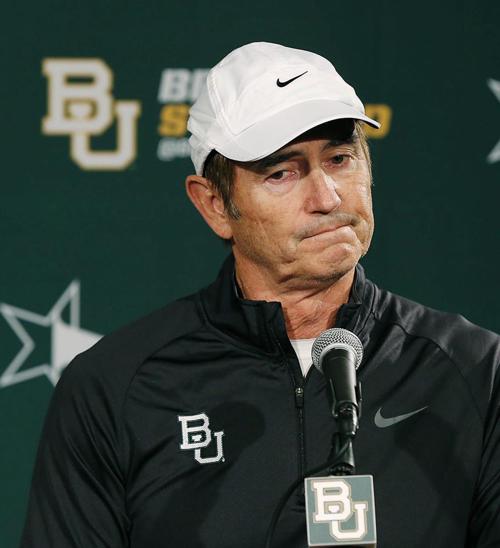 In interviews with the Wall Street Journal, Baylor University regents have offered new insight into the investigation of the school's responses to sexual assault that led to the ouster of its head football coach and its president in May.
Since releasing a summary of the investigation when they announced the firings, regents have largely refused to discuss details of the investigation and the presentation Pepper Hamilton LLP made to the board.
The scandal involved 17 Baylor University women who reported sexual or domestic assaults involving 19 football players, Baylor regents told The Wall Street Journal. Those reports, made between 2011 and 2015, included four alleged gang rapes.
Art Briles, who was fired as head football coach in May after eight seasons, knew about at least one allegation and did not alert police, the Baylor judicial affairs office or the Title IX office, regents told the Wall Street Journal.
"There was a cultural issue there that was putting winning football games above everything else, including our values," Regent J. Cary Gray said, as reported by the Wall Street Journal. "We did not have a caring community when it came to these women who reported that they were assaulted. And that is not OK."
The Wall Street Journal reported that Briles met with regents in Waco two days before his May 26 firing. Briles was asked what he would have done differently, and he began to weep, according to regents' account in the story.
"He couldn't speak he was so upset, and all of us were," Gray said. "Art said, 'I delegated down, and I know I shouldn't have. And I had a system where I was the last to know, and I should have been the first to know.' "
The document and statements regents made at the time referred indirectly some of the problems they discussed in more detail with the Journal.
Briles' lawyer, Ernest Cannon of Stephenville, told the Wall Street Journal that Baylor appeared to be violating a nondisparagement clause that was part of a June agreement. Briles never discouraged victims from filing claims against players, and regents are holding Briles responsible for Baylor's failure to implement Title IX initiatives, Cannon said in the story.
"They are pulling their own house down to justify the mistakes they made," Cannon told The Wall Street Journal. "He's the football coach. That's not his job [to enforce Title IX.] That's their job."
Ken Starr also was fired as president amid the shakeup. He later resigned from his other positions at the university. Athletics Director Ian McCaw was sanctioned and placed on probation and resigned days later.
Two football players — Tevin Elliott and Sam Ukwuachu — were convicted on sexual assault charges in 2014 and 2015, respectively, stemming from incidents while they were connected with the team. Shawn Oakman, a member of the 2015 squad and Baylor graduate, has been indicted on a sexual assault charge.