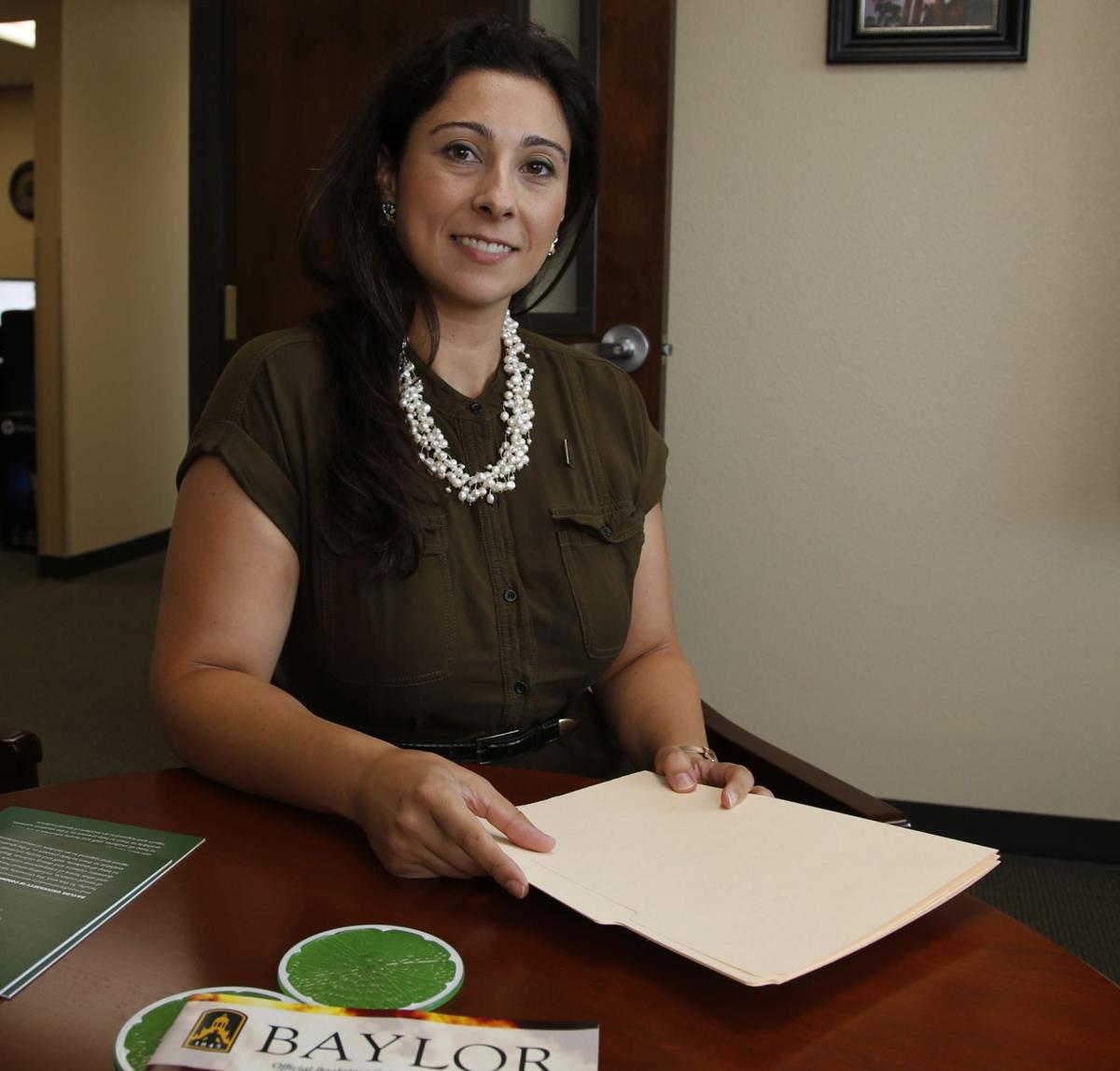 ---
Patty Crawford, who resigned Monday as Baylor University's first full-time Title IX coordinator, said on national television Wednesday that the school "set (her) up to fail" when she started the job in November 2014.
In the interview Wednesday on "CBS This Morning," Crawford also said upper-level administrators interfered with her ability to do her job, a point her lawyer later repeated in a phone interview with the Tribune-Herald.
"The harder I worked, the more resistance I received from senior leadership," Crawford said.
She said reports to Baylor's Title IX office under her guidance increased sevenfold, and senior administrators did not like that and said it was bad for the school.
Crawford has filed a Title IX complaint with the U.S. Department of Education Office for Civil Rights.
"The allegations are that I never had the authority, resources or the independence to do the job appropriately, which the Department of Education writes in its guidance for Title IX coordinators and universities," she said.
The increase in reports was expected, interim President David Garland said in a statement Wednesday afternoon.
"This means our education and communication efforts are working," Garland said. "We have been educating our campus about sexual violence and about reporting — what to report and how to report. This correlates to higher reporting levels. Because of our ongoing training and education efforts, we should continue to expect these numbers to be higher than previous years."
Kristan Tucker, who was senior deputy Title IX coordinator, was named Crawford's replacement Wednesday night, Baylor announced. In a statement, Garland said he has "full confidence" in Tucker.
"Although I may serve as the Title IX coordinator, this is truly a team effort," Tucker said in a statement. "We are a unified team, committed to the common goal of addressing the important issues of gender discrimination and interpersonal violence impacting the Baylor community. We remain committed to making progress and working with integrity to show leadership through our efforts."
Crawford said earlier in the day she thinks Baylor still fails victims of sexual assault.
Crawford's attorney, Rogge Dunn, said Baylor broke Texas law by commenting on a Monday mediation that preceded Crawford's resignation. In a Tuesday evening statement, Baylor said Crawford demanded $1 million and book and movie rights.
Other media reports citing unnamed sources said Baylor offered a $1.5 million settlement, plus $50,000 for a confidentiality agreement, and Crawford countered with $2 million, which Baylor refused.
Dunn, who accompanied Crawford to her "CBS This Morning" interview in New York, called Baylor's allegations that she pursued the million dollars plus the book and movie rights "a desperate attempt to smear Patty."
"What they've done is violated Texas law," Dunn said. "Believe me, there's nothing I would rather tell you than what went on in that mediation, because it's in favor of Patty. But the law says you can't do that. We choose to follow the law, unlike Baylor University."
Speaking with the Tribune-Herald by phone later Wednesday, Dunn said he is "looking into" suing Baylor.
But Baylor spokeswoman Tonya Lewis said Wednesday that Baylor's Tuesday statement did not violate any law because Crawford made the demands in advance of the mediation.
When asked to whom Crawford made those demands, Lewis said she will ask whether she is able to disclose that.
"I'm not certain if the university wants to disclose information, as far as whom people talk to," she said. "So I think they've given you a lot of good information, as far as what we're legally able to say."
Suzanne Duvall, a Dallas lawyer and past president of the Association of Attorney-Mediators, said parties in such situations should always err on the side of confidentiality, which she calls the hallmark of mediation.
"Whether it be a private mediation or a court-ordered mediation, confidentiality is confidentiality is confidentiality. . . . That means before, during and after the mediation process," she said.
"That's why it works," said Duvall, who is also past president of the Alternative Dispute Resolution section of the State Bar of Texas. "It's a safe environment, and people can discuss their issues, work them out and not have them come back to haunt them. I had no idea what happened in that mediation, but most people entering in an agreement to mediate agree to confidentiality.
"Demands made prior to the mediation and later incorporated by way of a demand in the mediation are nevertheless confidential."
Dunn declined comment when asked if a confidentiality agreement was signed before mediation and if a settlement was ultimately reached.
Crawford's Wednesday comments stand in contrast to some she made in an August interview with the Tribune-Herald, when she said Baylor was "very accepting" of her goal to promote Title IX.
"I have some of the best partners across campus that anyone could ask for," she said in August. "They were very caring and warm in bringing me in. But again, that's not 100 percent of the population, right?"
She also said in August that administrators listened to her more since the personnel changes and the release of the "findings of fact" document.
When CBS interviewers questioned her about those August comments, Crawford said there are some "wonderful" board members and great partners across campus.
'Being retaliated against'
"The issue is, I was trying to continue to create compliance with Title IX and I was trying to be hopeful that the university was going to listen, and the more I asked and the more I tried, the more resistance I received, and I was being retaliated against for fighting discrimination," she said.
In his statement Wednesday, Garland said the Baylor community understands the "critical" importance of the Title IX office and provides support to the staffers there.
"Significant staff, budget and support resources were provided throughout the year," Garland said. "The Title IX office and its staff have authority and autonomy to carry out their duties, serve the needs of students, engage others on campus for support and manage all responsibilities of the office."
Crawford failed to reveal in her August Tribune-Herald interview that she told Baylor the previous month, in writing, that she thought the university was violating Title IX.
Crawford is choosing not to name the senior administrators now to prevent potential interference with her federal complaint, Dunn said Wednesday.
He said senior administrators directly interfered with Title IX cases at Baylor, circumventing federal Title IX policy and Crawford's responsibilities.
The Department of Education does not confirm receipts of complaints, but it does make public new Title IX sexual violence investigations that open on college campuses, often in response to complaints, department spokesperson Dorie Nolt said in an email. As of Wednesday, there are 279 sexual violence cases under investigation at 214 postsecondary institutions.
"Every student should be able to attend college in an environment free from sexual harassment and violence," Nolt said.
But Dunn said duties Baylor handed to Brandyn Hicks were unfair to Crawford. Hicks, director of special projects and initiatives, is a member of the Sexual Assault Task Force action team and monitors the progress of each implementation team, according to Baylor's website.
Hicks has no Title IX experience, Dunn said.
In a statement Wednesday evening, Baylor Chief Operating Officer Reagan Ramsower said: "(Hicks) was hired in May 2016 to coordinate work related to the implementation of the Pepper Hamilton recommendations and track progress of the action and 11 implementation teams. She is not part of the Title IX office and has no responsibility related to the daily operation of Title IX."
Crawford's husband, Ben, criticized Baylor on Twitter on Wednesday.
"Baylor will release a bunch of fabrications in an attempt to discredit Patty," he wrote. "Because that's how powerful and corrupt people fight back."
"Patty's always told the truth, and will continue to do so, and that terrifies them," he wrote in another post.
Baylor's board of regents made the personnel moves after Philadelphia-based law firm Pepper Hamilton LLP found "fundamental failure" in Baylor's Title IX implementation and a perception the football program operated "above the rules," according to regents.
Voicemails left for board Chairman Ron Murff were not returned Tuesday or Wednesday.