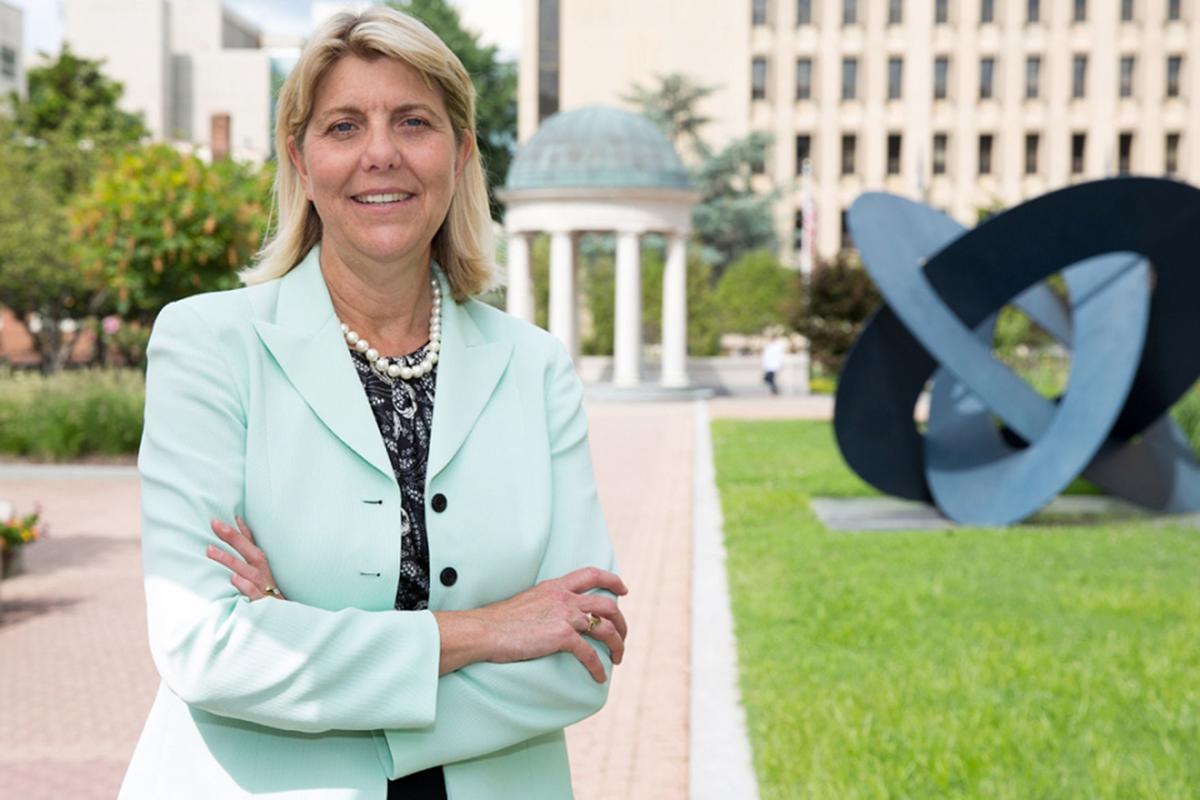 Linda A. Livingstone, the dean at the George Washington University School of Business, was formally named Baylor University's 15th president Tuesday.
Livingstone is the first female president in Baylor's 172-year history and replaces interim President David Garland, who has served in the role since June 1, as the university tries to move beyond a sexual assault scandal that has spanned more than a year and a half.
"Baylor holds such a unique and significant place in higher education," Livingstone said in a media teleconference Tuesday afternoon. "To be a university that's committed to high-quality scholarship, excellence in academics, while maintaining the commitment and engagement with its Christian mission and its Christian roots, is unusual and something that is very significant. It was an important factor in me making this decision to come back to Baylor."
From 1991 to 1997, Livingstone was an assistant professor in Baylor's department of management, and she was an associate professor in the same department from 1997 to 2002. From 1998 to 2002, Livingstone was also associate dean of graduate programs for the Hankamer School of Business, holding responsibility for all graduate degree business programs.
From 2002 to 2014, she was dean of the Graziadio School of Business and Management at Pepperdine University, and she has led George Washington's business school for the past two years.
Board Chairman Ron Murff said the board voted unanimously to name Livingstone Baylor's next president.
Art Briles also was fired as head football coach, and Athletics Director Ian McCaw was sanctioned and placed on probation before resigning days later.
An organized group of influential donors and the school's alumni foundation have been vocal in their calls for greater transparency from Baylor's board of regents.
Two former Baylor football players have been convicted on sexual assault charges in recent years, though one conviction was reversed on appeal and a new trial is expected.
Patty Crawford resigned as Title IX coordinator in October and started a public battle with the university, claiming she did not have the independence to do her job.
Livingstone said she asked regents, administrators and search committee members during the interview process about the various issues of the scandal and remained undeterred.
'Eyes wide-open'
"We talked quite a bit about some of the investigations and lawsuits the university is facing, so I go into this with eyes wide-open about some of those continuing challenges that we have to work through," she said. "I asked some questions about the commitments of the regents of continuing to work through these issues and ensure we get to the right place as a university."
Livingstone, who was a member of Calvary Baptist Church during her time in Waco with her husband, Brad, was one of two finalists identified by a search committee in Baylor's 2005 presidential search to replace Robert B. Sloan Jr.
John M. Lilley was eventually named president a short time after interim President Bill Underwood left the office. In 2005, sources told the Tribune-Herald that an advisory committee voted 8-1 to approve Underwood as permanent president, but the regents' search committee voted 6-5 in favor of Livingstone.
Underwood, who took the presidency at Mercer University in 2006 and remains at the helm of the Macon, Georgia, university, removed himself from consideration before an official, final vote between the two was taken.
Since 2005, Baylor has had seven university president stints, including four as interim or acting — two of whom were Garland. Three presidents — Sloan, Lilley and Starr — were removed by regents amid significant tensions and controversy in the Baylor community.
Murff, however, would not say if the board had such concerns regarding Livingstone as she enters her presidency, saying only that regents are optimistic they chose the right person to lead the university.
"Each of those situations has its own unique characteristics," Murff said. "I think it would be not very helpful to compare the situation as we begin with Linda as our leader. We have great confidence in her. We have great confidence in her abilities and her vision for the university. I think she will be a very collaborative leader as she works with other members of the senior team at Baylor and the faculty."
Faculty chair weighs in
Baylor Faculty Senate Chairman Byron Newberry said he is pleased the presidential search ended successfully and is eager to work with the new Baylor chief.
"I'm glad that Dr. Livingstone comes to us with a great deal of accomplishment and experience in higher education and academic leadership," Newberry said. "I look forward to meeting her, learning more about her vision for Baylor and beginning a working relationship with her through the Faculty Senate."
In a statement, Baylor Line Foundation President Fred Norton Jr. said Livingstone's range of experiences — particularly her expertise in accreditation — will be critical to her leadership of the university.
"We welcome her return to the Baylor Family — many of whom know her and respect her — and we look forward to supporting her efforts to rebuild Baylor's reputation and standing in a spirit of transparency and accountability," Norton said.
George Washington President Steven Knapp said in the Baylor press release that Livingstone "has been a stellar dean and an excellent colleague."
"I am sure that our entire GW community joins me in wishing Linda all success in her important new role and that Baylor University will benefit tremendously from her leadership," Knapp said.
Though he said he is not specifically familiar with Livingstone and her presidential acumen, McLennan County Judge Scott Felton said naming a president will help bring stability to an important community partner.
The university is a powerful force in higher education, he said, and the hiring of Baylor's first female president is "a very significant announcement."
Waco Mayor Kyle Deaver was unavailable for comment Tuesday.
During the Tuesday teleconference, Murff also took time to recognize Garland for his selfless work and commitment to Baylor and its constituents.
"He has been a great example of a servant-leader in all that he has done in his time at Baylor, particularly over this last year," he said.