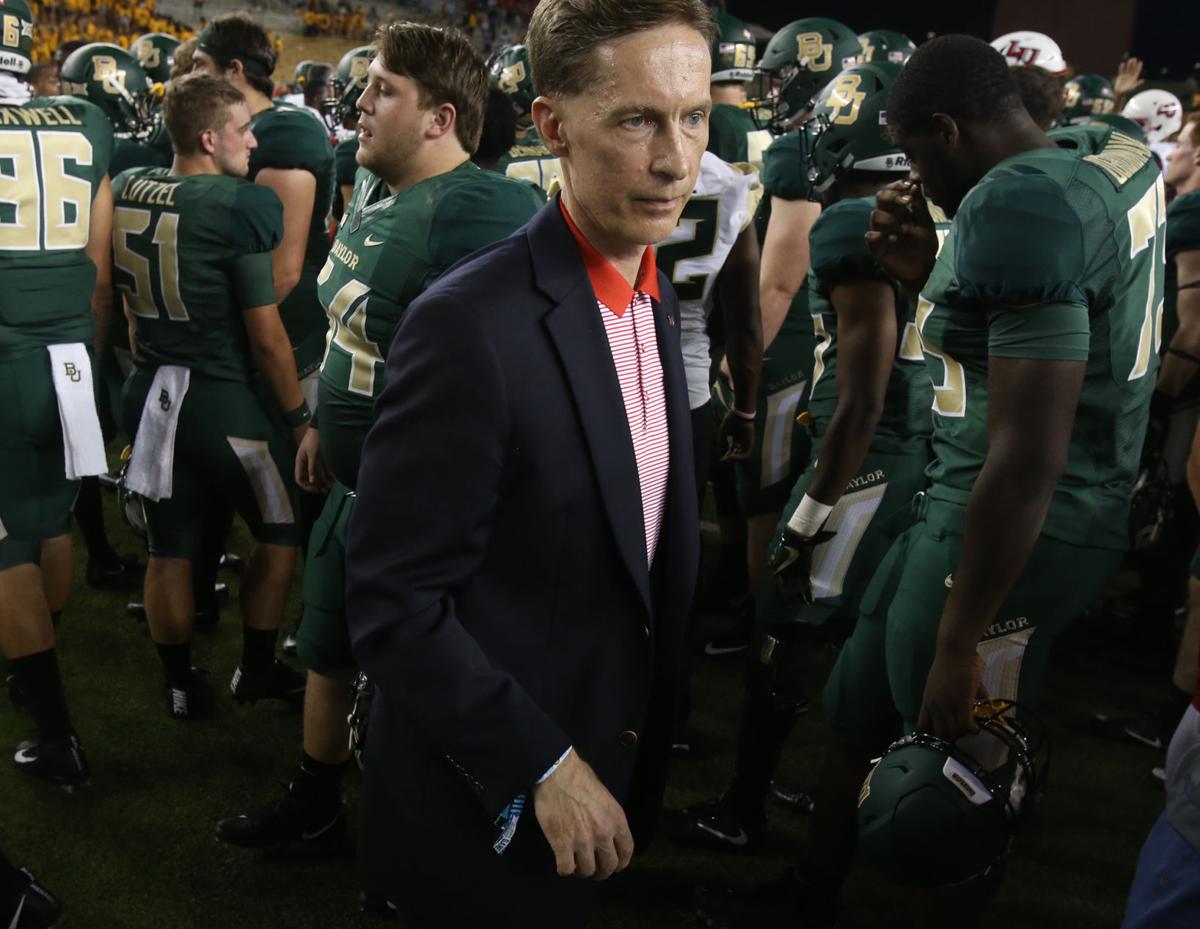 Liberty University Athletics Director Ian McCaw in a deposition said Baylor University undertook "an elaborate plan that essentially scapegoated black football players and the football program for being responsible for what was a decades-long, universitywide sexual assault scandal," according to a motion filed Wednesday in Waco's U.S. District Court.
McCaw said he was "disgusted" by Baylor regents' racism and by a "phony" 13-page document held up by the board as a summary of a nine-month investigation into how Baylor responded to reports of sexual assault. He was questioned June 19 by lawyers representing 10 women who allege Baylor denied them educational opportunities protected by Title IX after they were assaulted. The motion includes excerpts from McCaw's sworn testimony.
McCaw spent 13 years as Baylor's athletics director and accepted the same role at Liberty in November 2016. At the height of the scandal in May 2016, Baylor regents sanctioned McCaw and placed him on probation, and McCaw resigned days later.
McCaw said he resigned because he "did not want to be part of some Enron cover-up scheme," according to Wednesday's motion.
"It's bad for business. … It's bad for Baylor's brand, bad for admission, bad for tuition revenue," McCaw allegedly said of the board's motivations about the scandal. "And obviously you know Baylor is heavily reliant, it does not have a large endowment, so it's heavily reliant on tuition revenue. So if there's a dip in admissions, a dip in tuition revenue, that severely affects the university."
In a statement, the university pushed back on the motion and said it plans to file a written response with the court.
"The plaintiffs' counsel have grossly mischaracterized facts to promote a misleading narrative in an effort to deflect attention away from the actual facts of the case pending before the court," the statement said. "Baylor has complied and will continue to comply with all court rules in this case. We will maintain our diligent efforts to keep discovery focused on this specific case while steadfastly protecting the privacy of our students and their records that are uninvolved in this matter. As permitted by the court's rules, Baylor will be filing a written response to the plaintiffs' motion."
"Much of the testimony of Mr. McCaw that is selectively quoted in the motion is based on speculation, hearsay and even media reports," the university added.
McCaw was subpoenaed in January along with two other Liberty employees who formerly worked at Baylor, Deputy Athletics Director Todd Patulski and associate general counsel Ian McRary. Patulski held the same role at Baylor, and McRary was a Title IX investigator.
McCaw also revealed damning testimony surrounding the sexual assault investigation at Baylor from September 2015 to May 2016, which ended when Ken Starr was removed as president and head football coach Art Briles was fired.
McCaw said Pepper Hamilton attorneys told him there would be three potential outcomes to the investigation Baylor hired them to conduct: a "detailed document," a "summary report," or "to whitewash the whole thing." He said it was ultimately decided that Baylor regent J. Cary Gray would write a "false" and "misleading finding of fact skewed to make the football program look bad and cover up the campus-wide failings."
According to the university, Baylor regents, including Gray, were not present during the drafting of the "findings of fact" document released in May 2016. Gray did not return a request for comment Wednesday.
McCaw said former Baylor Police Chief Jim Doak had discouraged reporting of sexual assaults and ignored rape reports, according to the motion. He said former high-level administrator Reagan Ramsower, who also took heavy criticism during the scandal, once said that "if Chief Doak was still here, we wouldn't fire him. We'd have to execute him."
Doak resigned in 2013 and was thrown a retirement party. McCaw's description of Doak's responsibility aligns with that of former interim President David Garland's. In a deposition last year, Garland told the same attorneys that Doak had discouraged rape victims from making the cases.
McCaw said he learned of rape allegations involving Baylor athletes through media reports, and also said a Baylor police dispatcher once put a woman reporting that she had been raped on hold to order himself a meal.
Doak's attorney, David Deaconson, declined to comment.
According to the motion, McCaw charged that labels like "300-pound black football player" were used to deflect from a universitywide sexual assault reporting problem. McCaw's deposition indicates regents, including four-time board chair Richard Willis, sought to deflect attention away from the board and "shaped (the Pepper Hamilton investigation) to accomplish the goals he was seeking."
Public relations
McCaw told lawyers the public relations firm G.F. Bunting + Co. encouraged him to lie about when athletics department officials learned of an athletics-related rape allegation, the motion states. Bunting said it would be "mutually beneficial" to Baylor and McCaw to give a false account of the situation, according to the motion.
McCaw said company founder Glenn F. Bunting hung up on him after McCaw said he would not agree to the proposal.
In an interview Wednesday, Bunting said McCaw made an untrue claim.
"Mr. McCaw's claims are absurd and a complete fabrication," Bunting said. "Our consistent advice and counsel to the university was to be transparent and to disclose the facts and details of the investigation. We embarked on a proactive strategy through the media to proactively tell the truth about the findings of the Pepper Hamilton report."
Jim Dunnam, a Waco attorney representing the plaintiffs in the lawsuit, said Baylor's response to the motion "is as pathetic and phony as what McCaw himself calls their 'phony' findings and their attempts to cover up for the actions of its regents to conceal sexual assault."
"Baylor could easily allow excerpts of Mr. McCaw's deposition that reveal no private student information but instead Baylor has triggered hiding the whole thing," Dunnam said by email. "A fair release of McCaw's deposition will show that our filing is both true and in context, and it would provide even further testimony of McCaw that Baylor does not want known."
Briles' attorney, Ernest Cannon, told the Associated Press the motion "validates what Art has been trying to say from the first day. Baylor had a campuswide problem. It was not unique to the athletic department. … Baylor needed two things: a bus and someone to throw under it."
The suit is one of six active Title IX lawsuit Baylor faces. The university has already settled several others. It is also under investigations from the Big 12, the NCAA, the U.S. Department of Education and the Texas Rangers.