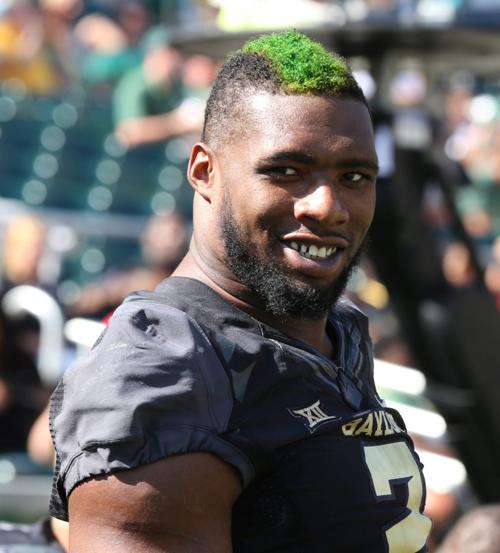 Former Baylor University football player Shawn Oakman, who was arrested this month for allegedly sexually assaulting a woman, was named in a January 2013 Waco police incident report alleging he physically assaulted a woman.
According to the incident report posted on Twitter by Alex Dunlap of RosterWatch.com, and confirmed by Waco police Sgt. W. Patrick Swanton to media to be authentic, Oakman grabbed the alleged victim under her armpits and shoved her into brick walls and cabinets at her South Waco apartment. The alleged assault occurred between 11:30 a.m. and noon Jan. 10, 2013, and police were called about 1 p.m.
The Tribune-Herald has submitted open records requests for the January 2013 incident report and for all correspondence between Waco police and Baylor employees within the following two weeks.
Baylor spokeswoman Tonya Lewis did not respond by late Monday to questions concerning if and when university President Ken Starr, Athletics Director Ian McCaw and head football coach Art Briles knew about Oakman's 2013 incident report.
The alleged incident was about six months after Oakman enrolled at Baylor after being kicked off the football team at Penn State University for physically assaulting a female cashier who reportedly tried to stop him from stealing food from a campus store.
The 2013 Waco police report states Oakman picked the woman up and called her a "slut and a whore," and the alleged victim said Oakman shoved her face into clutter on her bed, which included bags of dog treats.
Swanton said the victim, a 19-year-old female, had a swollen lip and bruising on her biceps, and she described Oakman as her ex-boyfriend. The report said the two began dating in August 2012, shortly after Oakman arrived at Baylor, and that the woman told the investigating officer that she did not want to press charges.
Swanton said no charges were filed and the alleged victim has since moved out of state.
The report states the alleged victim asked Oakman to ask another girl to stop commenting rudely on the alleged victim's Instagram photos. Oakman stated the other girl was not his girlfriend, and when the alleged victim rejected Oakman's hug, he grabbed her.
Swanton said there is no indication that a Waco police officer notified any Baylor employee about the incident report. Swanton also said if an officer had contacted Baylor, it would not necessarily be included in the report. He said there is no requirement for Waco police to notify any Baylor employee when a student or student-athlete is named in any police report.
"Some of the officers have different working relationships with some of the Baylor folks and will pass things along from time to time," Swanton said. "Sometimes we share information on cases that involve their students, and sometimes we don't. There's no reason why we do or don't, and again, there's no formal policy and requirement or law that says we have to."
Oakman was arrested April 13 on the sexual assault charge, the latest in a string of Baylor football players accused or convicted of sexual assault. Former defensive end Tevin Elliott was convicted in 2014 of sexually assaulting a woman twice at an off-campus party in April 2012. Three other women testified at Elliott's trial that he had also raped them. Elliott was suspended indefinitely from the football team at the beginning of May 2012. He is serving a 20-year prison term.
Questions posed to Lewis concerning when Starr, McCaw and Briles knew about sexual assault investigations involving Elliott, Ukwuachu and Oakman were not answered. Questions about Tre'Von Armstead and Myke Chatman also were not answered. Armstead and Chatman were never charged with sexual assault, though they were named in an April 2013 incident report by Waco police.
Phone messages left for McCaw and Briles were not returned by late Monday, and Briles was not in his office Monday afternoon. A secretary in McCaw's office Monday afternoon said he was in a meeting, and McCaw did not respond to a request left in person at his office for an interview.