As Baylor University pledges to reckon with the racism in its long past, historians and campus activists are hoping the quest will lead to lasting change beyond plaques and monuments.
The Baylor Board of Regents passed a resolution last week acknowledging that the university's key founders owned slaves or advocated for slavery. Regents said a Commission on Historic Campus Representations will study that history and make recommendations on what to do about statues, monuments and building names associated with those leaders. The commission, consisting of students, faculty, staff and alumni, will be named in two weeks.
"During Baylor's infancy, a number of University leaders and prominent individuals connected to the institution supported Confederate causes and engaged in the fight to preserve the institution of slavery both during and following the Civil War, including some serving as members of the Confederacy's armed forces," the resolution reads. "Therefore, Baylor University recognizes its historic roots and initiates the process of racial conciliation."
Regents acknowledged that three founders — the university namesake Judge R.E.B. Baylor, the Rev. James Huckins and Rev. William M. Tryon — along with most of the institution's trustees and early leaders, owned slaves or were in support of slavery.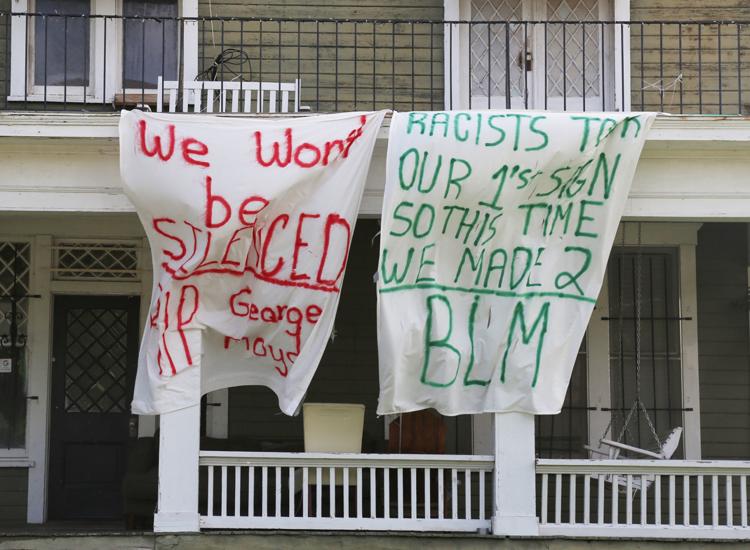 Shevann Steuben, outgoing Baylor NAACP president, said she was encouraged to hear about the commission, but it comes after years of growing frustration among students looking for a more consistent stance from the university.
"We feel as if this is a start, but also it could have been avoided," Steuben said. "Like many things, if you're more proactive about them, they can be avoided."
Steuben said taking down some of visible reminders of Baylor's past racism is only the first step.
"It's a start to acknowledgement, it's a start to the conversation of how we continue to work toward freedom and emancipation and equity, but there has to still be actions… Actions making sure students feel represented at the university and feel heard, not just heard, but accommodated," Steuben said.
With claims to be Texas' oldest university, Baylor is one of many universities and cultural institutions reckoning with demands to remove statues and other objects honoring figures seen as racist.
Baylor was chartered in 1845 in Independence, Texas, a hub of the slave-based cotton economy of this frontier state. Huckins, Tryon and Baylor were determined to create Texas' first Baptist university in that town.
Huckins and Tryon were the first official Baptist missionaries to Texas, according to the 1972 book "Baylor at Independence" by Lois Smith Murray. Though Northern-born Huckins eventually split from the American Baptist Home Mission Society because of its anti-slavery stance, according to Murray. Documents available from the Texas Collection indicate that he also owned slaves.
Tryon, who was raised in the Northeast, married a wealthy planter's daughter in Alabama before the mission board sent him to Texas, where he served as the pastor of Independence's church.
Meanwhile, Baylor himself owned 20 slaves by 1860 and advocated slavery as a "God-ordained reality," according to a column by Baylor religion Professor Christian Van Gorder in the Waco Tribune-Herald in 2017.
Carey Latimore, a history and African American Studies professor at Trinity University in San Antonio, said that university's "Roots Commission" has been on a similar mission for the last two years to examine its past connected to racism and slavery.
He said legacy of slavery goes deeper than "who" and "what," and the commission has to be open about whatever it finds.
"It's one thing to acknowledge it, but it's another to, in a sense, reconcile," Latimore said.
"As a university explores its past, they tend to find things they don't want to find. At the same time, there's stories that show some level of progress."
Reconciliation, he said, could involve tracing the lineage of the founders' slaves, forming a scholarship fund for them, or other gestures.
"The legacy of racism was a generational thing," Latimore said. "These men and women who were in positions of power and authority, that wasn't just expressed during slavery, it was expressed beyond that."
Latimore said the placement of the statues and plaques matters as well. Context is everything, and their placement as part of historical display, the original intentions behind their placement, and who that person was in the grand scheme of things all matter.
"To me, the conversation is more important than desecrating something, or saying something should stay because it's part of history," Latimore said. "How do we find a way to bring people together? How can we use these monuments to engage in a conversation deep in the throes of what the university is, wants to be and hopes to be?"
He said race commissions at other universities can easily rush the process, not allowing enough time for the kind of research that would tell the full story. He's worried the public might push Baylor's commission and administration to act before they've assembled a complete picture.
"It takes some time," Latimore said. "It's easy to say the three founders of Baylor were slave owners. But who were those slaves? Were they working at Baylor? Is there a way to build some kind of a scholarship for the descendants of the slaves that were with them? These are just ideas. Is it even possible? These are the questions universities have."
Mia Moody-Ramirez, chairwoman of Baylor's department of Journalism, Public Relations and New Media, said that in her 19 years at Baylor, she has seen change come slowly.
"Within my department I have not experienced racism, of course I do hear about it from colleagues and other people," Moody-Ramirez said. "I do know it's there because it's everywhere. It's in our society."
She said the decision to form an official commission is a milestone she's excited for.
Steuben, the Baylor NAACP official, said she's spent much of the last four years working to make the university more equitable for Black students. Through Baylor's alumni network, she's connected with the people who were having the same conversations 20 years ago.
"These are difficult conversations to have, I'm not going to negate that," Steuben said. "But it's a lot more difficult when you're in a community that's not as open-minded as you, or many other people, would like."
Steuben said the backlash against trying to talk about race in general terms has always disappointed her and her peers, and she doesn't have to look further than the comment section on any article about race at Baylor to see it. She said the stock response often directed at students seeking change, "If you don't like it, go to a different university," is missing the point.
"I chose to be at this school because of what it stood for, because of what its mission is," Steuben said. "I'm looking for Baylor to always uphold that, whether I'm a student there, a graduate student or just an undergraduate alumnus."
Be the first to know
Get local news delivered to your inbox!