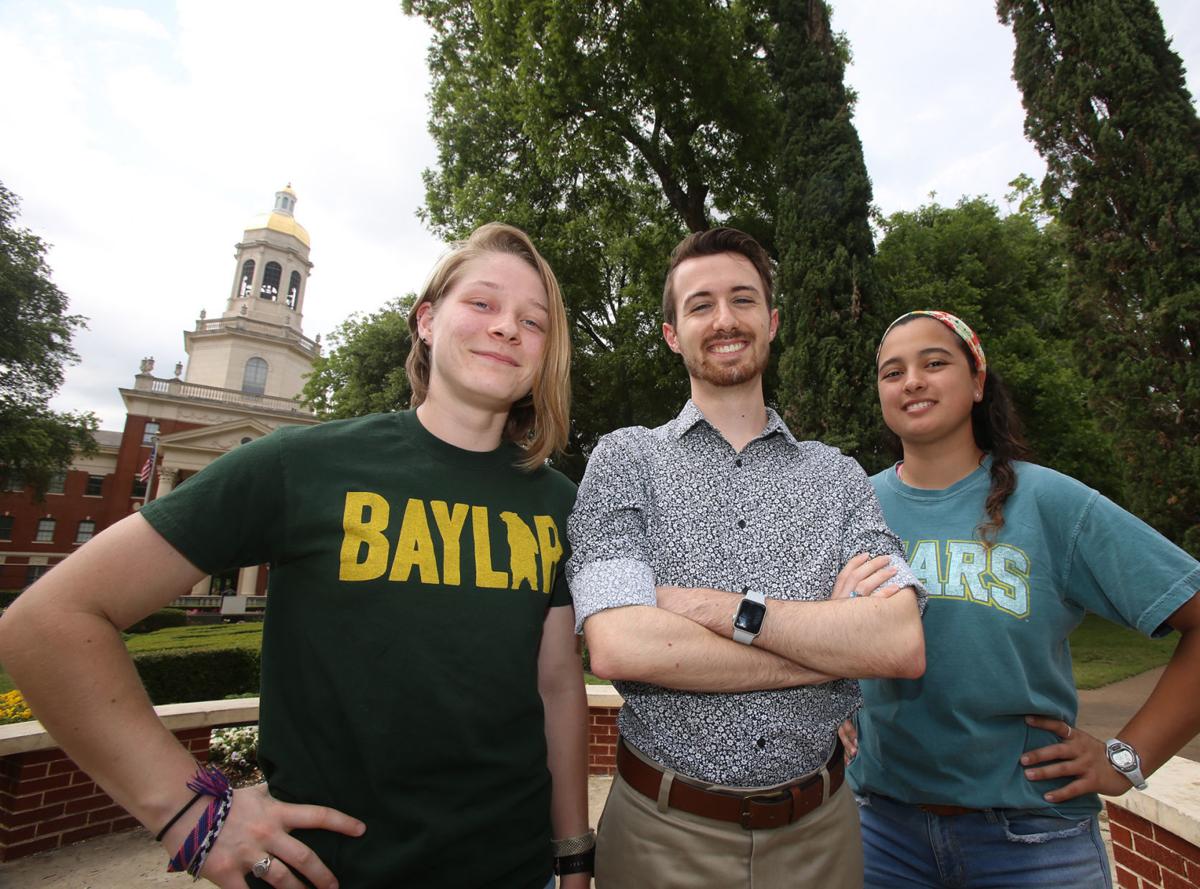 Baylor students, faculty, staff and alumni have signed on to supporting official LGBTQ groups on campus, surprising some and encouraging others.
More than 3,000 signers have added their names to an open letter calling for Baylor University to officially recognize and charter LGBTQ student groups, which the university currently does not do. Alumni Skye Perryman, Jackie Baugh Moore and Tracy Teaff wrote the letter partially in response to an on-campus appearance by Matt Walsh, a blogger critical of the gay rights movement. Unlike a separate petition that circulated, this one did not seek to cancel the April 9 event.
"Rather, we are writing because Matt Walsh's scheduled appearance on campus, the University's approval of the fliers advertising the event, and the official status of a group such as (Baylor Young Americans For Freedom) illustrates the fundamental unfairness of the University's treatment of other student groups, particularly those seeking to provide community to students who identify as LGBTQ or allies," the letter states.
Signers include prominent alumni such as Waco-based economist M. Ray Perryman and Waco bank presidents David Lacy and Bill Nesbitt, as well as former Baylor Vice President Reagan Ramsower and former U.S. Congressman Chet Edwards, D-Waco.
One group struggling for recognition is Baylor Sexual Identity Forum, which has existed since 2011 but has never attained chartered status. The student group applied for a charter most recently under the name Gamma Alpha Upsilon, after an administrator involved in the process suggested a name change.
"As he said, SIF was 'notorious on campus,' and it had a reputation," said Anna Conner, the group's president, who disputes that notion. "No one knows we exist," she said.
The letter, which only includes signatures from signers with ties to Baylor, was delivered to Baylor President Linda Livingstone April 11. Baylor has yet to make a statement about the letter specifically. Baylor spokewoman Lori Fogleman referred back to the university's "Statement on Human Sexuality," found in the student policies and procedures, which states students are expected to not participate in "advocacy groups which promote understandings of sexuality that are contrary to biblical teaching."
Conner said over the years, the group has been rejected for a variety of reasons, most often because the university categorizes them as an advocacy group. However, she said the group's primary purpose is to provide community and support for LGBTQ students, not advocacy.
"We have a lot of members who came in super uncomfortable with themselves, had very self-harmful tendencies, and our goal is to reach out to as many of them, to keep them from hurting themselves or doing anything destructive to themselves," Conner said. "We just want to reach as many people as we can who are struggling with this."
Without chartered status, the student group isn't allowed to post notices of meetings, write messages in chalk on sidewalks, or promote themselves on campus in any way. Chartered groups can also rent facilities, such as the school's bowling alley, at a discounted rate. The group's external chairman, Hayden Evans, said the group relies heavily on word of mouth, emails and social media to communicate with members and bring in new ones.
The application process takes about 200 days of deliberation on average. This time, the group began the process in February.
"We aren't asking for anything major," SIF president Elizabeth Benton said. "We're just asking for a room, to get out from the middle of everything, and to advertise."
SIF officers said finding public spaces for large gatherings can be difficult, restaurants can be crowded and loud, and newcomers are often concerned with privacy.
"There is a very real fear that someone will see them and then target them later on," Conner said. "If we had a separate meeting room out of the public eye, more people would feel comfortable to come to our meetings."
Paige Hardy, a senator in Baylor's Student Senate, added her name to the letter. She said until very recently, she thought she was one of only a few people who would.
"I was completely unaware that a supportive community existed within Baylor," Hardy said. "I think when Matt Walsh came to campus and people started speaking out against it, it was reaffirmation to all of us."
She wrote two bills supporting LGBTQ students at Baylor in April, which both passed. The first was a senate support resolution stating the student government's support for LGTBQ students. LGBTQ stands for lesbian, gay, bisexual transgender and queer.
"It basically said that if you are an LGBTQ student, you shouldn't have to feel unsafe on campus because of your sexuality," Hardy said.
The first measure passed with one nay vote. The next week, Hardy introduced a second bill calling for the university to allow LGBTQ students to organize formally on campus. The second bill passed by a narrower margin. Hardy, a senior, said she'd been considering the issue since she was a freshman.
"I noticed a lot of my gay friends constantly felt unsafe, unwelcome, unwanted at Baylor, and they were some of the most beautiful aspects of Baylor," Hardy said. "They were the people who taught me the most about my faith and morality. It really hurt me to see they were hurt in that way."
Ray Perryman, president and CEO of local economic firm The Perryman Group, attended Baylor and later returned as the university's business economist-in-residence.
He said he signed the letter without hesitation, and was surprised to learn Baylor still held the policy. He referred to his mentor Vivienne Malone-Mayes, Baylor's first black professor, who was rejected from Baylor when she applied as a student in 1961.
"I think the University's policy of excluding LGBTQ student groups from recognition is inconsistent with principles of justice and well as with showing fairness and compassion to all of its students," Perryman said. "I would hate to see Baylor again be on the wrong side of history and justice as it was in its decision regarding Vivienne's admission."
Kyndall Rothaus, a graduate of Baylor's Truett Theological Seminary and Lake Shore Baptist Church's senior pastor, signed the letter. Rothaus she believes support for LGBTQ students has been growing steadily for years, and Walsh's event simply provided a catalyst for organized action.
"(The letter is) really only asking for fair treatment of all student groups," Rothaus said. "To exclude them, but not other groups, is really unfair."
"Studies consistently demonstrate that LGBTQ youth that grow up in religious environments have higher rates of suicidal ideation and attempts than LGBTQ youth from non-religious backgrounds," Rothaus said.
She said for LGBTQ youth from secular backgrounds, the inverse is true.
"It's not just a matter of different interpretations of scripture, it's literally life or death," Rothaus said.
As an undergraduate at Baylor University in the 1950s (class of '59), I worried a lot about Baylor's being a racially segregated university. T…
Be the first to know
Get local news delivered to your inbox!