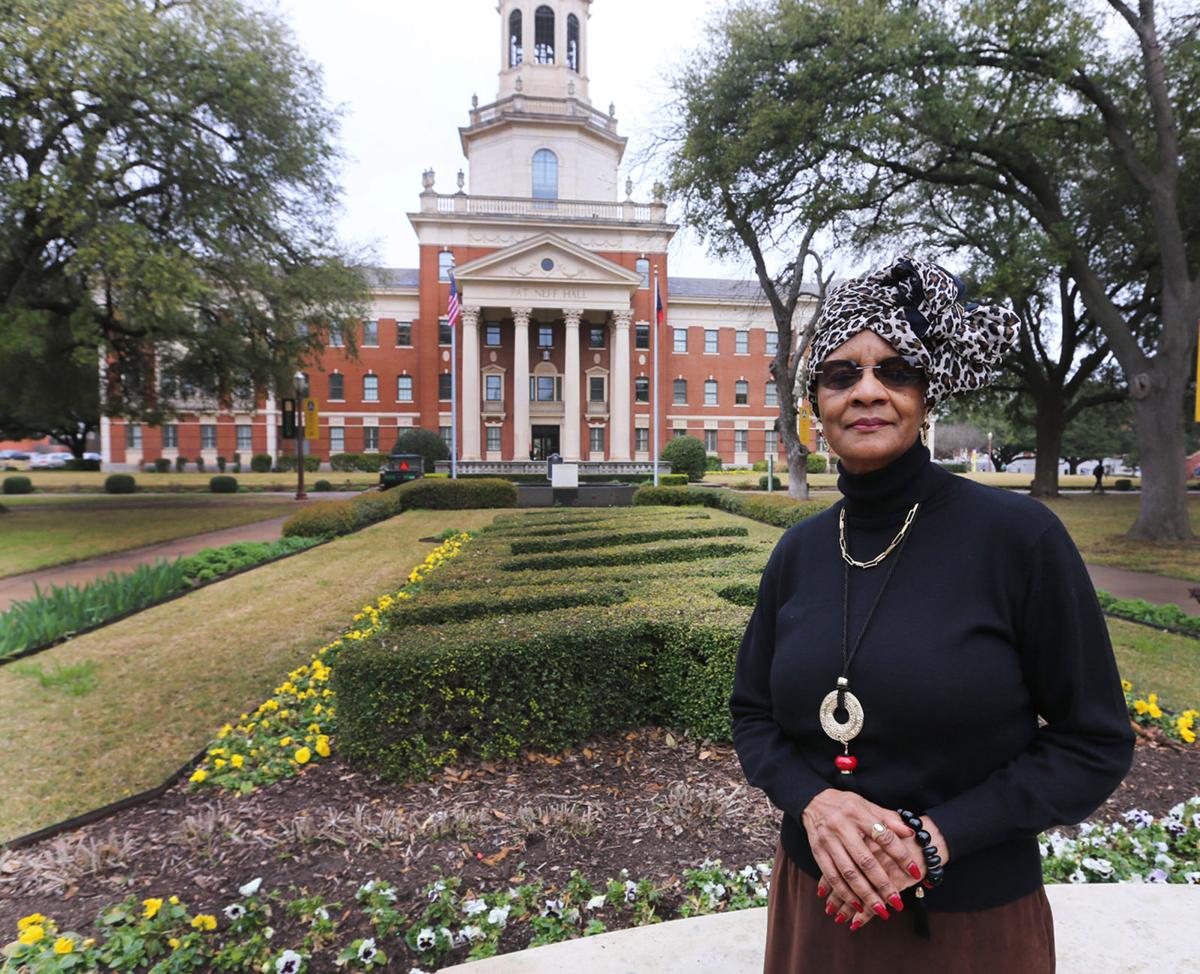 Jewel Lockridge's grandfather could not be black at Baylor University. He could only be gray.
Eddie Cummings was a groundskeeper there in the 1950s, when men in that role wore gray coveralls and were called "graymen."
On Saturdays, Cummings would sometimes take his grandchildren to see Baylor's live bear mascots then housed on campus. For Lockridge, who would later become one of the university's first black graduates, those days with her grandfather were like trips to the zoo.
But it was years later when Lockridge realized Cummings had worn his gray coveralls on those small excursions, even though he did not work on Saturdays. African-Americans in civilian clothes simply knew they would not be welcome as themselves.
"That uniform was his ticket as a black man to get onto that campus," Lockridge said.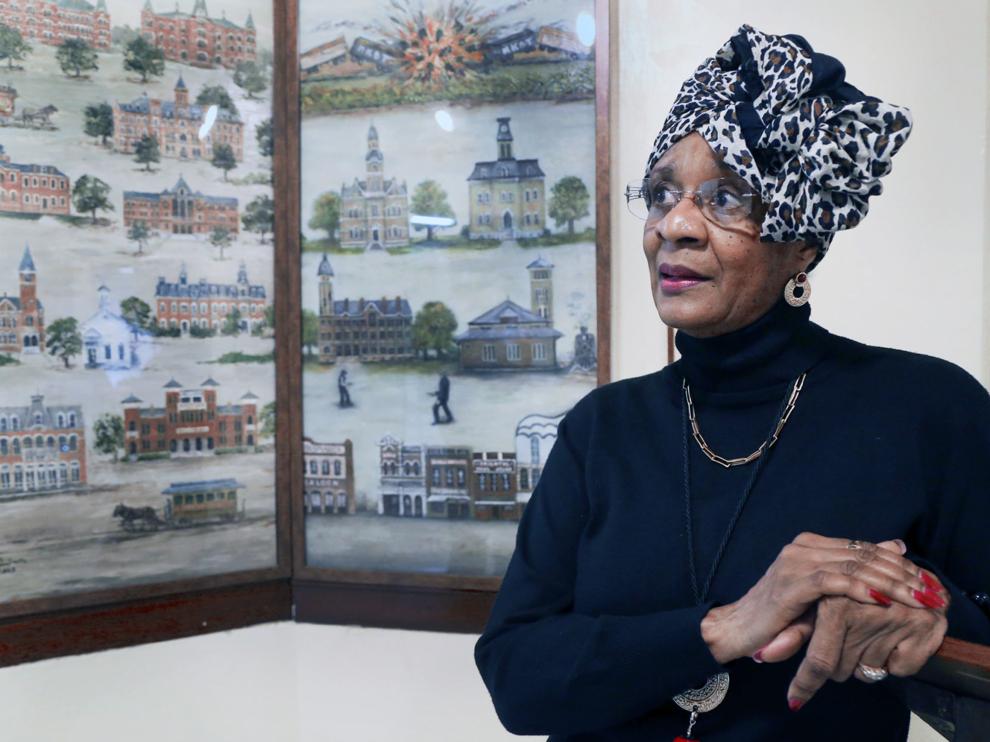 Racism survived at Baylor University as official admissions policy until 1964, when the first black students got in. It also survived in the college culture, bleeding into Baylor yearbooks through much of the 20th century. In the past month, yearbook photos have surfaced of students entertaining crowds in blackface just a few years before racial integration. An early 20th century photo even shows a basketball team dressed up as the Ku Klux Klan.
The national conversation on blackface heightened in early February when a photo on Virginia Gov. Ralph Northam's 1984 medical school yearbook page included someone wearing blackface and another dressed as a KKK member.
Colleges and universities, including Baylor, scoured historical yearbooks for racist material and did some soul-searching about how their culture allowed — and could still allow — such behavior.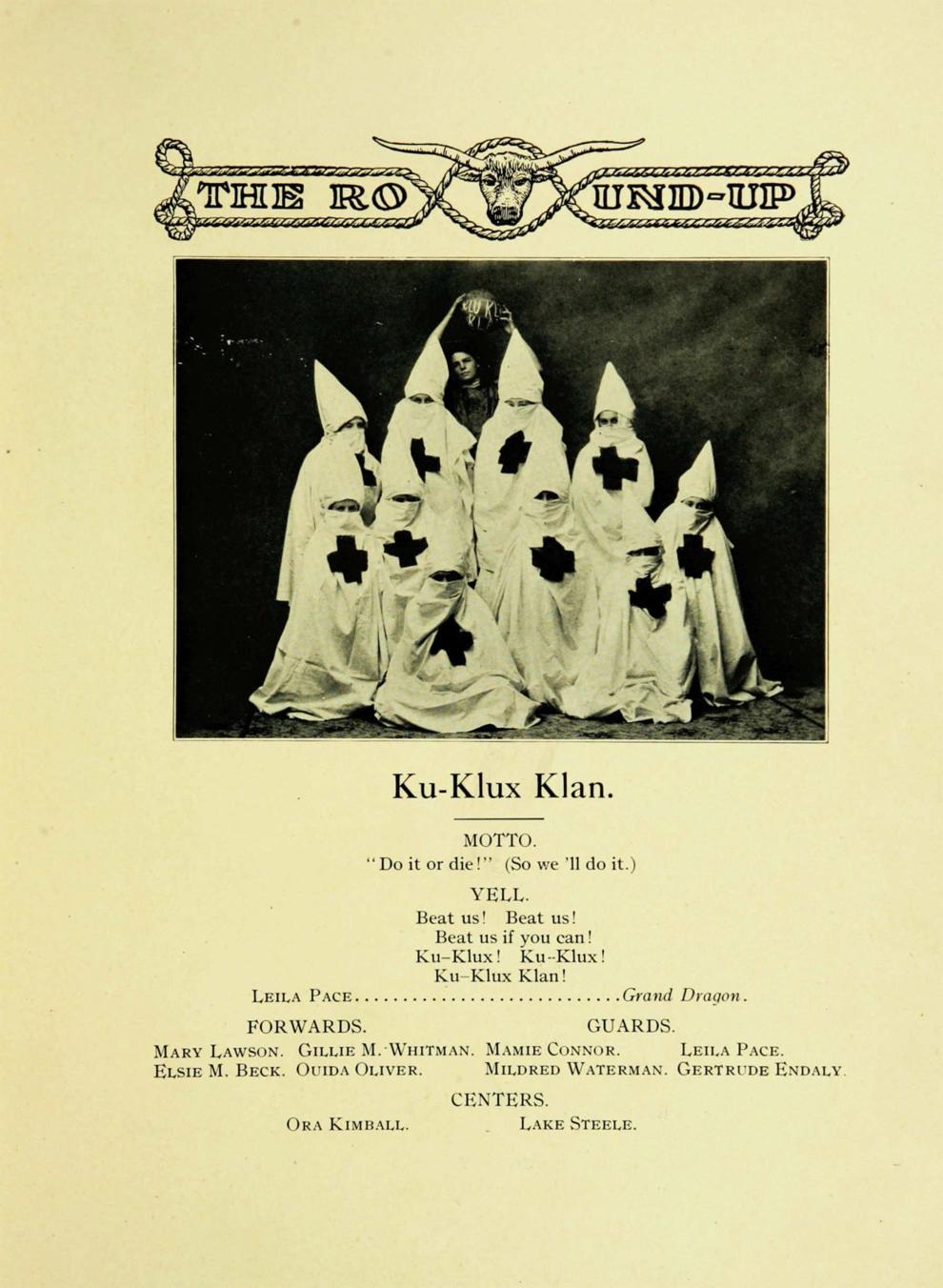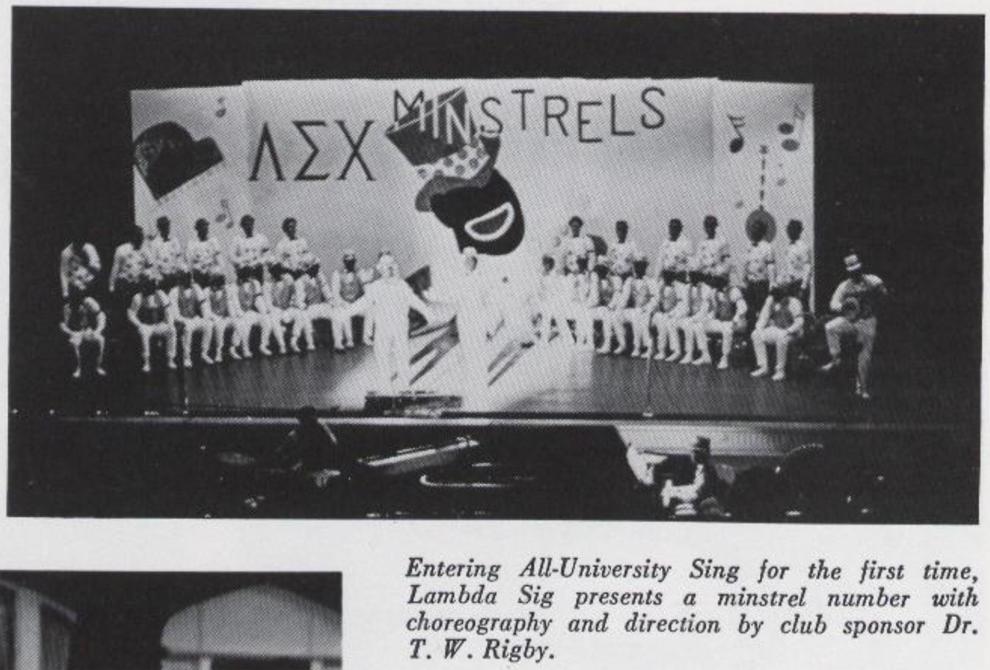 "Regardless of the time period, these offensive images are disturbing to us, and we denounce them today because we know and understand their context," Baylor President Linda Livingstone said in a statement last month.
"We see the pain and hurt and anger they caused then and cause now," Livingstone wrote. "As a Christian university called to love one another as Christ first loved us, we are remorseful they were ever published, and we unequivocally apologize for the pain these images have caused our students, faculty, staff, alumni and many others."
Livingstone said the library staff started examining the issue in 2010. When the images were found, the staff and the administration agreed they should not be censored and provided open access to them online.
And a historical context statement was released, which said the materials "may contain offensive language or negative stereotypes. Such materials must be viewed in the context of the relevant time period. Baylor University does not endorse the views expressed in such materials."
The 1909 yearbook includes a photo of a women's basketball team wearing robes of the KKK, which was also the team's name. In 1960, the Taurus Society, which was "organized to provide brotherhood, social recreation and social training on the Baylor campus," had three photos of members wearing blackface.
One is labeled "the Harlem Chapter." Another, which includes a member holding a basketball, says, "we came to college just to pledge Taurus." And another shows its members in blackface performing in Baylor's All-University Sing, an annual event where organizations perform song and dance routines.
Mia Moody-Ramirez, a professor in the Baylor Department of Journalism, Public Relations and New Media, is considered a national expert on the issue for her research and writings on blackface and its connotations.
"With all of the attention blackface has received, we're hoping to see a decline in all of these cases," Moody-Ramirez said.
She will become chairwoman of the department this summer, becoming the first African-American woman to lead the unit.
"And if there's ever a doubt whether this is OK, that doubt has been erased," she said. "People should fully be aware that that's not right."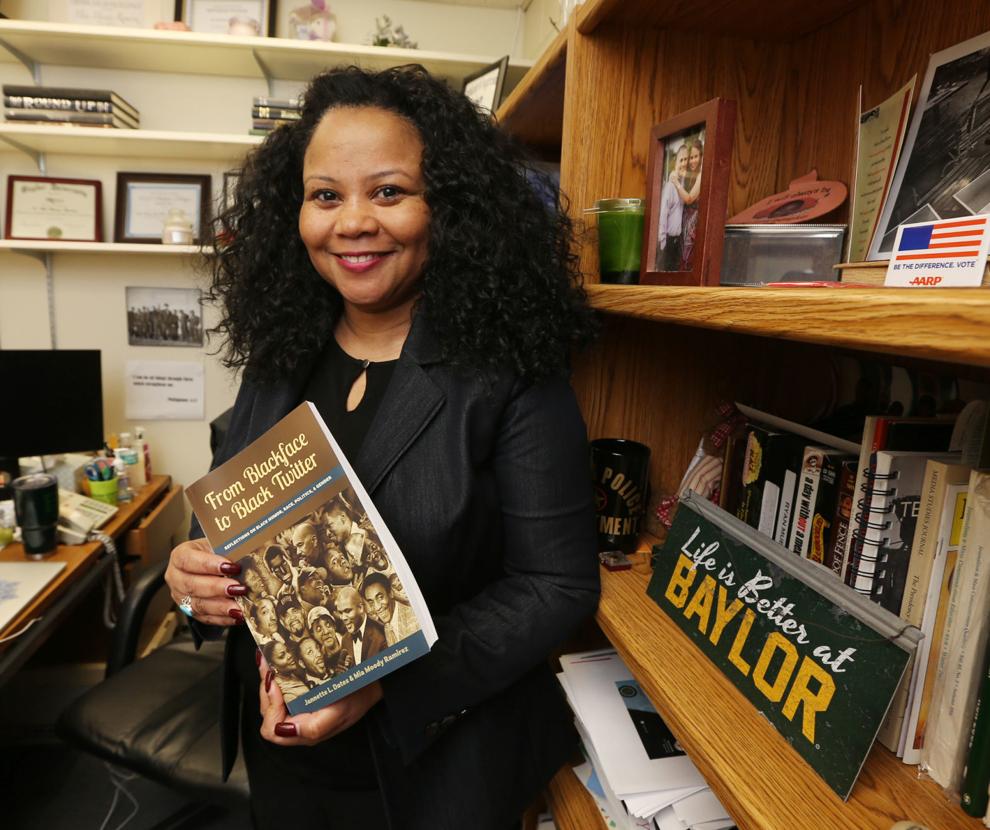 Lockridge, who graduated from the all-black A.J. Moore High School in Waco and later from Baylor in 1970, said she did not experience overt racism on campus, but it was clear she was one of very few African-Americans. She was also the only black student majoring in home economics.
"You know what kind of air you breathe," Lockridge said. "You just know. I've lived in Waco all of my life, and I knew whether I was challenged for being there or not."
She did not take a class taught by Vivienne Malone-Mayes, Baylor's first black professor who was hired in the math department in 1966. Malone-Mayes was denied admission as a graduate student on the basis of her race in 1961.
In 1971, the student government named her Outstanding Faculty Member of the Year. She retired in 1994 and died a year later, leaving behind a vast legacy.
On Tuesday, the university formally honored her with a bronze bust and educational display in the math department. Though Lockridge did not take a class from Malone-Mayes, she was taught by her mother, Vera Estelle Allen Malone, at A.J. Moore.
Lockridge said Malone-Mayes and Baylor's first black graduate, Robert Gilbert, faced greater racism at Baylor before she attended.
The first black students enrolled at Baylor in 1964. In interviews with the Institute of Oral History at Baylor in 1971, Gilbert recounted how one of his first professors told him he "didn't talk like a n-----."
Lockridge said her best friend at Baylor, who was white, was advised by others to be mindful of the friendship because "people would talk." The two later shared a laugh over the misguided advice.
"We knew that you had to work twice as hard to get half as far," Lockridge said. "And that was just a fact of life. You could either get to it, or sit around and cry. So I got to it."
Lockridge went on to earn a master's degree and a doctorate from Texas A&M University, and in 2014 earned a master's degree in Christian ministry from Truett Theological Seminary at Baylor. She is now a college counselor at Live Oak Classical School.
It was not until 2007 when she felt, while walking around campus, different than she felt as a student. She had accepted a job there to lead the "GEAR UP Waco" program, a partnership between Baylor, Waco Independent School District and other educational advocates.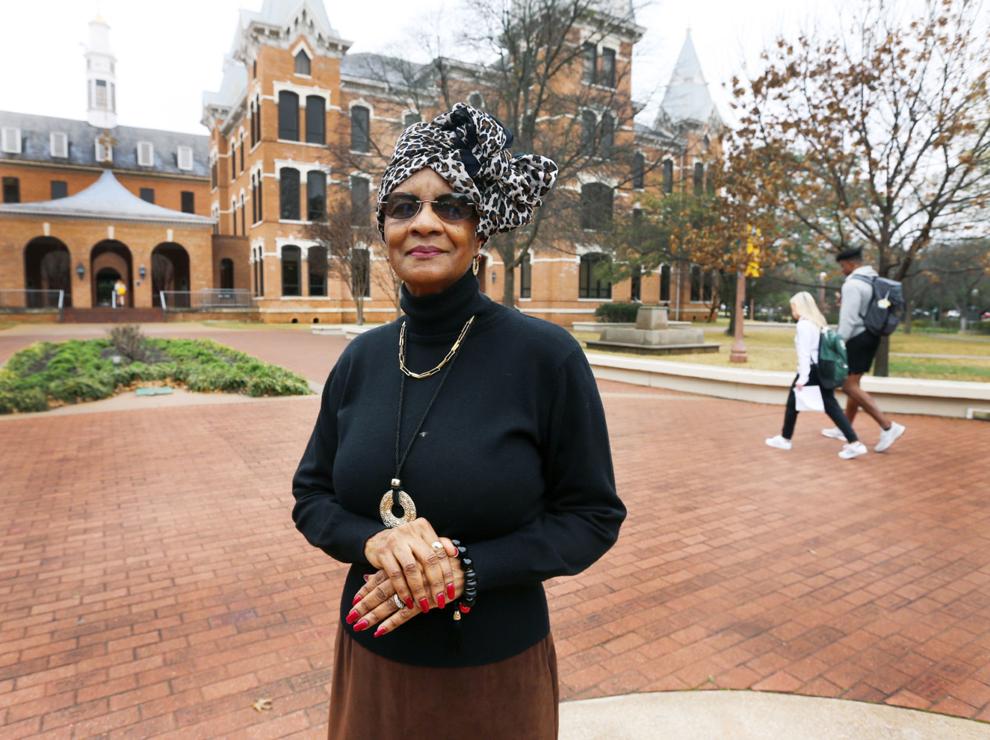 Before her first day on the job, she took the advice of Jimmy Hunter, pastor of Toliver Chapel Missionary Baptist Church, and drove by her home on South 17th Street, her high school and the Paul Quinn campus. She previously served as executive director there.
"It was like a feeling of euphoria," Lockridge said, describing the respect for her Waco roots.
As trailblazers like Malone-Mayes, Gilbert and Lockridge paved the way for black people at Baylor, racist images continued to be published in yearbooks. Moody-Ramirez said racist images were found in Baylor yearbooks into the 1980s.
She said the policies and attitudes that barred black people from occupying space in certain places or academic circles was more subtle than the "very, very apparent" cases of blackface. Both were incredibly damaging.
Today, fewer than 7 percent of Baylor faculty members are African-American. As of last fall, the African-American student population was about the same, and more than 35 percent of the student body identified as minorities.
Increasing diversity in the faculty and leadership ranks is one way to combat these attitudes at all campuses, Moody-Ramirez said. Many schools, including Baylor, have experienced controversies over student parties with disrespectful cultural themes.
"It goes to the culture, or the climate, of the university," she said. "You have people who study that pack mentality, where people will do things in a group that they wouldn't normally do."
And for Lockridge, who has experienced a wide range of feelings while walking across Baylor, the images represent discrimination that must be eradicated.
"What do you do, color over those photos?" she said. "That still doesn't take away the context in which it happened. So we just have to create a different environment and behave differently so that my granddaughter doesn't look back and see things like this and say, 'What was the matter with them? Not only how did they put up with that, but how did they dare do that?'"