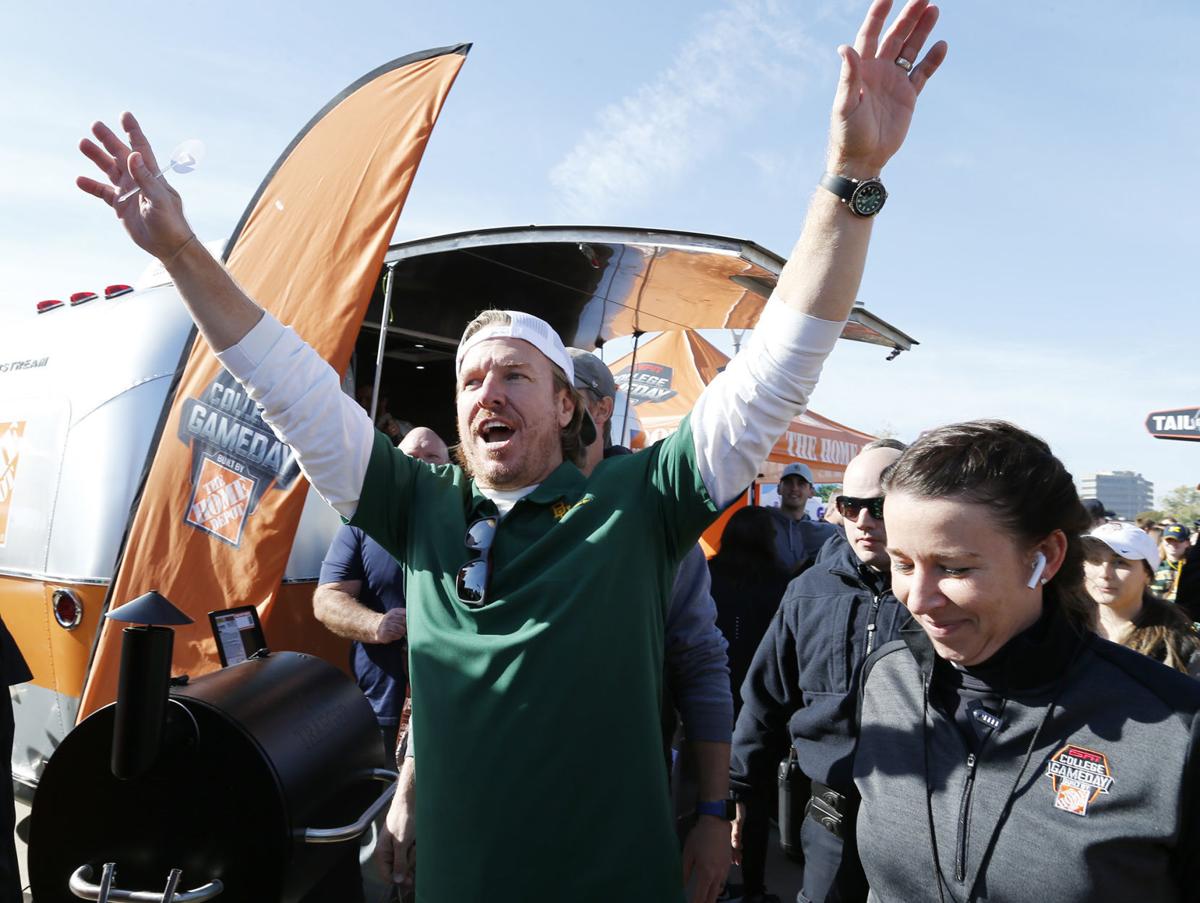 A judge on Wednesday dismissed a lawsuit filed by Chip Gaines' former real estate company partners who alleged the "Fixer Upper" TV star and Magnolia magnate defrauded them by withholding information about his impending fame and wealth.
Judge Jim Meyer of Waco's 170th State District Court granted a motion for summary judgment filed by Gaines, effectively dismissing the 2017 lawsuit filed by Waco attorneys John L. Lewis and Rick L. Clark.
The lawsuit asserted claims of conspiracy liability, breach of fiduciary duty, fraud by nondisclosure and statutory fraud, and accused Gaines essentially of insider trading, or having knowledge and withholding information from his partners before buying them out, affecting the financial well-being of the business.
"In summary, at a time when only the defendants knew that 'Fixer Upper' had been fast-tracked for a one-hour premiere on HGTV and was on the verge of radically changing their lives and business enterprises, Chip Gaines conspired to eliminate his business partners — notwithstanding their longstanding friendship — in order to ensure that he alone would profit from Magnolia Realty's association with 'Fixer Upper,'" the lawsuit alleged.
"With this insider information in hand, Chip Gaines convinced plaintiffs to sell their membership interests in Magnolia Realty quickly to him before a public announcement that 'Fixer Upper' was picked up by HGTV," the suit alleged.
Gaines, who is represented by Todd Patterson, Kyrie Cameron, Jordan Mayfield and Abel Reyna, was not present at Wednesday's hearing.
Gaines filed counterclaims alleging fraud against Lewis and Clark, and that portion of the lawsuit remains pending. Patterson said he is pleased with the judge's ruling. He said he will confer with Gaines to determine if he wants to proceed with the remaining claims.
"We are glad to have the opportunity to put the facts before the court and, obviously, Judge Meyer saw through the case that was presented against Mr. Gaines," Patterson said. "We are glad we finally got this resolved. I think from the very beginning, it was our position that Mr. Gaines did nothing wrong. We stated that all along."
Gaines' publicist John Marsicano thanked the judge for "his time and consideration of the arguments and evidence presented."
"From the very beginning, we have been proactive in our efforts to present the undisputed facts in this case," Marsicano said. "We're thankful that truth has prevailed and that these claims were rightfully dismissed in their entirety."
Waco attorney John Mabry, who represents Lewis and Clark, said he thinks the case had sufficient merit to present the facts to a jury.
"I am surprised by the judge's ruling, but we respect his decision," Mabry said. "Mr. Clark and Mr. Lewis will assess their options going forward with regard to an appeal, and we will see where things go from here."
Gaines and his attorneys asked that most pleadings and depositions as the lawsuit progressed be filed under seal and considered confidential, including their motion for summary judgment and a deposition Gaines gave in the case Dec. 18.
Meyer, who cautioned the parties shortly after the initial lawsuit was filed to limit their public comments, approved the sealing of the records.
In arguing against the summary judgment, Mabry told the judge there are material facts in dispute that need to be decided by a jury and that the case boils down to a simple, "basic swearing match" between Gaines and the attorneys.
Mabry told Meyer that Gaines was the "most evasive, irreverent witness" he has encountered in his 25 years practicing law.
After the hearing, Mabry declined to elaborate on his comments about Gaines, saying he was precluded from doing so by the court's protective order.
"I cannot expand on that statement because they designated his deposition and all the other depositions in this case as confidential," Mabry said. "I feel confident that if the general public saw the videotape of Mr. Gaines' deposition, they would have a very different opinion of him."
Meyer declined a Tribune-Herald request after the hearing to unseal the records.
Patterson said he requested the records be sealed "out of respect for the local bar."
"We have two plaintiffs in this case who are members of the local bar here in McLennan County," he said after the hearing. "And once we saw the deposition transcripts that contradicted what was in the pleadings, we thought it best not to put that in public. In addition, the court asked us to be careful with negative media treatment, which started the case in the beginning, and we didn't want, certainly, to do anything against the court's wishes, and in addition, we didn't want to inflame the case in any way."
Cameron argued that Gaines committed no fraud, no breach of contract and had every right to start his own business. She said the real estate company had been "treading water" for seven years and that Clark and Lewis proposed a buyout figure to Gaines and he agreed to pay them.
She said it was no secret that Gaines and his wife, Joanna, were in negotiations with HGTV and had made a pilot episode for what later would become the wildly popular "Fixer Upper" home improvement show when Gaines made the buyout offer.
She said any damages the attorneys suffered are "speculative at best."
Mabry countered that knowing that the pilot had been filmed is not the same as knowing the details of Gaines' negotiations with the network.
"Having the right to start his own business does not give him the right to defraud his partners," Mabry said. "It is not a get-out-of-jail-free card. He knew what was happening. Mr. Gaines refers to the 'Magnolia Effect' on page 3 of his own deposition."
The lawsuit contends that the real estate company never really took off and employed just one real estate agent. However, after that the Gaineses built the Magnolia name into "an empire" using "Fixer Upper" as a national catalyst, and Magnolia Realty is now a "major real estate company, operating in Waco, Austin, Dallas, Houston, Temple, Belton and Killeen, with an army of over 93 real estate agents," according to the lawsuit.
Gaines and the production company decided to fast-track the "Fixer Upper" show and sought to consolidate the Gaineses' ownership of Magnolia-related businesses, the suit claims. Gaines contacted Lewis and Clark about buying out their two-thirds ownership interest in Magnolia Realty.
"On April 26, 2013, when Chip Gaines initiated the buyout discussion with John Lewis, Chip Gaines knew that Magnolia Realty was about to receive nationwide advertising through HGTV's airing of 'Fixer Upper,'" the suit alleges.
Two days later, Gaines sent an email to Lewis that said, "I'd be scared to see how this would work if it (Magnolia Realty) was worth something. … The only thing I have to have is Magnolia when the dust clears."
Gaines paid Clark and Lewis $2,500 each for their collective share of the business, and two days later, Gaines publicly announced his show was picked up for national broadcast on HGTV, according to the lawsuit.
In an email, Gaines said the decision to air "Fixer Upper" had been made three weeks earlier, Lewis and Clark claim in the lawsuit.
Be the first to know
Get local news delivered to your inbox!