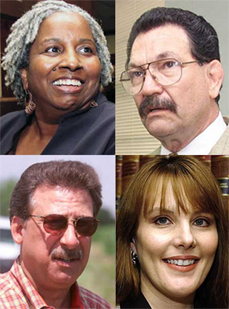 Justice of the Peace Billy Martin was acting within state guidelines when he ruled the death of 31-year-old Hewitt teacher Kari Baker a suicide without leaving his home to see her body.
Texas law states that a justice of the peace can conduct an inquest — or determine the cause and circumstances of a person's death — where the person died, where the body was found, or "at any other place determined to be reasonable by the justice."
It also allows for the judge to "act on information . . . from any credible person."
With no qualifications required, a vague law to follow and only voters as their bosses, McLennan County's eight justices of the peace make rulings on every death, even those attended by some physicians. They can seek information from the person's family, an autopsy, law enforcement, doctors and what they've learned in their training.
"Even the most learned person is not going to have a 'death' degree," said Justice of the Peace David Pareya. "Even doctors have to go through the process. Everybody has to learn how it all operates and find a way to do this that works for them."
In the Baker case, Martin, as well as Hewitt police officers, apparently got it wrong. After evidence piled up against Kari Baker's husband, former Baptist minister Matt Baker, the body of the mother of two was exhumed and autopsied, and her husband was charged with her murder.
A jury found 38-year-old Baker guilty last month and sentenced him to 65 years in prison.
Martin testified in the trial that a Hewitt police officer called him just after midnight on April 8, 2006, to inform him of Kari Baker's death and told him that she "appeared" to have killed herself.
"The investigators were on the scene. I was not. I was at my home," testified Martin, who has served as justice of the peace for 12 years and is unopposed in this year's election. "I asked if there were any bullet holes, stab wounds, and they said there were not."
He was told, he said, about the open bottle of pills and the suicide note, which was typed and not signed.
"The officers are trained in these matters," Martin testified.
New judges must complete 80 hours of training in their first year in office. About six of those 80 hours deal with conducting inquests into a person's death, said Roger Rountree, executive director of the Texas Justice Court Training Center at Texas State University.
Justices of the peace, who are elected to serve four-year terms, also act as trial court judges for evictions, small claims and Class C misdemeanors, and they act as notaries public, hold inquests and perform marriages. They also serve as magistrates and, in that capacity, the judge sets bail and signs emergency protective orders and probable-cause warrants.
In counties big enough to have a medical examiner, such as Dallas, Harris, and Travis, the justices of the peace do not conduct inquests.
In McLennan County, however, the burden falls to Kristi DeCluitt, Martin, Belinda Summers, Pareya, Barbara Rusling Lloyd, Pat Richardson, E. Jean Laster and Fernando Villarreal.
Martin and DeCluitt operate, by far, the busiest precincts and, along with the 32-year veteran justice Pareya in West, make the most money each year, at $60,738.
Day or night, when someone dies in the county outside of a hospital, either Martin or DeCluitt is usually called. They each conduct inquests on more than 100 people each year.
The next busiest justice of the peace is Laster in East Waco, who was called to 32 deaths last year, and makes $44,619 each year.
Depending on the death, they can be called by a nursing home official, law enforcement or a hospice care health worker. Emergency room doctors do not certify deaths, so judges are called to those, as well, DeCluitt said.
When asked how he decides whether to go to the scene of a death, Martin said, "It depends on the circumstances. It's a case-by-case basis. . . . I go to a lot of them. That's all I can tell you. I don't know."
Judges are not required by the state to include in inquest reports where they conducted the inquest. The law only calls for the report to include "the events, proceedings, findings and conclusions of the inquest."
"They're not required to fill out anything," said Patricia Broline, a lawyer with the Justice Court Training Center. "Every judge files their paperwork differently."
Pareya, who conducted 25 inquests last year, said he goes to about 60 percent of the deaths to which he is called. He said the majority of deaths in his precinct are aging people whom he has known for years and knows, personally, of their declining health.
When there is a question as to how the death occurred, the judges said they don't hesitate to order an autopsy.
"It's better to be safe than sorry," DeCluitt said. "I've had family members call me the day after a death with concerns. I've had funeral homes call me and say that there are bruises on the body that they're concerned about. If someone questions it, I'll always look into it."
When a McLennan County judge orders an autopsy, most of the time the body is taken to the Southwest Institute of Forensic Sciences in Dallas by Waco Mortuary Services.
Staff from the service are called to any scene at which a justice of the peace has called for an autopsy. They put the body in a black bag and place it on a cot in the back of a van, said Linda Owens, one of the owners of the service.
A medical examiner performs an autopsy on the body that day, and a short report stating the physician's findings are faxed to the justice of the peace's office. Waco Mortuary staff return the next day to pick up the body and take it back to Waco, Owens said.
A longer, more complete report is returned about six weeks later, and includes the results of toxicology tests.
Steve Moore, McLennan County's auditor, said autopsies in 2009 cost the county $161,018. Depending on the amount of testing needed, an autopsy in 2009 cost between $1,850 and $2,250. This year, the cost of autopsies has risen $100.
McLennan County Judge Jim Lewis said that he has never had an issue with justices of the peace ordering an excessive amount of autopsies.
"They're elected officials, so the voting public is their boss," Lewis said. "They do not report to the commissioners court."
The system, DeCluitt said, generally works.
"There might be an anomaly every once in a while," she said. "That would happen even if we had a medical examiner."
Rusling Lloyd, who conducted eight inquests last year and operates out of China Spring, said, "The main rule we all operate by is not to make a ruling unless you are willing to get up on a witness stand and testify that you have no doubt that is how the person died. You may make a mistake. Everybody's human. Everybody's going to make a mistake."
Misconception on death rulings
Contrary to popular belief, justices of the peace do not pronounce people dead. They conduct inquests, which is to make a ruling on the cause and circumstances surrounding a person's death. The law does not require them to touch, or even see, a person's body to do this.