An auction planned for Saturday morning at Tucker Hall on State Highway 6 outside Speegleville carries the title Ted Nugent Guns, Guitars & Hot Rod Cars Auction.
A shorter description would be loud, proud and, well, Nuge.
"It's a cool lifetime accumulation of cool stuff," said the rockstar guitarist, hunter, conservationist and political provocateur, who at 72 has decided to downsize his collections of guns, guitars and hot rods accumulated over an almost six-decade career.
Saturday's auction, managed by New Braunfels-based Burley Auction Gallery, encompasses more than 400 items, spanning rare guitars, souped-up cars, off-road trucks, firearms, stage show equipment, archery gear, rock memorabilia and other assorted Nugent gear. It is open to public view from noon to 6 p.m. Friday and 8 to 10 a.m. Saturday. The live auction, with a hefty online component, will start at 10 a.m. at the hall, 7767 N. State Highway 6.
Auctioneer Robb Burley said interest in the Nugent auction spans people with holdings of firearms, such as some estate liquidations, and people with a music memorabilia focus. In recent years, Burley Auction Gallery handled auctions for Austin landmarks Threadgill's and the former Armadillo World Headquarters, both owned by Austin music icon Eddie Wilson.
In fact, Nugent had approached Burley's firm to auction off some 200 firearms until Burley persuaded him a Nugent auction could cover so much more than guns, he said. The veteran guitarist readily agreed and let Burley skim through his holdings for auction-suitable items. The auctioneer found plenty — and left plenty, too.
"We didn't even put a dent in it," Burley said.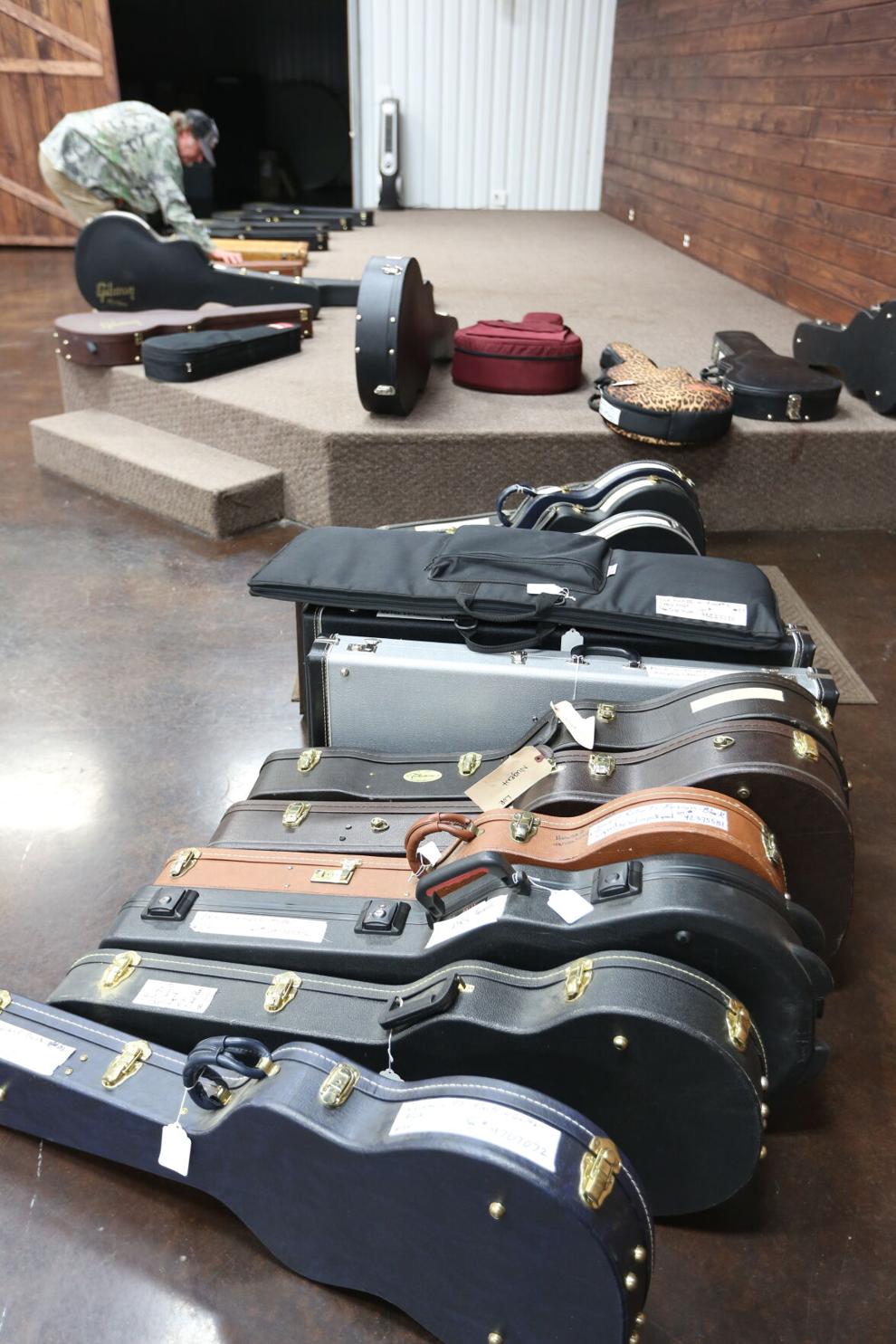 Interest in the auction is high, and sales could range from $500,000 to $1.5 million. Burley has had to beef up his usual auction security for crowd control.
A Friday night VIP preview has sold out, and most of the 300 seats available for Saturday's live auction are spoken for, but a few may be left for those willing to buy a $50 catalog.
"If you can't afford a $50 catalog, you probably wouldn't be bidding on much," Burley said.
Nugent said he just felt it was time to pare down his holdings, and there is not a reason of health, financial need or specific fundraising goal behind the timing.
"If you play your favorite 30 or 40 guitars, why do you have 80?" he said. "I have hundreds of phenomenal guns that sit in safes. Do you have a super-performance car and not drive it?"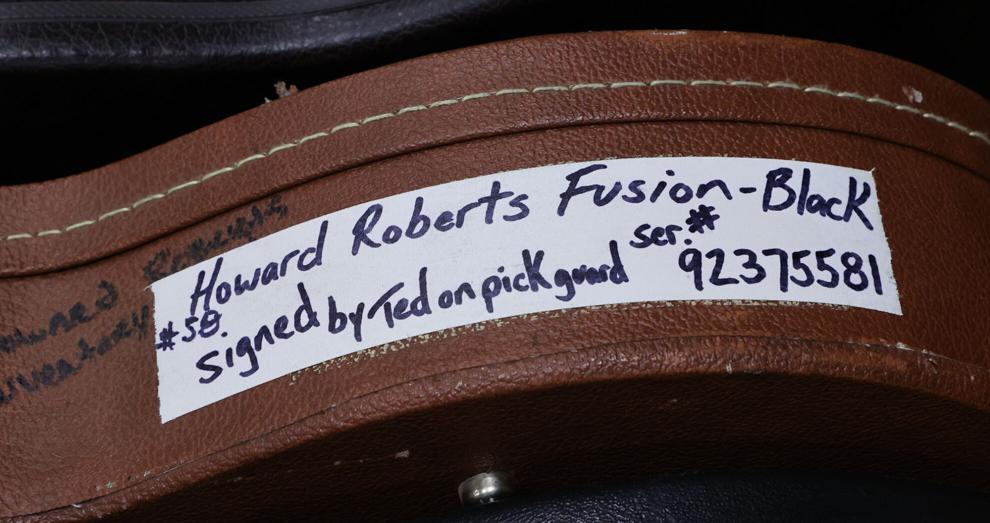 Many of the items up for bid Saturday have been packed away in barns in his native state of Michigan or his property near China Spring that he and his wife Shemane have called home for some two decades.
Many would be collectibles even without a Nugent connection. Among the dozens of guitars up for auction are 1958 and 1959 Gibson Les Pauls, a Black Gibson Byrdland and a 1956 Fender Stratocaster. Burley and his firm have contacted guitar collectors around the world, including NFL owners, some European collectors and ZZ Top's Billy Gibbons, about the auction. One of the Les Pauls previously sold for $50,000 and, depending on the whims of collectors, prices could go considerably higher.
One potential collector was incensed to see a name on a Les Paul pictured in the catalog.
"'Who the hell carves his name in a Les Paul?' he asked," Burley said. "I told him that it was a rock musician who wanted to keep his working guitar from being stolen and he would use that guitar not only for his concerts around the world, but for his albums. Every thumb strike is there because of Ted. Every bit of that wear is Ted Nugent shredding it."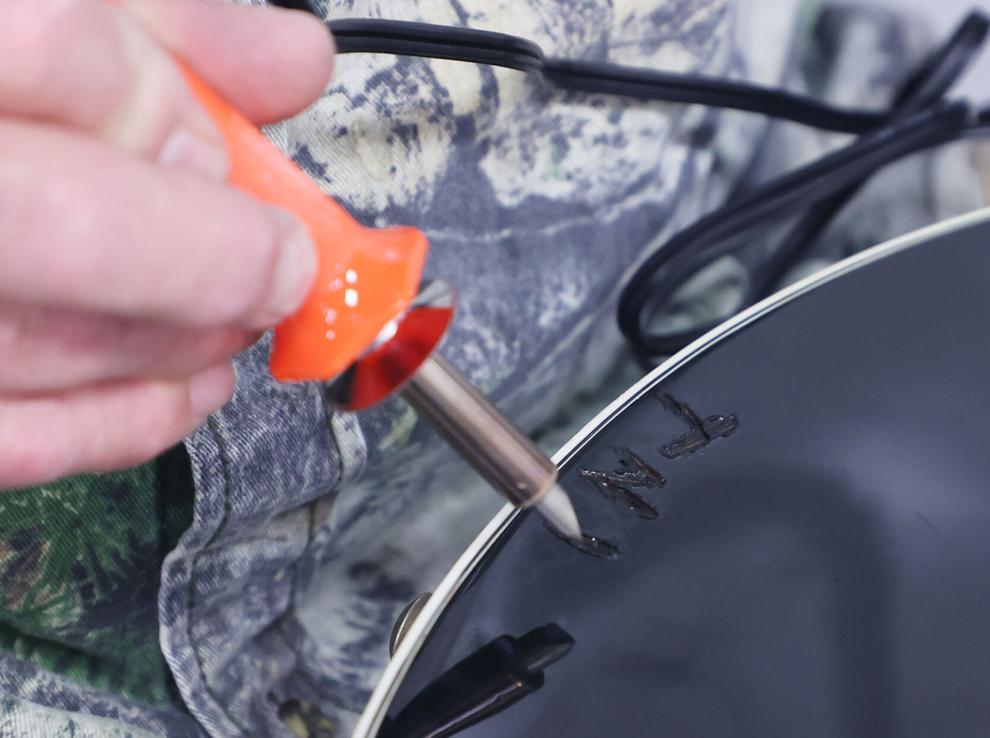 Saturday's auction is more than guitars, too.
Outside the hall stand a gleaming black 1968 Ford Bronco and a custom 2015 Dodge Challenger Hellcat that Nugent boasts could blow away any of the high-powered muscle cars of his youth.
The Bronco represents one of his passions, calling himself one of the crazies in the "cult of Bronco." It is not like Nugent is liquidating his Bronco holdings, either.
"I'm selling one. But I've got four more," he said with a grin.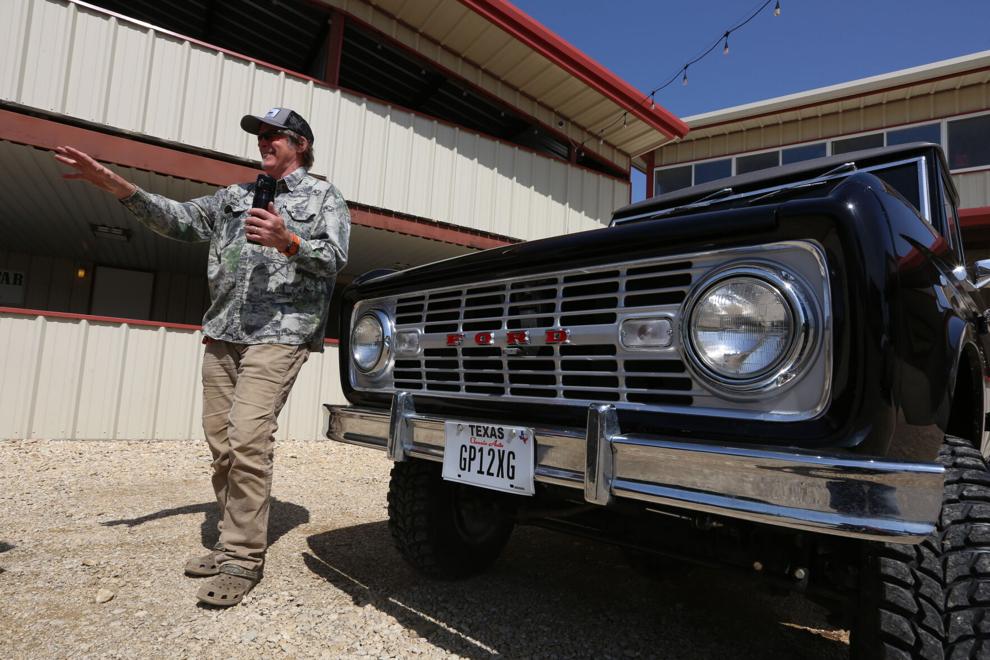 Inside Tucker Hall, a walk through a side room with auction items displayed doubles as a walk through Nugent's career and passions: a rack or two of rifles, special edition handguns and their cases, Marshall and Peavey amps that once were cranked to the max in bone-rattling rock, stands of dozens of used bows, wildlife paintings and a flock of American eagle images, a framed copy of the Constitution, a framed copy of a 2014 Billboard chart showing Nugent's "Shut Up And Jam" debuting at No. 26, and a plaque honoring the guitarist for the first advance sellout of the Pontiac Silverdome in 1978.
And, the Nuge being the Nuge, there is plenty of the provocative and evocative: guitars with bodies shaped as AR-15 rifles, a guitar made from Michigan license plates, plaques spelling out T-E-D in antlers and boar tusks, a gas grill decked out in zebra stripes, and a 7-foot cutout of Osama bin Laden with his left breast punctured by small holes, apparently used for target practice, and boxed in a coffin-shaped frame.
The auction items serve as talismans of the living, breathing and guitar-shredding Uncle Ted, whose outspoken positive opinions on guns, personal liberty, the American military, immigration controls, and Republicans, alongside his outspoken negative opinions on Democrats, liberals and socialists of all flavors, have attracted millions of fans.
In fact, a walk-through of the auction space triggered frequent and profane digressions about the failings of his critics, the inability of opponents to defeat him on the ground of "truth, logic and common sense," why the current president is senile and the past president great, the myth of white privilege, the real causes of death for several men championed by Black Lives Matter, a stolen election and why any camouflaged-mask-wearing hunter knows masks are ineffective against COVID-19, which, by the way, raises the question of what happened to COVIDs -1 through -18.
"I'm going off topic because I'm good at it," he said, his eyes glinting.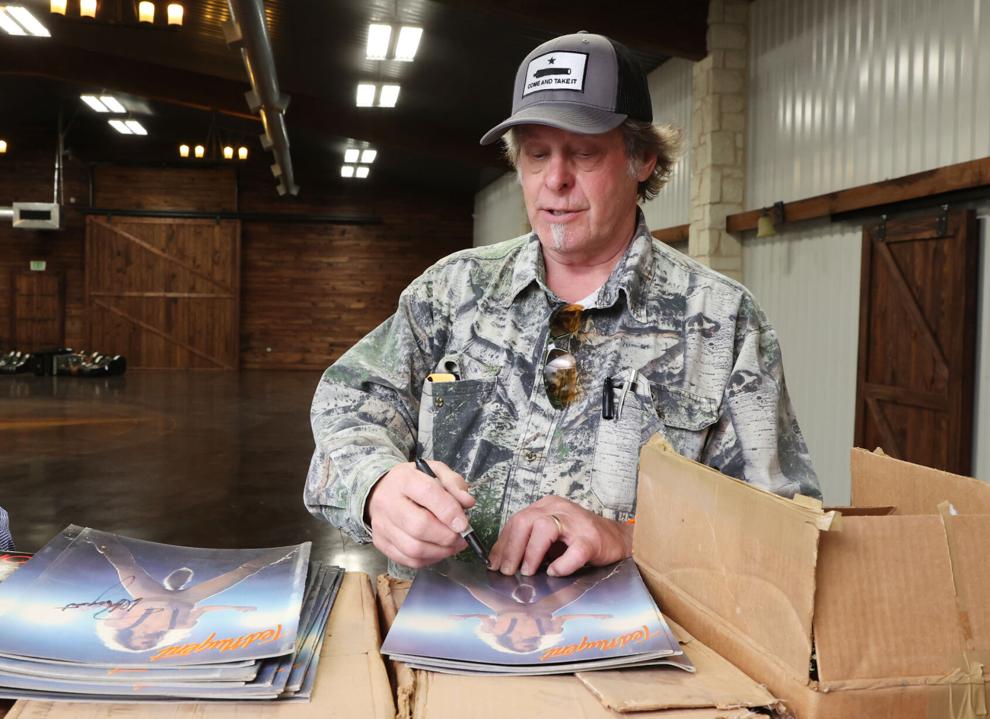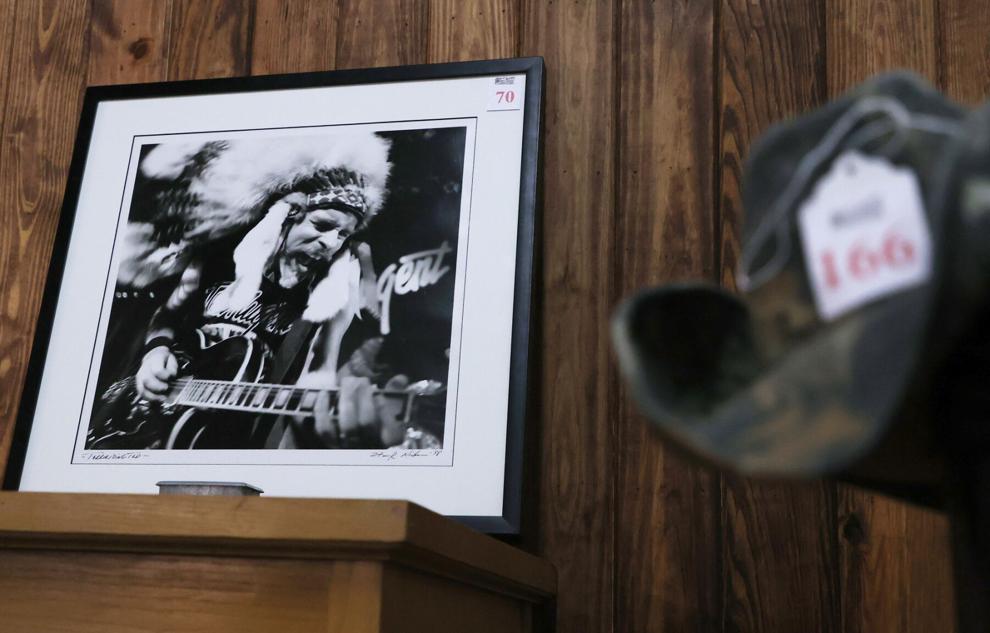 The master of searing guitar runs and riffs when he has a guitar in hand and an audience proves equally virtuosic in playing a decade's worth of Republican, Trump and NRA talking points. Like a seasoned stage performer and broadcast celebrity, Nugent knows his audience wants someone unafraid of speaking his mind, particularly if they are thinking the same thing.
"Yeah, I'm a hellraiser and people like it," he said.
A pandemic-suppressed year wiped away gigs at his larger venues and tours last year, and Nugent is not optimistic those venues will start booking again anytime soon. There's good news for local fans, however, in that he plans to team with Waco drummer Jon Kutz and bassist Johnny Big for Thursday night jam sessions at Tucker Hall. For Nugent, it will bring back memories of his early days playing groove-laden sets at taverns, American Legion halls and Elk Lodges.
Music may flavor Saturday's auction, too. While auctioneers sometimes find themselves hard pressed to keep the energy and positivity going in the late stages of an auction, Burley said that is not one of his worries this time.
"I'm a bid facilitator for this one. My job will be not to get in Ted's way," he said with a laugh. "Ted will be playing the National Anthem to begin. That's a pump. I'll feel like I'm ready to return a kickoff."
Does Nugent plan to do any more playing during the auction that carries his name?
"Yeah. Who's going to stop me?" he said with a grin.