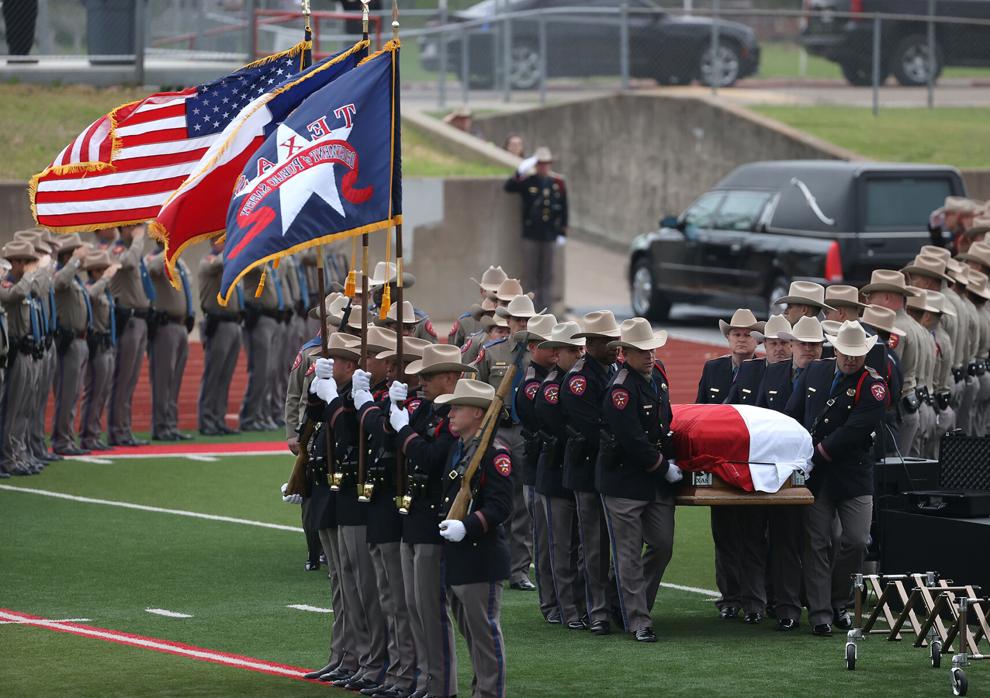 Some 5,000 people, including hundreds of officers from Texas and beyond, gathered at a Groesbeck stadium Wednesday to pay their final respects to Chad Walker, the Texas Department of Public Safety officer fatally shot last month in the line of duty.
Walker, a 38-year-old father of four, was remembered during the service for his devotion to his family, God, law enforcement and the Groesbeck community, where he grew up and once served as a police officer.
Pastors who knew Walker for years officiated the service at Groesbeck Stadium as Walker's casket sat on the sidelines draped in a Texas flag.
"That young man was destined for greatness," said Pastor Jimmy Cotton of Cowboy Heritage Church in Freestone County, addressing the crowd in the bleachers and in folding chairs on the field. "If you don't believe me just take a look around."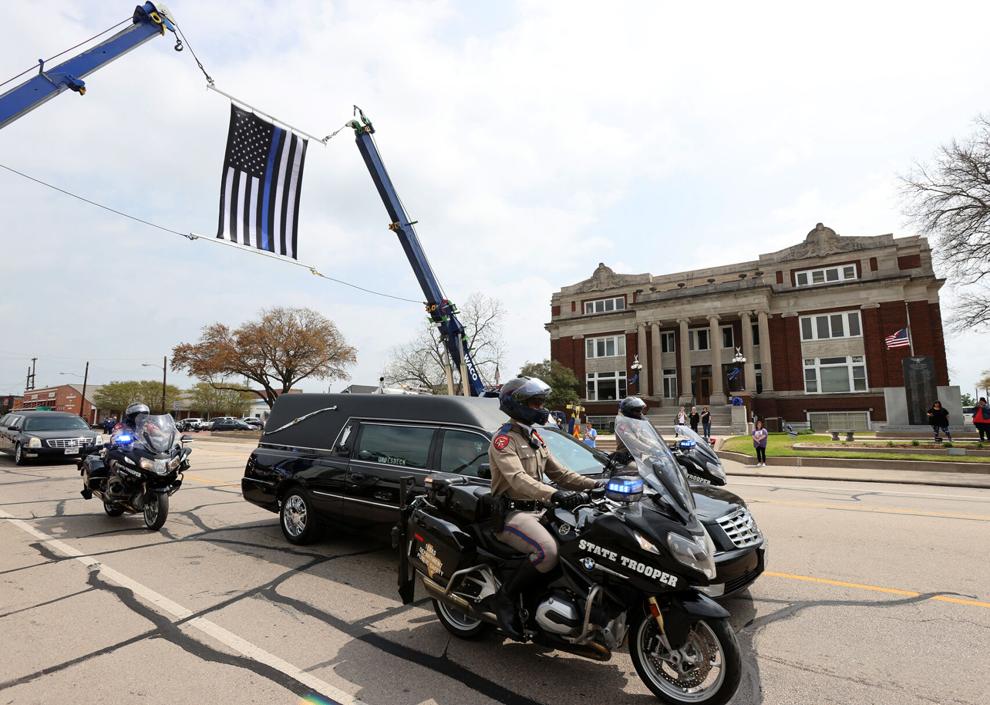 Cotton spoke about Walker's faith, crediting his strength to his relationship with God.
"He knew where his faith lied, and he knew where his home was.
"He was mighty strong in the Lord and I believe it was the power of Jesus Christ that held him up everyday to put on his uniform," Cotton said, urging law enforcement to keep their spirits up and to not "let the fear of the evil one and what happened last Friday stop you from serving."
Walker died in a Waco hospital days after he was shot March 26 by DeArthur Pinson, 36, whose vehicle was stopped on the shoulder of Farm-to-Market Road 2838 near Mexia, authorities said. Pinson later was found dead of a self-inflicted gunshot wounds, officials said. Walker was kept on life support until March 31 so that his organs could be donated.
Walker is survived by his wife Tobie, his 15-year-old son, two twin 7-year-old daughters, and a 2-month old daughter. Cotton, urged the trooper's son, Ethan, to live a life in honor of his father.
Cotton, who married Walker and his wife, shared many stories of the trooper. He recalled a conversation with Walker where he told him how he didn't think he would end up in law enforcement. Walker responded that he never believed Cotton would be in ministry.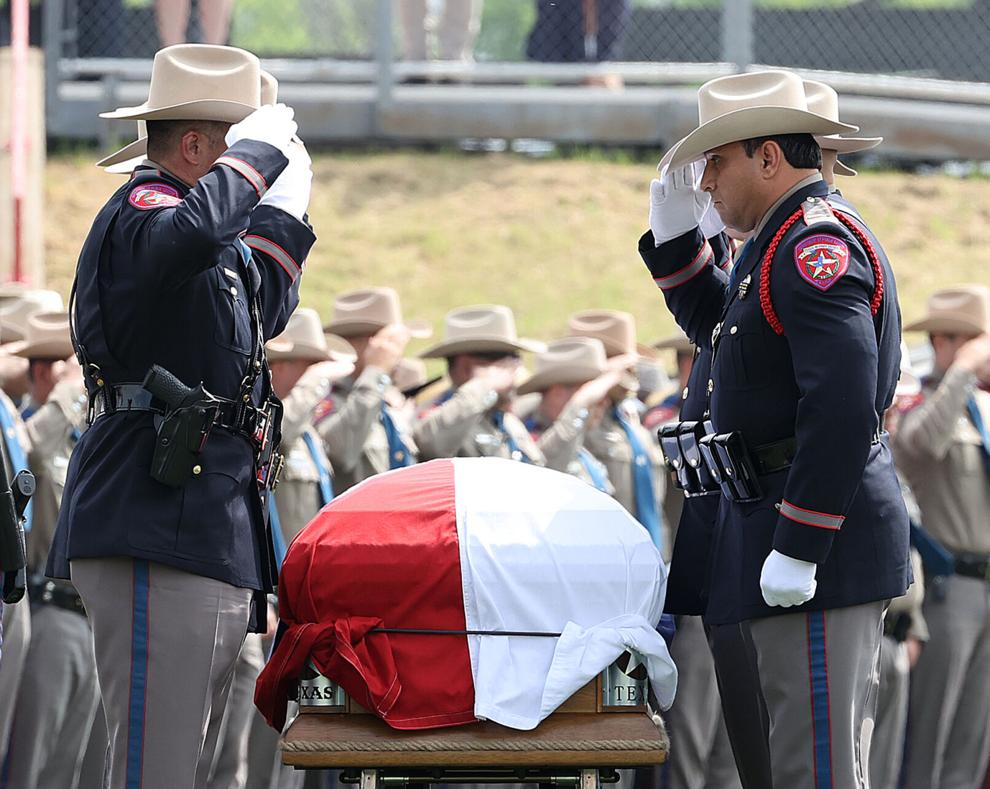 Walker began his law enforcement career in 2003 at Athens Police Department, followed by service in the Henderson County Sheriff's Office, Groesbeck Police Department, Limestone County Sheriff's Office and the Department of Public Safety.
He joined the Department of Public Safety in 2015 and was stationed in Groesbeck.
The Rev. John Carabin of Living Proof Church in Groesbeck, the church that Walker attended, told the gathering Wednesday that he considered Walker a friend and "longtime brother to his law enforcement community." Carabin is also chaplain of the Groesbeck Fire Department.
Often addressing Carabin as "preacher man," Walker would call Carabin to check in on him, something that for others might have "seemed like a simple thing," but for Carabin it "meant the world."
Carabin said Walker's love for Christ and community helped him reach and touch the lives around him. Carabin shared a story about a young college woman who was about to end her life when she saw the bible that Walker and his wife had presented her. For those who met Walker, it was moments like these that showed the deep impact that Walker had.
"He was a man who cared about other people. It didn't matter if you were a friend or a stranger," Carabin said.
"Chad Walker wasn't just a good man, he was a great man and he did great things with his life," he added.
Walker was honored at the service by the presentation of the U.S Honor Flag, which originated at Ground Zero after the Sept. 11, 2001 attacks and has since been used in honoring heroes killed in the line of duty across the country.
Scores of officers lined up at the end of the funeral service to pay their respects and present arms, saluting the fallen trooper as the casket passed by and the family exited.
"Like many of the other ones we have attended, they never get easier," said McLennan County Sheriff's Office Deputy Erin Spruiell after serving in the honor guard for the funeral.
"I think, as a matter of fact, they get harder for us as law enforcement professionals to see our brothers and sisters fallen and to see their families," Spruiell said.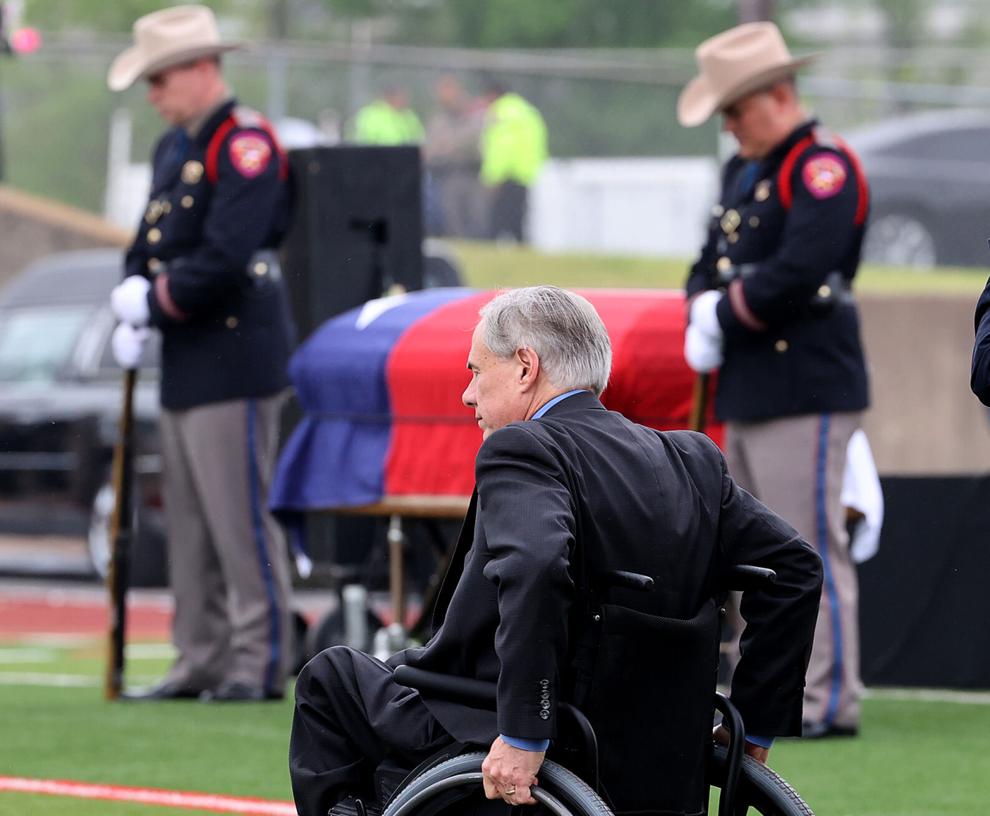 Top state officials including Gov. Greg Abbott and Lt. Gov. Dan Patrick were among those in attendance.
Officers escorted Walker to his final resting spot and arrived at LaSalle Cemetery, where he was honored with a 21-gun salute and laid to rest by close family and friends.
The ceremonies ended with the traditional final call for the fallen officer, made over DPS radio at 2:12 p.m.