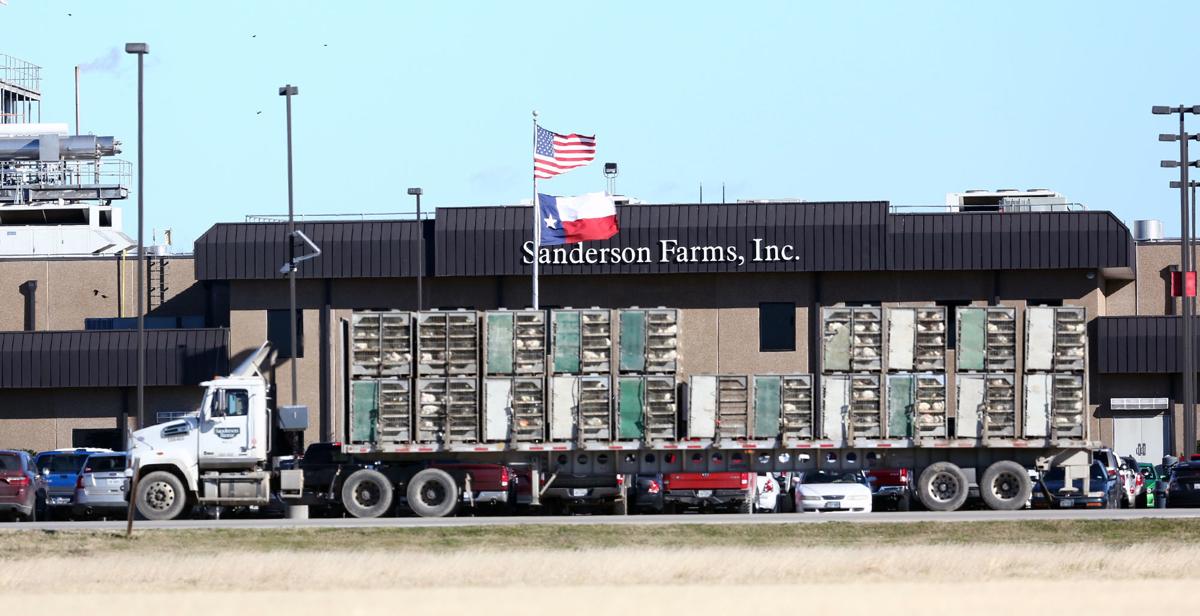 At least two employees of Waco meat processing plants have tested positive for COVID-19, as concerns mount across the nation about the high number of meat industry workers contracting the novel coronavirus.
Both Sanderson Farms and Cargill confirmed Friday that at least one employee at each of their Waco facilities had tested positive for COVID-19. While Sanderson Farms declined to say how many workers had the disease, a Cargill spokesperson said one Waco employee had the novel coronavirus and has since recovered. Plants elsewhere have shut down as their workforce was hit with high rates of the disease. Waco's Cargill and Sanderson Farms facilities have implemented protocols intended to limit the spread among workers, but local disruptions directly related to positive cases appear to have been minimal.
Nationwide, at least 4,913 meat processing plant workers had tested positive for COVID-19, and 20 had died as of April 27, according to a report released Friday by the U.S. Centers for Disease Control and Prevention. In Texas, at least 113 employees had tested positive and one person had died, although the report notes that many factors limited the CDC's ability to accurately count workers who have tested positive or died from COVID-19.
"As part of the national COVID-19 response, the recognized risk to meat and poultry facility operation requires prompt action to decrease risks to workers, preserve facility function and maintain the food supply," the report states.
Nationwide, the meat processing industry, deemed an essential business by the White House, employs about 500,000 people, all working in close quarters, according to the report. Close working conditions increase the risk for the novel coronavirus to spread within these meat processing facilities, as seen last month when a South Dakota facility became the country's biggest coronavirus hot spot.
The CDC then started requesting data on the number of workers who tested positive for COVID-19 and the number of facilities affected by the disease, according to the report. By April 27, the CDC received data from 19 of 23 states reporting at least one worker in the meat processing industry testing positive for COVID-19.
In Waco, the Cargill employee who tested positive has recovered and returned to work, following a 14-day quarantine period after the person's symptoms had cleared, spokesperson Emily Webster said.
The turkey processing facility, which produces presliced and other deli products and sells them under the brands Honeysuckle White and Shady Brook Farms, has implemented a series of measures to limit the spread of the disease, including mandatory 14-day quarantine periods for employees who test positive for COVID-19, taking workers' temperatures, providing them with face masks, and increasing the cleaning and sanitation of the plant, Webster said. Cargill also now bans visitors, offers staggered breaks and flexible shifts, and increases distance between workers.
The Cargill facility employs about 700 workers, while Sanderson Farms employs more than 1,200, according to the Greater Waco Chamber of Commerce website.
Sanderson Farms Chief Financial Officer Mike Cockrell declined to say how many Waco workers have tested positive for COVID-19, but he said the rate of infection among Sanderson Farm workers reflects the rates in the counties where they live. He added that the Waco facility has not had many people absent from work.
Sanderson Farms has facilities in Texas, Louisiana, Mississippi, Georgia and North Carolina. Cockrell said the facilities in Texas and North Carolina have seen low rates of infection among workers, while plants in Georgia and Louisiana have had higher rates, reflecting the rates of infection in their respective states.
The company had 15 employees test positive for COVID-19 as of April 2, according to a transcript of an investors conference call, while another 36 workers were awaiting test results at that time. Sanderson Farms contacted workers who were in close contact with those who tested positive and asked 30 of them to quarantine themselves at home with pay until they are cleared by a doctor. Another 204 employees stayed home with pay because they had symptoms of the novel coronavirus.
Additionally, Sanderson Farms sent all 415 workers at its Moultrie, Georgia, facilities who live in Dougherty County to quarantine themselves at home with pay, when the county saw a spike in the number of people testing positive for COVID-19, according to the call transcript.
Cockrell said all employees returned to work after testing negative for the disease but that the company has had workers test positive at every facility it owns.
Like Cargill, Sanderson Farms is providing workers with face masks, face shields and safety glasses, while also taking the temperatures of employees upon arrival and increasing cleaning and sanitation of the facilities. The company also installed partitions in break rooms to help workers maintain distance during breaks and has provided more covered space outdoors for breaks.
Attempts to reach Pilgrim's Pride officials for information about the company's Waco facility were unsuccessful.
---
Photo gallery: Virus outbreak protests and more