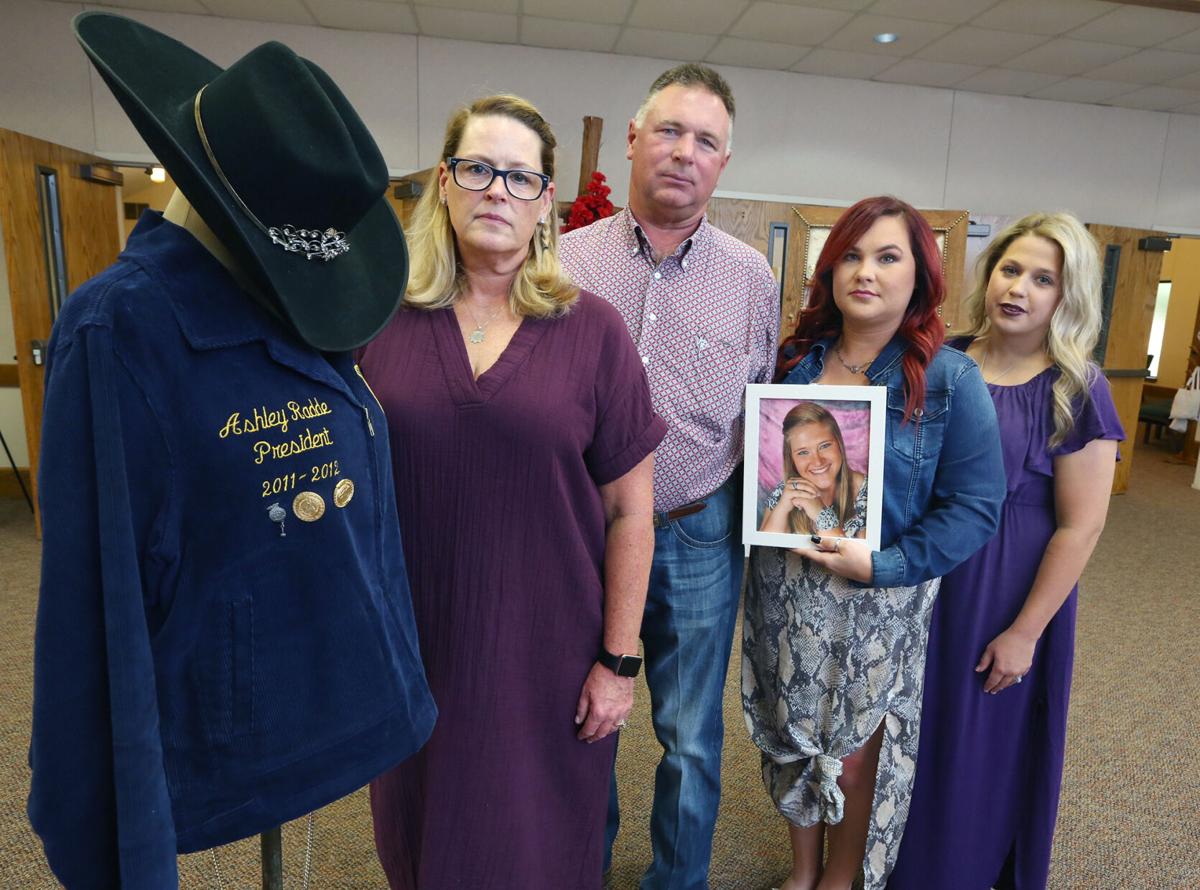 Angela Radde said she feels blessed she and her family got to say goodbye to her 27-year-old daughter at her hospital bedside, and tries to remember that not all families who lost someone to COVID-19 had the same chance.
She said a line stretched out the door and into the summer heat at Ashley Radde's visitation. People who knew Ashley through FFA and 4-H and countless fairs came to say goodbye to a woman they watched grow up, who taught their daughters all about livestock showmanship and smiled so wide everyone could see it, even under a mask.
Axtell Independent School District Superintendent J.R. Proctor said the Radde family is an integral part of the community. Elementary counselor Angela Radde is "one of the spark plugs that keeps the engine" of the district running, he said, and agricultural science teacher Bill Radde coached Proctor's son through showing chickens last year. Their daughter Ashley went to Axtell ISD from third grade to graduation and competed in FFA every year. From then on she was "ever-present," returning as a substitute teacher and supporting Axtell students at FFA events as an adult.
"I'll say this, Ashley was a daughter of this community," Proctor said. "She graduated from here prior to me getting here eight years ago, and I know her and hug her every time I see her."
A scholarship created in Ashley's name had garnered hundreds of donations as of Friday, Proctor said.
"Ashley lived like somebody left the gate open, and we just want to try to keep her spirit going," her father, Bill Radde, said.
Every weekend, the family would load their animals into trailers and travel to competitions throughout Texas, making friends everywhere through the everybody-knows-everybody world of FFA and 4-H. Through FFA, Ashley met her best friends, Keeli Tawney and Courtney Doyle.
After a year of student teaching in Gilmer, Ashley graduated in 2017 from Tarleton State University and became an agriculture science teacher and FFA sponsor at Alba-Golden ISD, a 2A district in Wood County. After a year in Wood County, she moved back to Central Texas and worked as a substitute teacher for Axtell and other districts. By then she was already a familiar face to students in the school's sizable ag program, and kids would run up to her and hug her, greeting her like a friend instead of a substitute teacher.
"She's older than them of course, but she would still see them and support them at the shows, and so they were like her little ducklings, all in a row," Angela said.
At shows, Ashley was a constant presence. She would help style girls' hair, give them tips on showmanship, quiz them and encourage them. It could be difficult for her to go back into substitute teacher mode on Monday after being a friend to those students all weekend.
When she went to work as an extension agent in Bastrop, she, Tawney and Doyle were sad to part ways again, but Ashley was excited to start the new job.
"We kind of hoped that it was just a new chapter, for her to start living her life out there and really enjoying her degree and what she wanted to do," Tawney said.
Just weeks earlier, Ashley and her parents greeted Tawney when she brought her newborn daughter home from the hospital. Tawney diverted most of her attention to caring for her daughter in the weeks before Ashley left, but they still talked weekly.
Doyle got vaccinated early on, but Ashley was afraid of the vaccine's possible long-term effects. She was especially worried it could cause infertility, since she planned to be a wife and mother one day, like Tawney.
"She was very leery of that. So were her friends," Angela said.
Michael Yeadon, a vice president of the drug company Pfizer until 2011 who went on to found a biotech firm, pushed the untrue claim that COVID-19 vaccines could cause infertility. According to a Reuters report, he filed a petition urging the European Medicines Agency to stop all COVID-19 trials, claiming, among other things, that the vaccine could cause infertility in women.
Yeadon's claims never held any weight and have been widely debunked, but the lie is still alive and well online. A video of Yeadon claiming in a speech that asymptomatic spread is impossible, those with natural immunity are not vulnerable to new variants and repeating the claim that women's fertility was at risk went viral in May, and was reposted to Facebook thousands of times, according to another Reuters report.
In February, the American College of Obstetricians and Gynecologists, the American Society for Reproductive Medicine and the Society for Maternal-Fetal Medicine released a joint statement affirming that the vaccines should be available for pregnant people and stating there is no evidence they have any impact on fertility.
A Kaiser Family Foundation survey from January 2021 found 13% of unvaccinated people who responded either believed vaccines cause infertility, or were not sure the claim was untrue. A report from May found 28% of unvaccinated respondents believed or did not completely disbelieve the claim.
Tawney said she does not remember when she first saw articles asserting the vaccine could cause infertility, but she remembers seeing it somewhere in the ocean of COVID-19-related content on Facebook.
"There's so much information out there that we don't really know what's true and what's not true," Tawney said.
She and Ashley aren't opposed to vaccinations, she said, but they shared worries about side-effects they had seen reported in one article and denied in another.
"We were like 'we don't know what's true. We don't know what's not. We don't know what's going to happen five years from now,'" Tawney said.
They agreed they could always wait until more research came out, in part because they were both in their 20s and did not see COVID-19 as that much of a threat to them.
Tawney said at the time, they were making the best decision they could with what information they had.
"We honestly never thought it would happen to anyone our age, let alone one of my best friends," she said.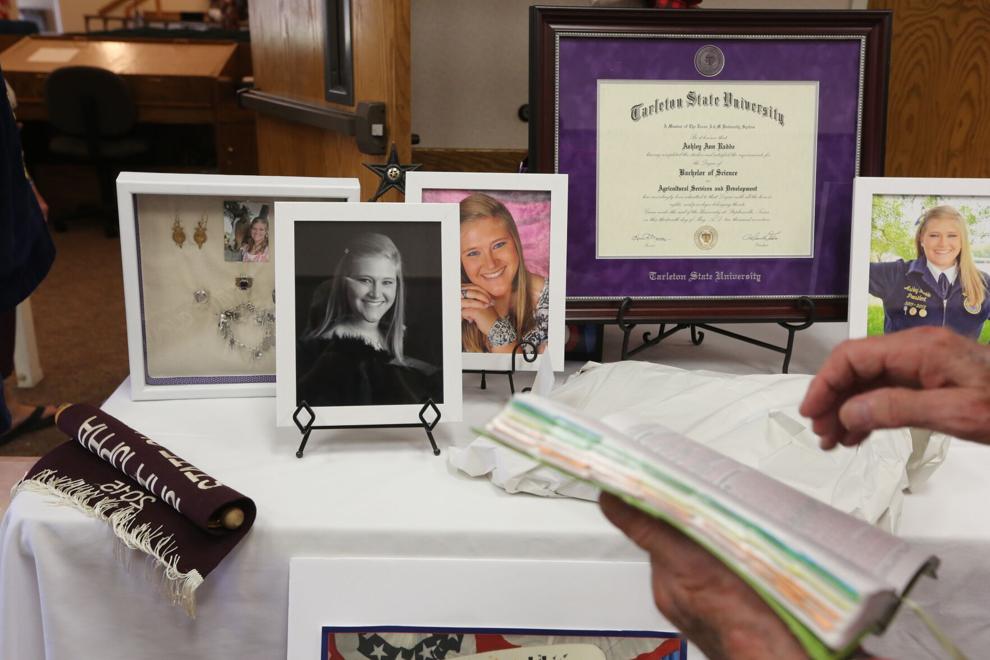 Angela and Bill were more concerned. They each had moderate cases of COVID-19 months before and got vaccinated when they became eligible, but they worried for their unvaccinated daughter. The family made a plan. If Ashley got sick, Angela would drive to Bastrop, pick her up, bring her back home to Axtell and care for her until she recovered.
"I'll be your caregiver for two weeks while you're under the weather, and then you'll bounce back and go back to work in Bastrop. No big deal. That was our plan," Angela said.
On Aug. 8, Ashley woke up feeling sick and running a fever, texted Tawney about not feeling well and told her mom she did not need to be picked up. By 9 a.m. Aug. 10, the family put their plan into action.
Back in Axtell, Ashley tested positive for COVID-19. Her symptoms seemed manageable, but a family friend insisted the Raddes borrow her pulse oximeter to test Ashley's oxygen level. It showed her blood oxygen saturation was less 90%, and they took her to the emergency room at Baylor Scott & White Hillcrest Medical Center.
At the hospital, visitation was limited to one hour per day. Aunts, uncles and cousins from East and North Texas split the time as evenly as they could with friends from high school. Angela said she is grateful for the time she got to spend with Ashley, but it still hurts to think about the times she could not see her.
"Because this is our baby, our only child, and we only got to see her for one hour," Angela said. "I wanted to be there to brush her hair. I wanted to help clean her and help her change clothes, and one hour is just not enough."
On Ashley's 27th birthday, Aug. 16, she was feeling well enough that her friends planned a surprise party. They would not be able to be in the room with her, but they could bring balloons and celebrate with Ashley through a glass partition, and the trio's tradition of celebrating every birthday together could continue. Before they could surprise her, Ashley was moved to the intensive care unit.
When her condition worsened Tawney and Doyle recorded a reassuring video to send to her in case her doctors decided she needed to be put on a ventilator. The day before Ashley was intubated, she told her mother to tell her friends to get vaccinated.
"For me to see Ashley there, I just feel like I can't think about the future right now. I just need to think about-day-to-day" Tawney said. "I think that's the hard part about this virus and vaccine, is 'do we need to think about the future or think about the present?'"
Tawney said after Ashley's death, the answer for now is that she needs to think about the present. At 28 years old, she said that was a difficult decision to make.
"Who knows what's going to happen in five years from now, but at least it will give me time to have with my daughter, instead of worrying about my future," Tawney said.
After Ashley was moved to a ventilator, her parents had meetings with seven specialists, all telling them her condition was getting worse. The pair held fast to their faith and prayed for a miracle, along with hundreds of others praying for Ashley and offering good wishes on social media.
They held out hope until the morning of Aug. 27, when the hospital told them it was time to gather their family members. The moment she got the call, Angela knew what would come next.
"Until then, we were fully prepared to receive a miracle," Angela said. "The hospital needed a miracle because they needed someone to get well and off the ventilator. We needed the miracle because we wanted to bring our baby home, even if that meant months and months of physical therapy. We were ready for that."
She said the memories of saying goodbye while clad in protective equipment and the mental image of Ashley in her last moments are not the memories she likes to revisit.
"That was not healthy, and that was not her," Angela said. "I try to let go of those memories and try to remember the times she was well, the times she was healthy and that she was so full of life."
Since her death, Bill and Angela made it a point to talk to as many of her friends as possible, especially those who are parents, urging them to get the vaccine. So far, 23 people have promised to get vaccinated. For Angela, that means her daughter may have saved someone else's life already.
"She'd finally found what she wanted to do, and then she just got cut short, but we had her for 27 great years," Bill said. "I'm not sure what the next 27 are going to hold, but they're going to go by a lot slower than the last 27. I know that."