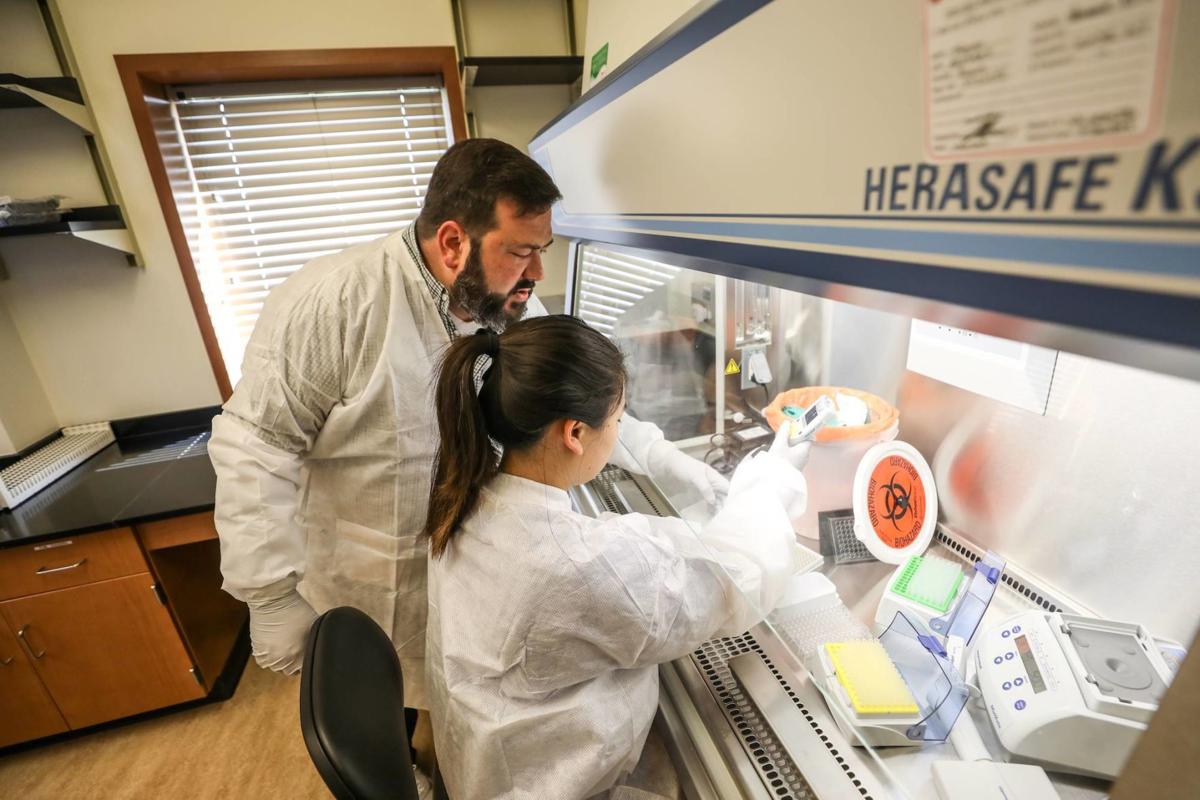 Genetic sequencing revealed that four of every 10 cases on Baylor University's campus could involve the highly contagious British variant of the COVID-19 virus, which researchers said could be a sign of things to come if people are too slow to get vaccinated.
The B.1.1.7. variant, first found in the United Kingdom, comes with 50% increased transmissibility and possibly more severe illness. Researchers performed genetic sequencing on COVID-19-positive samples taken from the university population in February and March, leading them to estimate that 41% of the 616 positive cases in that time were caused by the UK variant.
Local health officials say the findings suggest that the variant is well-entrenched in the Waco area, far beyond the confines of the university.
The samples came from the university's surveillance testing program, which tests Baylor's population each week, said Michael Muehlenbein, a Baylor anthropology chairman and tropical medicine expert who helped develop the program.
MyLabsDirect, the private company that handles testing for the Baylor population using conventional polymerase chain reaction tests, found on Feb. 22 that some viral samples were missing the "S-gene," which indicated the U.K. variant.
"Viruses very typically try to evolve over time to exhibit increased transmissibility, and this was an example of it," Muehlenbein said.
The results called for a more definitive analysis in the form of genome sequencing, a laborious process that maps the entire genetic code of the virus.
Even before the missing S-genes were reported, Muehlenbein had spoken to Baylor Provost Nancy Brickhouse and Associate Vice President Peter Granick about the possibility of getting access to genome sequencing.
Brickhouse got Muehlenbein in contact with the Baylor College of Medicine's molecular biology and microbiology department, which agreed to handle which could handle the genome sequencing for a little less than $300 per test through its Human Genome Sequencing Center in Houston.
"It wasn't probably two weeks later that the first test drops were reported," Muehlenbein said. "So it was quite fortuitous timing."
On March 1, the university lab sent 47 samples to the Baylor College of Medicine, which is not affiliated with Baylor University. The university received updates as the genetic sequencing progressed.
On April 5, nine of the original 47 samples were selected for a final analysis that revealed all nine were the U.K. variant.
"We've chosen not to send more at this time until we have reason to believe that other variants may be in the area," Muehlenbein said. "And we don't have reason to believe that yet."
Since then, sequencing has revealed 25 more cases, which Muehlenbein said isn't a surprise.
"These viruses mutate and perform what is called selective sweeps," Muehlenbein said. "They will move across the world very quickly, and become the dominant lineages very quickly. The good thing is that there's mixed evidence whether or not the UK variant is more virulent or more dangerous. And I have not seen reliable evidence whether or not it is."
Dr. Farley Verner, the public health authority for the Waco-McLennan County Public Health District said about 70% of students live off-campus, meaning the results are a decent reflection of what variants are spreading throughout the community, where DSHS has only reported only a handful of variant cases in McLennan County so far.
"You could even say that it may be higher in the community," Verner said. "Considering how much more Baylor has done to prevent on-campus spread, the portion of these people who test positive are more likely to have gotten it off-campus than on-campus.
Verner said as the virus continues to multiply, the chance of dangerous mutations increases, which means lowering the number of active cases as much as possible is key to lowering the risk posed by them.
"Now, we are currently having a relatively low number of cases and that's very encouraging, but it remains important to focus on getting a higher percentage of people vaccinated and, in the meantime, to do what we can to avoid transmission as much as possible.
Muehlenbein said as he followed international trends, he realized there were going to be more variants and more variant cases. He said it's also possible for the same variant to emerge in two places, independently forming twice.
"We have actually seen the same similar mutations, or identical mutations, evolving what seem to be independently in different regions of the world, specifically, in parts of the viral genome that are associated with increased transmissibility," Muehlenbein said.
He said the United States has lagged noticeably behind other countries when it comes to genome sequencing. As of April 6, there had been just under 100,000 published viral genomes from the United States, with about 35,000 of them from within Texas.
"We've got almost 21,000 cases of U.K. variants in the U.S.," Muehlenbein said. "But I assure you that number is exponentially higher. And that's a byproduct of the fact that we haven't done enough sequencing."
Muehlenbein said genetic sequencing may take time, but it's important to keep track of different variants as the pandemic rages on worldwide, in case variants that resist current vaccines, treatments and therapeutics emerge.
He said the variants give people even more reason to get vaccinated.
"We can expect through population movement that these other variants will take up a larger percentage of the source code to cases in the future, especially if people choose not to get vaccinated," Muehlenbein said.
There are 514,423 published sequences from across the United States published in repositories so far. Of those 40,864 came from Texas, which is only about 1.4% of the state's cases.