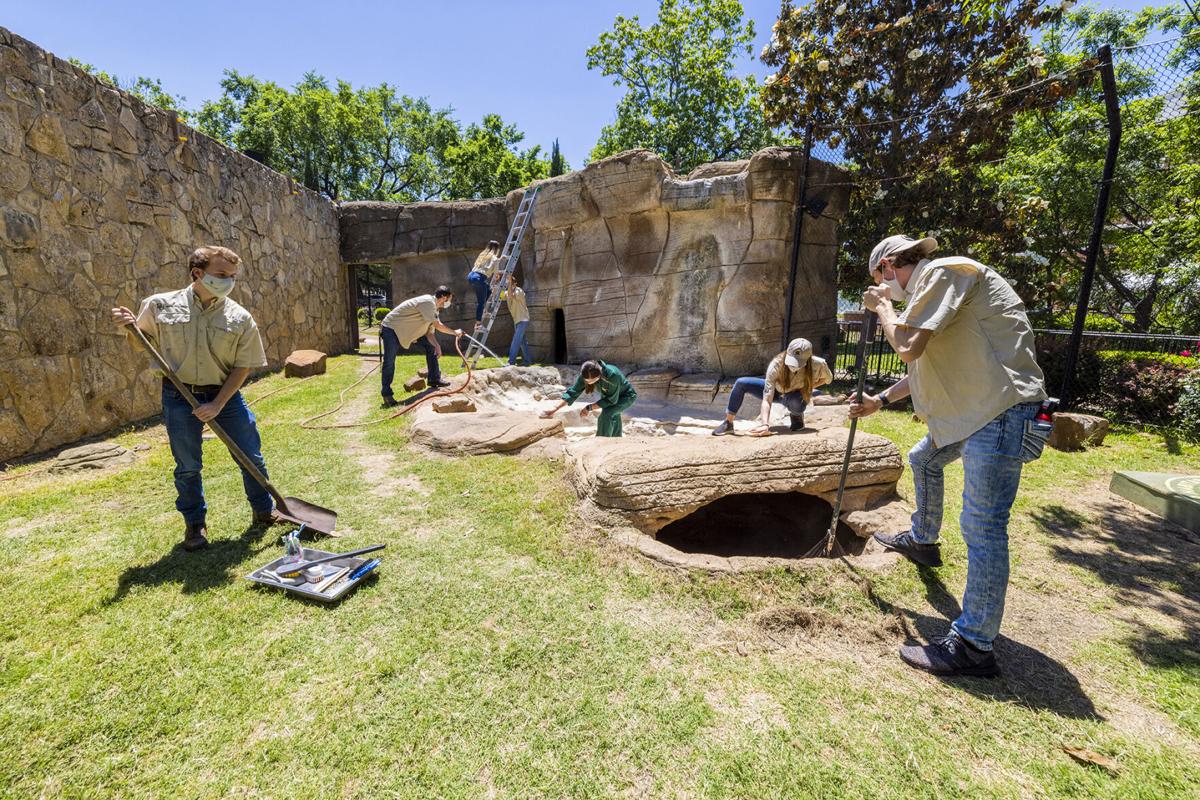 Less than 30 years after Baylor University stopped feeding live bears Dr Pepper, an Association of Zoos and Aquariums accreditation has put Joy and Lady's on-campus enclosure in the same league as the best zoos in the world.
The association, a nonprofit accrediting body for zoos and aquariums in the United States and 12 other countries, put its stamp of approval on Baylor's Bill and Eva Williams Bear Habitat last month.
Joy and Lady, Baylor's live American black bears and mascots, now live in the first university-owned facility to receive accreditation from the body. The enclosure is the 16th facility in Texas to receive an Association of Zoos and Aquariums accreditation.
"The Baylor team did their homework and passed with flying colors," association President and CEO Dan Ashe said in a university press release. "We are excited to welcome you to the AZA community."
When Monday's downpour sent lightning toward the Baylor campus, Dakota Farquhar-Caddell and the workers at the habitat escorted Lady and Joy from their 5,000 square feet of outdoor space into their indoor quarters.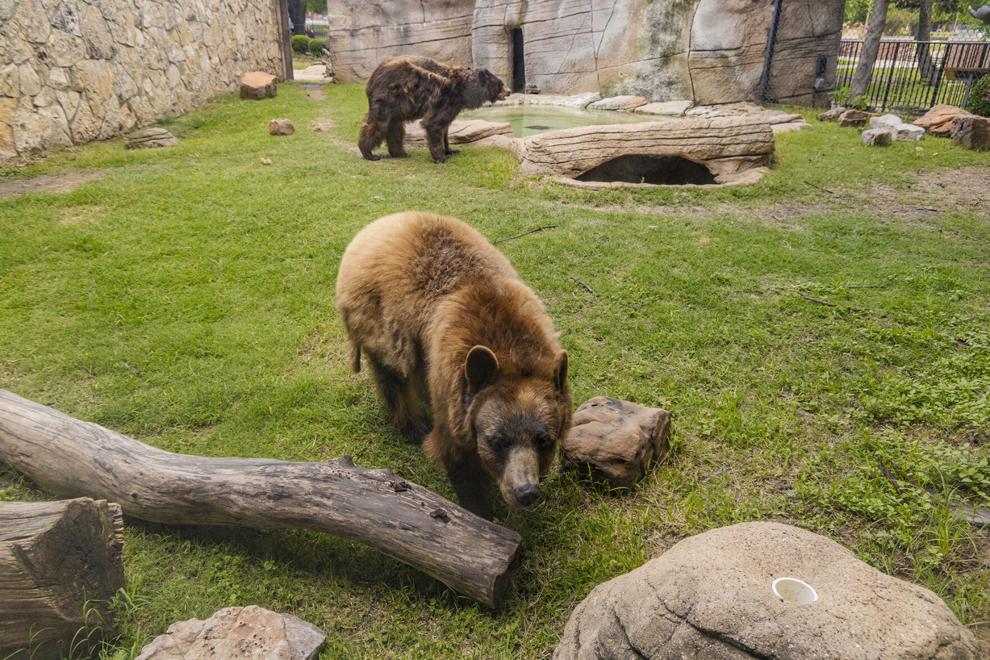 As the associate director of student activities and director of the Baylor Chamber of Commerce, Farquhar-Caddell manages the team of 14 student workers and professionals who care for the bears and maintain their habitat.
Farquhar-Caddell said most of the habitat was already up to Association of Zoos and Aquariums standards, but the application required documentation of specific aspects of the bears' care and the addition of another set of gates that can be used to shut off the habitat in case of an emergency.
"I think the primary marks where we thrived were animal care, veterinary care and the educational and outreach efforts," Farquhar-Caddell said.
He said accreditation also means information about the care of Joy and Lady can help the association's overall efforts to protect black bears.
When Lady received noninvasive radiation treatment in August and December of 2019, it was potentially the first time a bear had received that kind of treatment, he said.
"Now that we're part of AZA, we're part of this unique family that is all in it together to learn the best way to care for animals together, which is really, really valuable to us," Farquhar-Caddell said.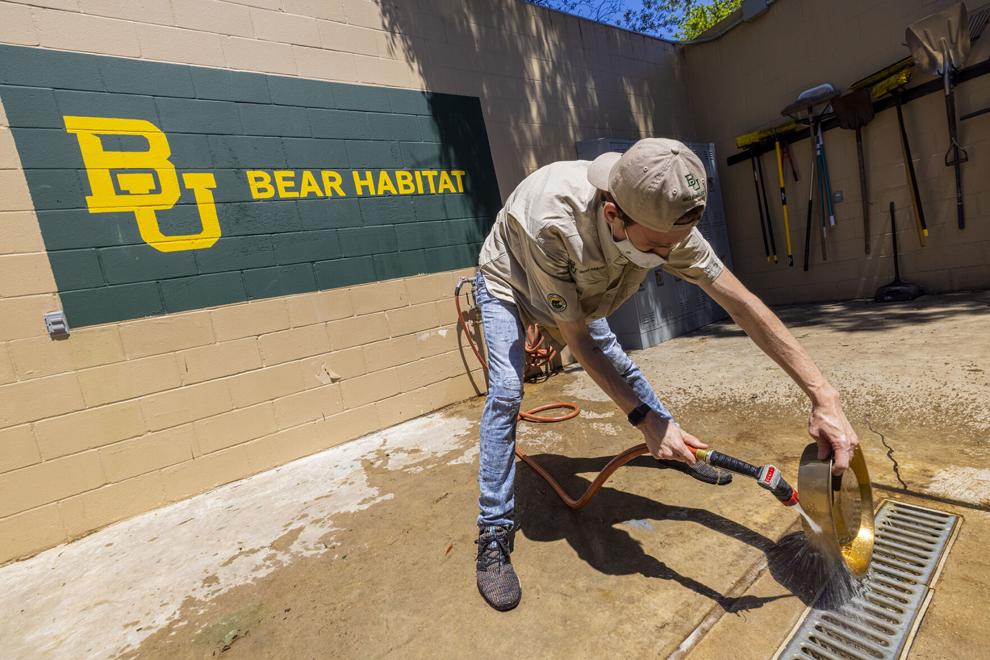 An association commission, with 15 elected experts in the zoo, aquarium and veterinary fields, visited in January to evaluate the habitat, along with Baylor's standards for animal care, outreach and conservation efforts. As of April, there were 241 accredited facilities in the United States. Santa Fe College Teaching Zoo in Gainesville, Florida, is home to the only other Association of Zoos and Aquariums accredited enclosure at a higher education institution.
Baylor's accreditation will last into 2026. The enclosure is approved for as many as three male bears.
Black bears are considered endangered in Texas and are expected to live until their late teens in the wild. Lady and Joy are 19 and 20 respectively, and expected to live to their early or mid-20s.
Farquhar-Caddell said workers already spend each day documenting how the bears are acting, moving, eating and playing. If they notice anything strange, they contact the bears' veterinary team.
Lady has physical therapy with her handlers three times a day, and workers lead Joy through special activities designed to prevent arthritis as she ages.
"Those are all really important measures we take to make sure they stay in peak physical condition, considering their age," Farquhar-Caddell said.
Three years ago he and a group of students attended an international Association of Zoos and Aquariums conference in Seattle and returned with a plan to secure accreditation for the university's bear enclosure.
Next year, Farquhar-Caddell and his staff will go on Texas Parks and Wildlife-led service trips to help restore the North American black bear's natural habitat in Texas. He said that will help meet the association's requirements that Baylor contribute to its conservation and public education efforts.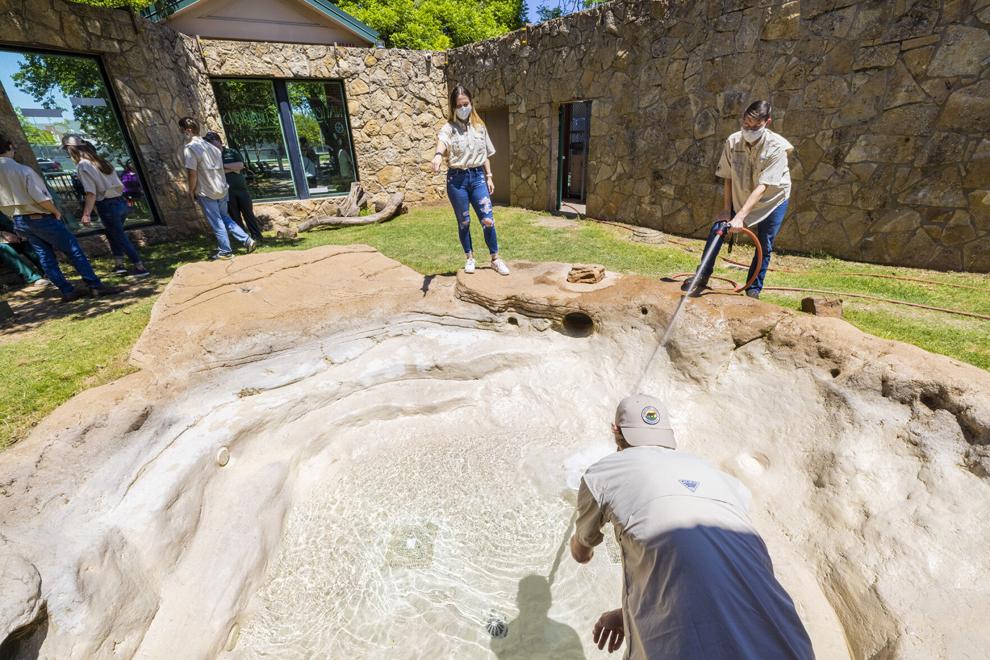 According to the Baylor website, the student body voted in 1914 to adopt the North American black bear as its mascot. The first bear, named Bruin, moved to campus in 1917.
Farquhar-Caddell said the university stopped feeding the bears Dr Pepper long before Joy or Lady came to campus. Soda is just as bad for their teeth as it is for human teeth, he said.
These days, their diets consist of fish, fruits and vegetables, but they occasionally get treats like peanut butter, avocados or maraschino cherries. Their daily food intake is monitored, and every calorie is accounted for.
The bears may not drink soda anymore, but that was not only tradition animal advocates objected to.
According to a 2002 Tribune-Herald article, two members of the Illinois-based animal rights group Showing Animals Respect and Kindness held public protests in downtown Waco, criticizing the mostly concrete habitat and calling it inadequate. University officials said at the time that their facility complied with the law. The animal rights group launched an international protest campaign in an attempt to get the university to stop keeping live mascots.
According to BaylorBears.com, the international campaign drove the university to stop bringing the bears to Baylor football games in 2003. They used to be led around the field, "where they often face thousands of screaming fans" during games, according to the post.
"The Texas A&M veterinarians who care for our bears agree that it is not healthy for the animals to be in such a loud and volatile environment," the post states.
Also in 2003, the university began a project to increase the size of the bears' habitat and add more trees, grass and water features.
The previous enclosure was built in 1976 and described in a 2005 Tribune-Herald article as a "concrete pit." The previous exhibit was named for Steve Hudson, after the deceased son of the family who gave the initial gift to fund the project.
Both enclosures met U.S. Department of Agriculture standards for a Class C zoo facility.
Farquhar-Caddell said the bears have been on campus more than 100 years, and in that time the university has made improvements to their enclosure to reflect modern standards.
"There are more areas for them to roam. There's more caves and waterfalls," Farquhar-Caddell said. "The current facility offers a really robust, dynamic environment for them. We're really proud of the facility we have now, and we're grateful for what we learned along the way."