More than a century later, there is still a curiosity about just what would happen if two locomotives traveling at high speed smashed head-on. That, as much as anything, may explain what went down in history on Sept. 15, 1896, as the Crash at Crush.
The crash, an orchestrated and planned collision of two trains racing toward each other as a publicity stunt, created a one-day community of some 20,000, maybe 40,000 people assembled to watch about 3 miles outside West. That community, said to be larger than most Texas cities at the time, dissolved hours later as spectators headed home, many on the trains that had brought them from across the state. The crash also killed three people, a tragic turn that happened when the steam engine boilers exploded after impact, spraying hot shrapnel for hundreds of feet.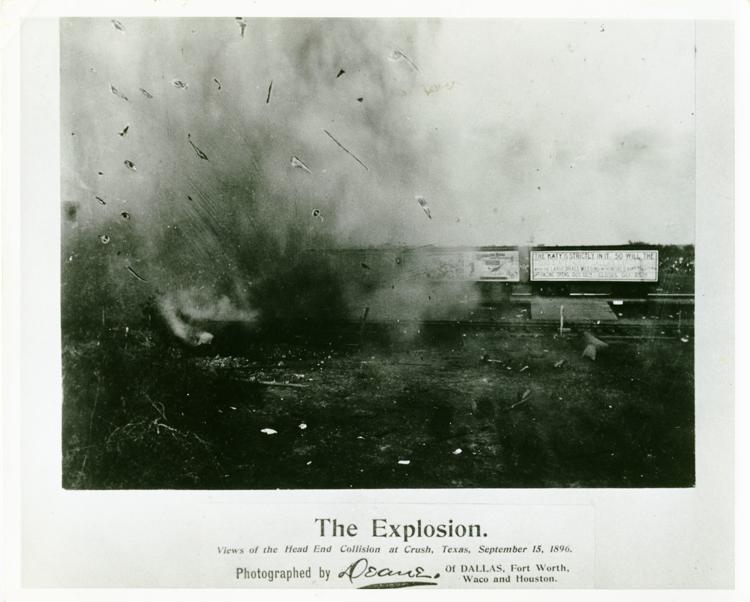 The community was named Crush, after railroad promoter William G. Crush, who had planned and promoted the event as a stunt to get people riding the Missouri-Kansas-Texas Railway, popularly known as The Katy Line. And people certainly rode the line that hot September afternoon 123 years ago.
In his new book "Train Crash at Crush Texas: America's Deadliest Publicity Stunt," veteran Texas journalist, author and former Department of Public Safety spokesman Mike Cox provides the broad context of the event that became part of Texas history, even if a quirky and offbeat one.
Cox will be on hand in Waco for the first live Waco History podcast, joining hosts Stephen Sloan and Randy Lane to talk on the subject at 7 p.m. Sept. 25 at Pinewood Public House, 2223 Austin Ave. Admission is free.
Cox's book traces its roots in the start and growth of the Katy Railroad, which ran through Waco and West; the effective work of Crush, who engineered events and planned special excursion trains to get passengers familiar with the line; and a preautomobile, premass-media era when in-person spectacle was more of an entertainment draw.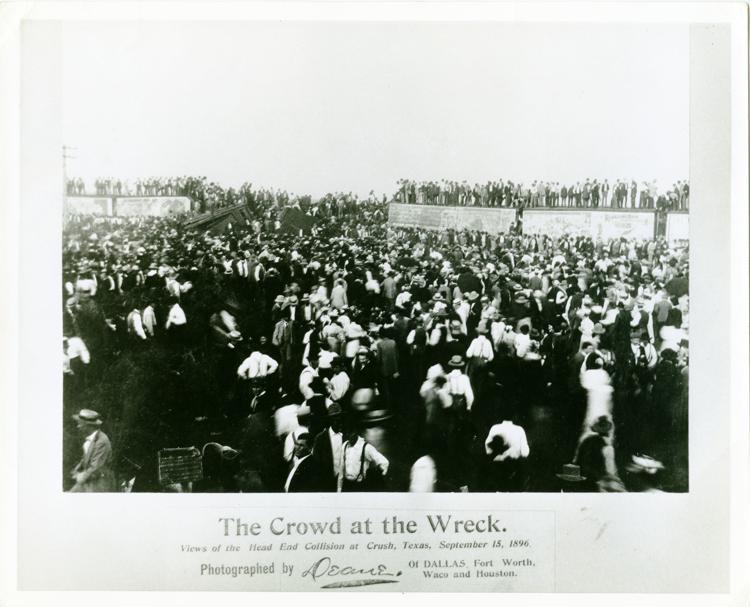 Alfred Streeter planted the seed of Crush's idea with a similar head-on train crash in Ohio in 1896 that wowed thousands and earned Streeter some money. With advice from circus owner John Ringling of Ringling Bros. Circus, which used railroads extensively in its touring, Crush started planning in the summer of 1896 the event that left his last name in history.
Temporary stands, food and drink concessions and carnival attractions were organized, and a side track was built for the two aging locomotives that the Katy had intended to retire. Crush's marketing extended up and down the Katy Line with dozens of passenger cars added to accommodate the crowds coming to witness the crash, which promotional material billed as happening for scientific purposes.
The two locomotives were painted for their demise, boilers in red and green with trim in blue and yellow, and each pulled boxcars conveniently covered with advertisements, Cox wrote in his book. Skeleton crews were selected to drive the trains up to speed, then jump off.
Everything went to plan until the collision, when the engines' steam boilers, under high pressure to get the trains to maximum speed, exploded after impact and showered hot metal — some of which is now in the History of West Museum.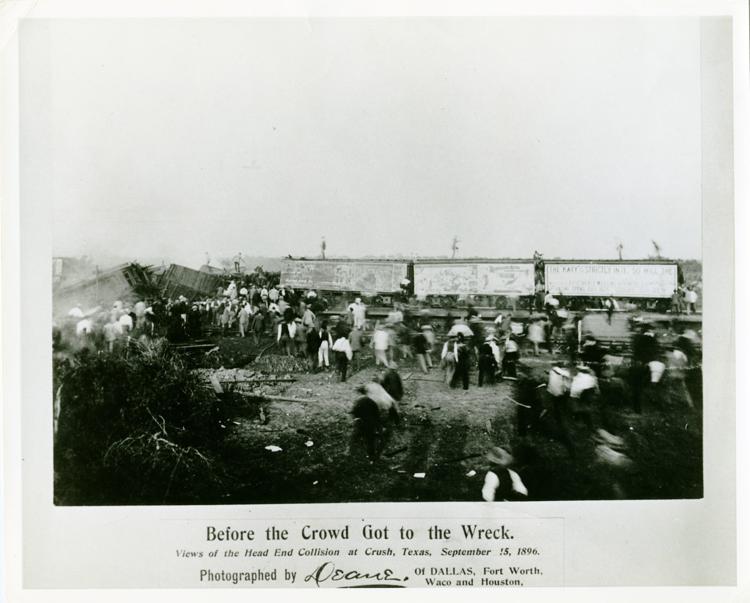 Three were killed by flying debris, and photographer Jervis Deane was blinded by a piece of metal that pierced his eye.
Copies of the photographs that Deane, his brothers and an assistant made of the crash are in Baylor University's Texas Collection.
"We're very, very lucky to have the photographs that Jervis Dean and his photographers took," collection audio and visual curator Geoff Hunt said.
The photographs as well as printed materials and sheet music for a ragtime piece titled "The Great Crush Collision March" by a young composer named Scott Joplin, who is known as the king of ragtime, are in the collection's Crash at Crush holdings.
"There's enough to make a trip here," Hunt said. "It creates a lot of interest for people all around the world: marketing, the drama, the hubris of the idea."
Cox's research ties up some loose ends to the Crash at Crush story. Crush, for instance, was not fired, then rehired. He continued on the payroll and rose high in the Katy administration over the next four decades, Cox found. Though the railroad was sued for the wrongful deaths and injuries of spectators, those cases never came before a jury and were settled quietly.
Despite the negative publicity about the fatalities at Crush, colliding locomotives would continue to entertain American crowds through the first half of the 20th century. Promoter "Head-On Joe" Connally not only won a nickname, but made a cottage industry of it at state fairs largely in the Midwest with more than 40 staged in the 1910s through 1930s.
Get local news delivered to your inbox!
Subscribe to our Daily Headlines newsletter.