Two law professionals are squaring off in the race for the Waco City Council District 3 seat. The winner will replace John Kinnaird, who did not run for a new term. Early voting in the race begins Tuesday.
Josh Borderud, director of clinical programs at Baylor Law School, was the first to file in January. He supervises the attorney of the Veterans Clinic, the Trial Advocacy Clinic, and the Estate Planning Clinic. His wife, Jennifer, also works at Baylor University as director of the Armstrong Browning Library.
Aubrey Robertson, a trial lawyer and former chief felony prosecutor, serves as a director for the Waco-McLennan County Bar Association. Robertson earned his bachelor's degree from Baylor University and his Juris Doctor from New York Law School.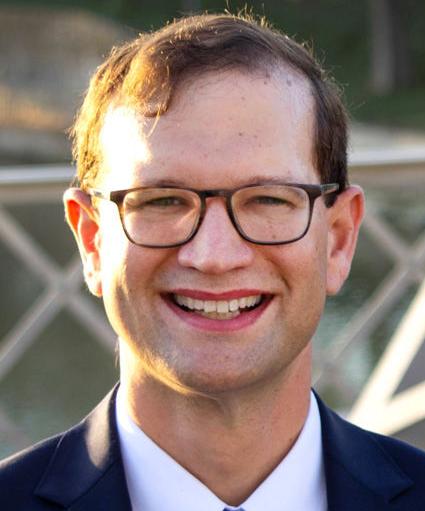 Borderud, 40, said his experience in local government, starting in 2012, makes him the more qualified candidate. He's served on Waco Plan Commission, Capital Improvements Advisory Committee, Zoning Board of Adjustment, and Animal Welfare Advisory Board, Waco Metropolitan Planning Organization Policy Board and as a trustee for the Heart of Texas Region MHMR Center. He is also treasurer of the Waco-McLennan County Bar Association. He said he wants to use that experience to build bridges between Waco's residents, the city, county, school districts, nonprofits, and businesses.
"I worked with Judge Felton on the creation of the McLennan County Veterans Treatment Court and the renovation of the courthouse law library," Borderud said. "In my first job out of law school, I served as legal adviser to the county judge of Milam County on governmental matters. Having worked closely with numerous officials in the last decade on boards and committees, I will carry on the work of achieving positive outcomes for District 3."

Robertson,36, said his biggest strength is his ability to communicate complex and unfamiliar ideas in a way most people can understand. He said if elected he'd focus on infrastructure projects, educational support and criminal justice. He said infrastructure will be particularly important to recovering from the ongoing COVID-19 pandemic.
"We are going to need to put people back to work when we begin to emerge from restrictions put in place to address the Covid-19 pandemic," Robertson said. "The jobs created by fixing an aging infrastructure can be a source of stable income for families that need it most. Jobs in the construction industry often pay well, but it isn't just about income. These jobs also often come with benefits such as health care and retirement options."
Robertson said District 3 needs more sidewalks in particular, and the district's roads are in "absolutely atrocious" condition.
If elected, Borderud said he'd prioritize a balanced response to COVID-19 that will keep people safe without kneecapping economic development, focus on managing the city's growth overall with infrastructure improvements and strategic planning and push for more parks, libraries, community centers, road improvements and police in the growing district.
"Many neighbors in District 3 are passionate about maintaining the character and integrity of their neighborhoods amid the increase in commercial development, the boom in residential construction, and the popularity of short-term rentals," Borderud said. "As chair of the Waco Plan Commission, I have paid particular attention to the perspectives of the surrounding community whenever there is a zoning change or development that seeks to alter the character of a neighborhood."
Borderud said West Waco, which he described as the fast-growing portion of the district between Hewitt and Woodway, deserves more attention and resources in particular.
"With major industrial, commercial, and residential sectors, West Waco is an essential part of our city. I have made it a top priority to learn more about West Waco in the past year," Borderud said. "Five members of the Midway ISD board of trustees are on my campaign advisory team, and they have shared a number of community concerns with me."
Both candidates said they support the city's new community policing initiative and do not, in any sense, support defunding the police. Robertson said the program could be a way to stop problems before they start.
"Oftentimes arresting people and putting them in the county jail is treating a symptom of the problem, not the problem itself," Robertson said. "We have to encourage our officers to get out into the community and meet the people whom they are sworn to protect and serve."
Borderud said he was impressed with Waco Police Department's professionalism when he worked as a prosecutor, and the new program would be a good way to maintain a relationship between the police and the public and prevent the kind of violence against often-unarmed people of color that continues to inspire daily protests in other cities.
Robertson said in his opinion, the nationwide trend of police departments become the primary institution working with people in mental health crises, homeless people and disciplinary issues in schools has exacerbated the problem.
"We need to reexamine all of the things we ask our officers to do and determine if there is a better way to address some of those problems," Robertson said. " Maybe that means spending more money on programs designed to help homeless individuals get back on their feet, or investing more in MHMR services and making those services more widely and readily available."
Robertson also said officers must be held accountable for their actions.
"I've prosecuted dirty cops and I've represented cops who have found themselves on the wrong side of the law. Our guiding principle has to be that we stand for equal justice under the law," Robertson said. "You should not be treated differently because of the color of your skin and your badge is not a 'Get Out of Jail Free' card."
Get local news delivered to your inbox!
Subscribe to our Daily Headlines newsletter.