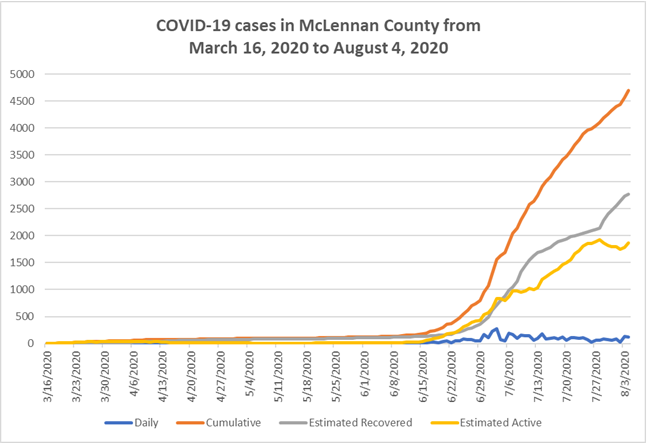 The Waco-McLennan County Public Health District reported another 123 residents had received test results by Tuesday afternoon confirming they have COVID-19.
The number of active cases locally closed in on 2,000, even as the rate of positive tests continued to trend slowly downward, remaining at 13% over the past seven days. McLennan County has reported 4,694 cases since the pandemic began in March. Of those, 1,869 are active and 2,774 are estimated to be recovered.
No COVID-19 related deaths were reported Tuesday. So far 51 people have died from COVID-19. Sixty-four people are hospitalized, including 14 on ventilators.
Kelly Craine, spokeswoman for the health district, said none of the 123 new cases reported Tuesday stemmed from the series of state-run testing sites conducted in the county recently.
The district earlier reported that 115 positive tests out of 1,548 results returned to the county as of Monday, with 322 tests results still outstanding.
"It may be that we do not see those results, if the ones who were tested were not from McLennan County," Craine said. "People will travel to get tested for COVID, so it's entirely possible all of those were from outside the county, which means the results would not come to us. When we did testing back in May, people came from everywhere."
Upcoming testing event
Another walk-up testing event is Aug. 13-15 in the gymnasium at McLennan Community College, 1710 Powell Dr. Like the others, the tests are cheek swabs. Unlike the others, no registration is necessary.
Craine said the public health district is still working through its reporting process for area school districts, with classes set to begin in two weeks at some locations.
"Positive tests are reported to us automatically," Craine said. "We work regularly with schools, particularly our school nurses, during flu seasons. They're really good about consulting with us."
Craine said it was unclear whether positive tests would be publicly reported by school campus, grade level or classroom.