McLennan County restaurants and businesses could have to revert back to 50% capacity, if the state determines that COVID-19 hospitalizations in the area are too high under Gov. Greg Abbott's latest executive orders.
Late Sunday, McLennan County Judge Scott Felton received notice from Department of State Health Services Commissioner Dr. John Hellerstedt that McLennan and four adjacent counties would have to reduce restaurant, retail store, gyms, office buildings, museums and libraries to 50% capacity, down from 75%, because of the rate of hospitalizations in the area.
In the five-county area known as "Trauma Service Area M," which also includes Bosque, Falls, Hill and Limestone counties, more than 15% of all hospitalizations in the past seven days were due to COVID-19, Hellerstedt reported.
Abbott's Sept. 17 order allowed certain businesses and venues to expand their capacity to 75% and allowing elective surgeries to resume in counties with COVID-19 hospitalization rates that fell below that 15% threshold.
Felton said he is working with Hellerstedt and DSHS to allow McLennan County venues to remain at existing capacity because there is some discrepancy between the state's hospitalization numbers and the county's.
"We don't show that we exceed that 15% on a seven-day average," he said.
Felton said he expects to receive some clarification Tuesday from DSHS and to be able to advise McLennan County businesses whether they will have to reduce capacity.
Three of the state's 22 trauma service areas, all in South Texas, have been advised to reduce their business capacities and prohibit elective surgeries.
State data show that Trauma Service Area M has 64 COVID-19 patients receiving treatment in hospitals, out of a total of 382 hospitalizations. That is about 16.8% of all hospitalizations.
The Waco-McLennan County Public Health District reported Monday that 40 COVID-19 patients are receiving treatment in Waco hospitals, including 14 people who are on ventilators.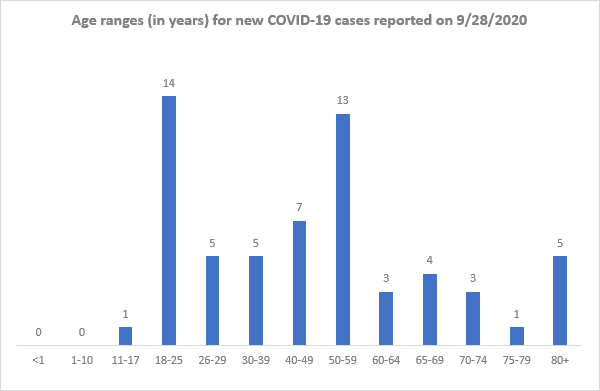 The health district on Monday reported the county's 108th COVID-19-related death, involving a 66-year-old white man who died in a local hospital.
The district on Sunday attributed the death of a 30-year-old Hispanic woman to COVID-19, the youngest to die of the disease in this county.
Additionally, 61 more people had tested positive for COVID-19 as of Monday, bringing the total number of cases in McLennan County to 8,061. An estimated 408 people are currently considered to have active cases.
According to the health district, McLennan County averaged 47 new cases a day in August and 44 cases a day in September, through Wednesday, compared to 40 per day in June and 90 per day in July.
Health district spokesperson Kelly Craine said the fact that case numbers have remained stagnant three weeks after Labor Day is a good sign, but she warned against people becoming too complacent by not wearing their masks and social distancing.
"We've seen before COVID can explode at the drop of a hat," she said.
As usual, the 18-25 year old age range represented the largest number of new cases Monday, with 14 cases in that bracket. It was followed closely by the 50-59 age bracket, with 13 cases.
Friday marked the first time in at least three weeks the 18-35 age bracket did not represent the largest number of new cases. The health district reported 77 new cases in the 40-49 age bracket and 69 new cases in the 50-59 age bracket, or 35% of the week's totals.
Craine said people in those age ranges are the most mobile, going to work and school, but ultimately it comes down to who is getting tested for the health district to determine some kind of trend.
The next round of free COVID-19 testing is Friday at Waco Fire Station No. 5, 4515 Bagby Ave. It is a drive-thru site, open from 8 a.m. to 5 p.m. Registration is required at https://texas.curativeinc.com/welcome.
---
US surpasses 200,000 deaths: A timeline of COVID-19's spread
Dec. 30, 2019: Chinese doctor sounds the alarm
Dec. 31, 2019: Chinese health authorities notice mysterious cases of pneumonia
Jan. 4, 2020: WHO starts tracking illnesses in Wuhan
Jan. 11: The first coronavirus death is reported
Jan. 13: The virus spreads to other countries
Jan. 23: Wuhan is locked down
Jan. 30: WHO declares a Public Health Emergency
Feb. 2: First death outside of China
Feb. 5: Cruise ship quarantined off the coast of Japan
Feb. 11: The disease gets a new name
Feb. 14: First death in Europe
Feb. 19: COVID-19 arrives in Iran
Feb. 23: Cases of COVID-19 explode in Italy
Feb. 26: First case reported in Latin America, more cases in Europe
Feb. 28: Cases spike in Europe, first U.S. death
March 7: Death toll continues to rise
March 11: WHO declares COVID-19 to be global pandemic
sort of
March 13: Trump declares a national emergency
March 15: Europe shuts down
March 19: China reports no new local infections
March 20: Deaths exceed 10,000 globally
March 23: United Kingdom locks down
March 24: India, a country of 1.3 billion people, shuts down
March 24: Tokyo Summer Olympics postponed
March 25: U.S. government announces $2 trillion aid plan
March 26: Record unemployment filings in U.S.
March 26: Global COVID-19 cases surpass 500,000
March 27: U.S. surpasses Italy for most cases worldwide
March 27: Nearly half of all Americans under lockdown
April 2: Over 1 million confirmed cases worldwide
April 5: First U.S. animal tests positive for the virus
April 13: Global COVID-19 case count surpasses 2 million
April 14: Trump halts funding to WHO
April 15: Stimulus bill begins to help Americans
April 19: Nursing home deaths pass 7,000
April 20: Trump announces ban on U.S. immigration
April 20: Protests to reopen the country erupt across America
April 21: Georgia draws scrutiny with plan to reopen the state early
May 4: J. Crew files for bankruptcy
July 9: Cases continue spiking and reaching new record highs
July 23: US passes 4 million cases nationwide
August-September: Congress fails to pass new COVID-19 relief bill
August 17: U.N.C. Chapel Hill goes online one week after reopening
August 26: Abbott antigen test approved
September 19: U.S. death toll passes 200,000
October 2: COVID-19 reaches the White House
October 12-13: Medical trials paused
Get local news delivered to your inbox!
Subscribe to our Daily Headlines newsletter.