Public testing returned to Waco on Monday as 653 new daily COVID-19 cases were reported amid an unprecedented surge of cases driven by the omicron variant.
The Waco-McLennan County Public Health District quietly opened a test site at Parking Lot M at McLennan Community College's Community Services building, 4601 N. 19th St.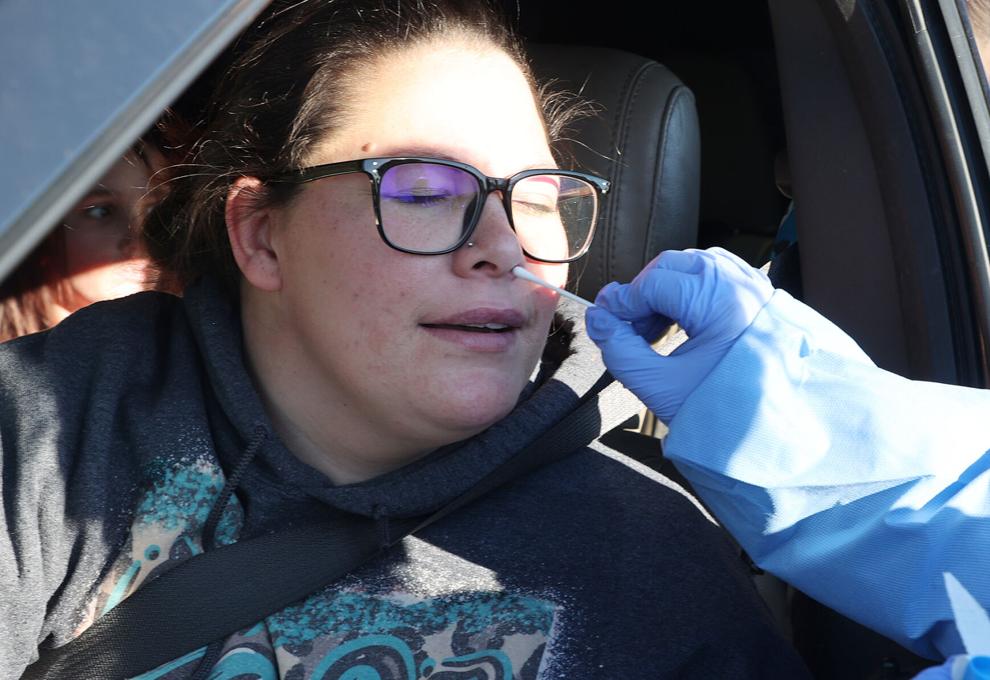 Without publicity, the site drew 56 visitors Monday. The site will now run 9 a.m.-4:30 p.m. Monday through Friday on an appointment basis, and about 350 PCR tests per day are available, said health district assistant director Stephanie Alvey.
With the 653 new COVID-19 cases reported Monday, the county has had 2,299 new cases in the four days since Thursday, when the health district last updated its online dashboard, covidwaco.com. Two new deaths were reported Monday, bringing the toll to 755 countywide.
McLennan County now has an estimated 3,411 active cases, with 123 COVID-19 patients in Waco hospitals.
Waco Independent School District reported 57 cases over the past week, while Midway ISD reported 142 students and 38 staff with active cases. Meanwhile, the McLennan County Jail had 74 inmates and 30 jail staffers with active cases, officials reported.
Alvey said she expects the number of reported cases to tick up even more as testing becomes more readily available.
The health district closed its public testing program in late October as cases declined from a late summer surge that was driven by the delta variant. After the omicron surge began to gain traction in mid-December, it took time for the district to nail down a vendor for a new testing program, Alvey said.
"There are third-party vendors, and we have to go through the contracting process," she said. "These vendors suddenly came into high demand right before the holiday. ... We knew omicron was coming, but we didn't expect it to hit right between Christmas and New Year's."
The new vendor is MyLabsDirect, a Texas-based firm that partnered last year with Baylor University to create a virus testing lab at the Baylor Research Innovation Collaborative. The firm performs all the tests for Baylor University. CEO Justin Simons was at the MCC site Monday to assist with the testing.
Alvey said the proximity of the Baylor lab should shorten the turnaround time for testing, which is estimated to be between 24 and 48 hours.
The testing site is coordinated by the health district but is federally funded, Alvey said. Private health insurance should fully cover the cost of the test as long as it is taken as a result of symptoms or possible exposure rather than mandated for travel or workplace safety, Alvey said. Federal programs will cover the cost of tests for the uninsured, she said.
Alvey said even in a time of widespread vaccination, testing remains an important tool for managing the risk of acquiring or spreading COVID-19.
"A positive test result is one of the most actionable items you can have in terms of making a decision about your health," she said. "Having that result, knowing their status, helps people decide to isolate or quarantine."
Jonathan Grant, executive director of World Hunger Relief Inc., was in line with a family member Monday at the MCC clinic.
"Someone in the family had a close exposure," he said. "Just out of an abundance of caution, I feel responsibility to do what we can to confirm or deny (an infection)."
Grant had recently visited a testing site at Richland Mall where there was an hours-long wait. This time, he was able to book a time within 45 minutes, and he was able to get through the line in five minutes.
Grant said that even though he and his family are fully vaccinated, he knows several vaccinated people who have had mild to moderate cases of the virus since the rise of omicron. He himself had a case of COVID-19 before he was vaccinated, complete with chest pains "like nails." He said his father was in intensive care with the virus for five weeks, and his children's uncle died of the disease.
"It hits pretty close to home, so we are doing everything we can to beat it to the punch," he said.