The Waco-McLennan County Public Health District will again retool scheduling for its next public COVID-19 vaccination clinic, while local hospitals are seeing a slight reprieve from growing pressure that had recently forced the conversion of non-patient areas to house patients.
The number of COVID-19 patients in local hospitals, 139 as of Wednesday, and the number of new cases remain worryingly high, but the situation appears to have moved the right direction compared to a week ago, Waco Family Health Center CEO Dr. Jackson Griggs said during a weekly press conference on COVID-19 Wednesday with local hospital and government officials.
"We're still very much in that red zone … such that at any moment we could turn around and see exponential spread again," Griggs said. "But it looks like in the last week or 10 days we've seen a decrease."
Also as of Wednesday, the nationwide COVID-19 death toll had surpassed 400,000 people, and the disease has become the nation's most common cause of death, Griggs said. The county saw COVID-19 deaths of seven more residents announced Wednesday, bringing the local death toll to 337.
The health district, meanwhile, is in the midst of its second public vaccination clinic, supplied with 1,500 doses for the second week. McLennan County Judge Scott Felton said it appears unlikely the health district will see any increase in allocation from the 1,500 doses per week. With the need for second doses starting to grow, there will only be more pressure on the available supply, Felton said.
The health district's allocation remains "nowhere near" what the area needs, Waco Mayor Dillon Meek said.
After adjustments to the registration process after the first public vaccination clinic, potential recipients were again frustrated by the process for the second clinic, Meek said. For the next clinic, the health district will schedule appointments by reaching out to people who have signed up for a waitlist in previous weeks, he said.
"I want you to know we are listening to you and we're continually looking at ways that we can make this process better, and ensure it is as equitable as possible," Meek said.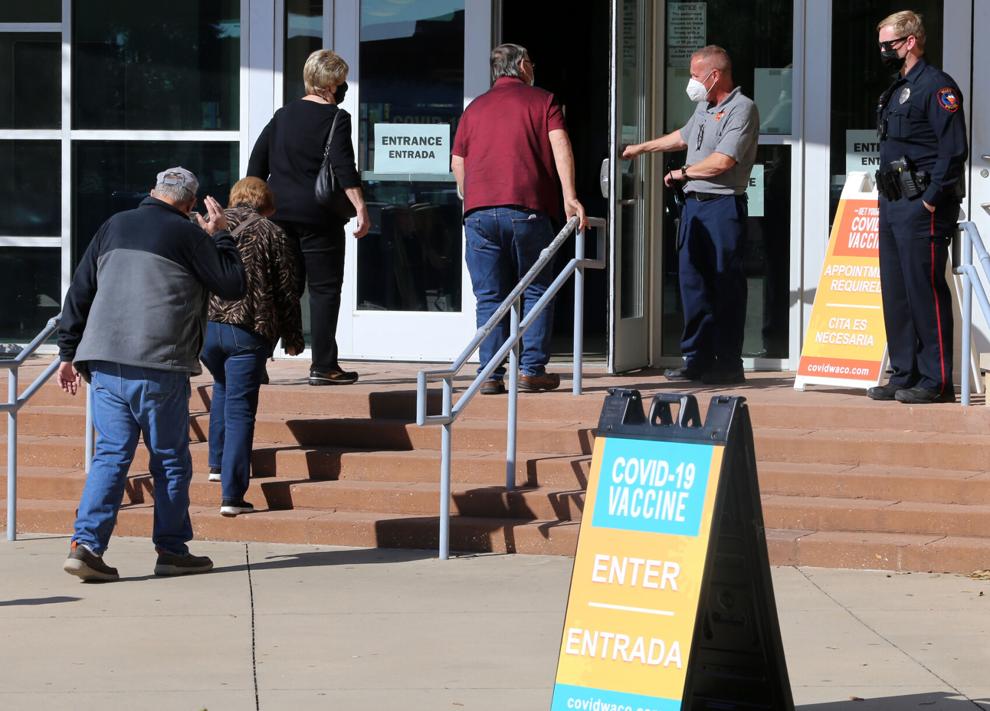 As of Wednesday afternoon, there were 14,000 people on the waitlist the health district will use to fill the third clinic, Meek said. Officials will reach out to people on the list in the order they were placed on the list, he said.
For the first clinic, the health district opened registration as soon as it received confirmation it would be receiving 1,500 doses. Appointments filled up within 25 minutes.
For the second clinic, the health district provided notice 24 hours before opening a registration period for 750 doses, then opening a second registration period a day later for the other 750 doses. The first 750 appointments were filled within 10 minutes, and the second 750 were filled within 5 minutes, Meek said. For the second clinic, organizers set aside some appointments for people calling in to register rather than attempting to register online, but the call center received almost 20,000 calls over the two registration days. The health district also worked with church groups and nonprofits to get the word out before the second clinic.
Meek said about 80% of the people who registered for the first vaccine clinic are McLennan County residents, just over 7% were Black and 9% were Hispanic. For the second clinic, about 77% of recipients are county residents, about 7% are Black and 14% are Hispanic. Almost 14% of the county's population is Black, and 27% is Hispanic or Latino, according to 2019 U.S. Census Bureau estimates.
"We are committed to evaluating our process, like I mentioned, and making sure this is an equitable process," Meek said.
The Waco-McLennan County Public Health District reported 286 new COVID-19 cases Tuesday and 81 new cases Wednesday, bringing the number of active cases to 1,087 and cumulative case count to 22,373. There are 139 COVID-19 patients in McLennan County hospitals, including 90 McLennan County residents and 25 on ventilators. The seven deaths announced Wednesday bringing the death toll among McLennan County residents to 337.
The health district has announced 54 deaths in January so far, already more than any month except December, which saw 86 deaths announced. Of the residents who have died, 89% were 60 or older. A local mortuary is using a refrigerated truck serving as a mobile morgue to store 23 deceased COVID-19 patients.
There are 29 active COVID-19 cases spread across 14 nursing homes in the county. There are also 178 active cases across 60 school campuses in the county, including 115 cases in students.
Felton said an outbreak in McLennan County jails has sickened 30 inmates and seven employees and put 283 inmates in quarantine. Judges and lawyers are only allowed inside the jail for limited purposes, and even video hearings are limited to prevent unnecessary movement inside the facility. Felton said there are 1,255 inmates in the jail, and there is room to quarantine more sick inmates. Jury trials have been on hold since April.
Baylor Scott & White Hillcrest Medical Center remains at capacity, but the number of patients is decreasing, interim Chief Medical Officer Dr. Umad Ahmad said Wednesday.
Ascension Providence Medical Center also has seen a small decline, said Dr. Richard Haskett, chief medical officer of Ascension Medical Group Providence. A week ago, a Providence official said the facility had recently expanded capacity by converting areas of the hospital not generally used to house patients.
Haskett said the hospital has given 1,066 McLennan County residents both doses of a COVID-19 vaccine and another 2,648 their first dose, focusing mostly on people in phase 1A of the state's priority list. He said the hospital plans to open vaccinations to the public in the future. Phase 1A includes health care providers, medical first responders and people associated with long-term care facilities. Phase 1B, which also is now eligible for vaccination, includes people 65 or older and people 16 and older with a chronic medical condition that puts them at higher risk.
"We have thousands of people to vaccinate just to get through 1A and 1B, and we have about 200,000 to vaccinate in this county to get to herd immunity," Haskett said. "Every dose that goes into an arm gets us that much closer to getting our world and our life back."
Ahmad said anyone who receives the vaccine should continue to continue to practice social distancing, wear a mask and maintain hand hygiene.
The city of Waco will broadcast a virtual COVID-19 town hall meeting at 7 p.m. Thursday with Waco City Council Member Andrea Barefield, County Commissioner Patricia Miller, Dr. Terri Woods Campbell, Waco NAACP President Dr. Peaches Henry, Toliver Chapel Missionary Church Pastor Jimmy Hunter and former U.S. Rep. Chet Edwards.
To register for the town hall or to view it live, visit wccc.tv or the city of Waco's Facebook page. There will be a Spanish-language panel a week later.