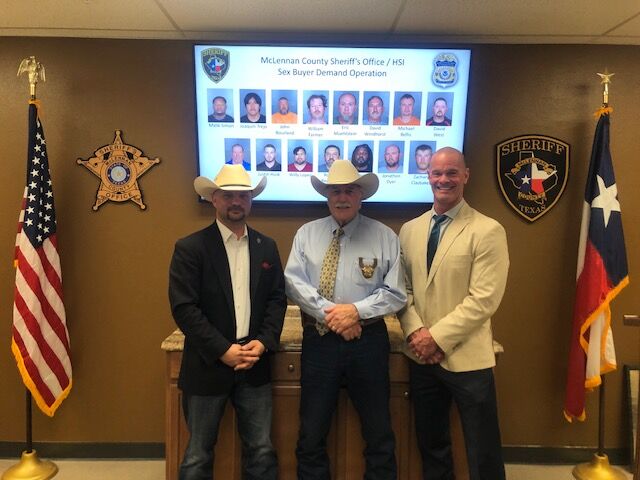 Fifteen men arrested by the McLennan County Sheriff's Department last week in a "sex buyer suppression operation" face felony charges after they were allegedly caught in online stings trying to buy sex.
The department's human trafficking unit made the arrests as part of a five-day statewide effort Oct. 4-8 against prostitution.
"It's a very serious offense," said Sheriff Parnell McNamara. "It is no longer a misdemeanor."
In August, Texas became the first state in the country to make the purchase of sex a felony in hopes of shifting criminal consequences away from victims to the johns who are making the purchase and raising the demand. Prostitution is now a state jail felony, a step below a third-degree felony.
McNamara said from what he can determine, MCSO led prostitution arrests during the five-day campaign, surpassing even Houston, Texas' biggest city.
"You have a city between two and a half and three million people that arrested less than McLennan County did," McNamara said. "It says a lot about our investigators. I really don't know why there are so many creeps here but our effort is second to none. We have an effort, that I believe, is stronger than anywhere else and I'll put our unit up against any other unit everywhere."
According to Detective Joseph Scaramucci, law enforcement in the area heavily targets offenders and those who answer ads online.
"We've worked these cases all over the country and it doesn't matter where you are at," Scaramucci said. "We are flipping more rocks than most stations are, so we are finding more because we are flipping those rocks over."
During the online sting, detectives place an ad on website's known to be used for purchasing sex and once they get someone to reach out, they begin carrying a conversation with them until a date, time, and price is agreed upon to lead to an in-person meeting. Once there, detectives arrest the perpetrators.
"The absolute overall majority of trafficking is occurring online, it's not occurring in person," Scaramucci said. "There are very few jurisdictions that will have the streets where you can pull up and find someone, we don't have that here and that is pretty consistent nationally."
Scaramucci said having human trafficking move to mostly online is a "double-edge sword."
"It does increase the ability for them to do this but it increases the ability for us to track them and find them," Scaramucci said. "While it is very simple for them to do these things, it is also easy for us to exploit that and track them and hold them accountable."
Over the last six years, Scaramucci said the department has arrested approximately 550 to 600 arrests of people who were attempting to purchase sex.
The men arrested in the sting were arrested and charged with prostitution. One of the men was also arrested and charged with prostitution of a minor, a second-degree felony.
"We've had some of these guys contact and they want to have sex with an underage girl and underage guy, some of them even as young as 4 all the way down to 2 years old so you have these people who want to sexually abuse and assault a toddler," McNamara said. "They aren't just nice guys wanting to buy a prostitute. Some of them are just as despicable as you get."
Scaramucci said that arresting those in law enforcement who are purposefully breaking the law is a good feeling.
"They are intentionally doing this," Scaramucci. "And the fact that they are intentionally doing this and trying to avoid a law enforcement detection but they are exploiting women, I have zero sympathy for them."
The department carried out the sweep in conjunction with a statewide effort by Gov. Greg Abbott's office and the Texas Department of Public Safety, though the department received no extra resources for its efforts.
"As far as this was concerned, it was completely voluntary by the agencies that participated, we just coordinated that with the governor's office and DPS to bring everyone that wanted to on board," Scaramucci said.
According to MCSO, the following agencies participated in the operation:
Homeland Security Investigations, Bell County SO, Bell County OCU, Beaumont PD, Chambers County SO, El Paso PD, Lubbock PD, Houston PD, Lindale PD, Smith County SO, Texas DPS, Texas Office of the Attorney General, Tarrant County SO, and Colleyville PD, along with Collective Liberty, a nonprofit organization that works with government agencies to provide support to human trafficking survivors.
"We are not gonna let up on these creeps," McNamara said. "We are going to keep the heat turned up on them and as long as they keep buying we are going to keep putting them in jail."