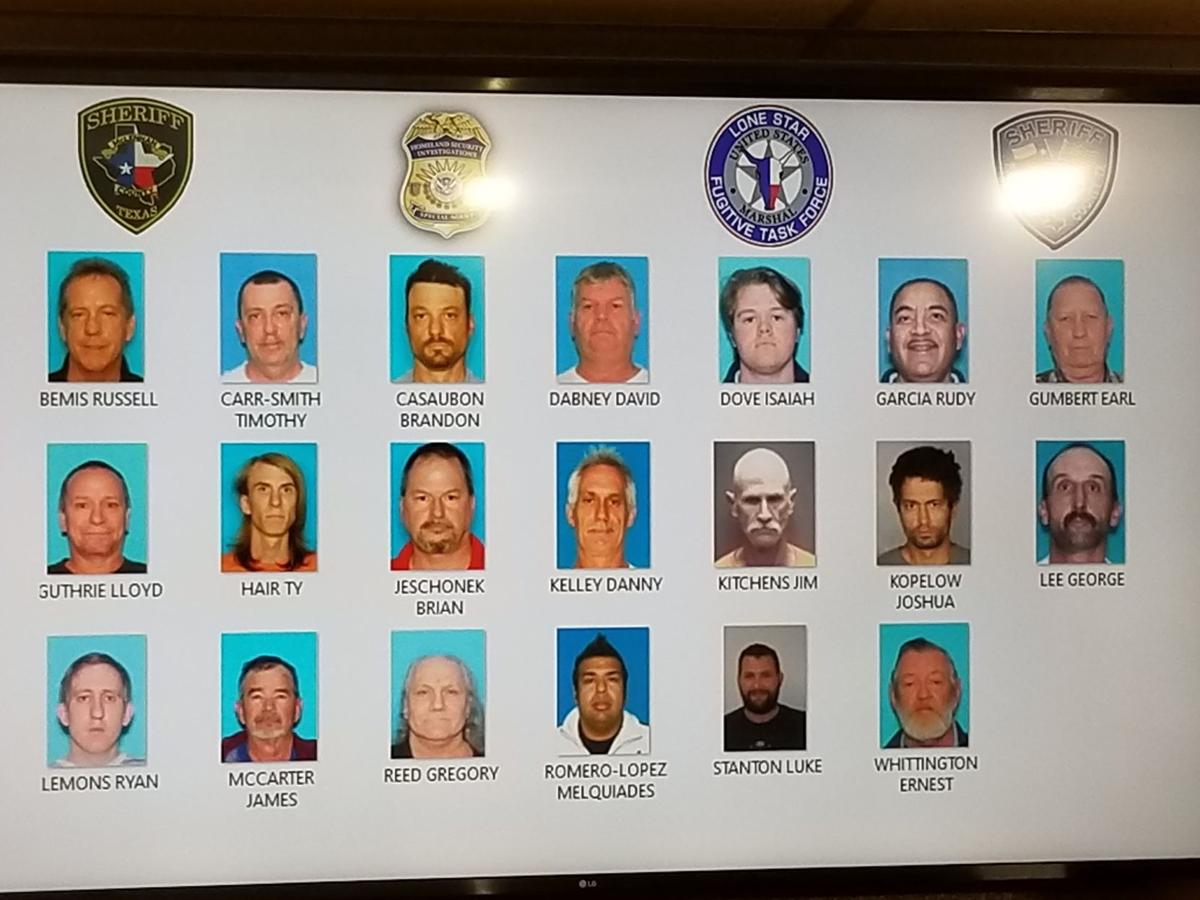 An online sting operation launched last month has so far netted 18 arrests of men accused of trying to arrange sex with minors.
Warrants generated through the operation have been issued for the arrest of two additional suspects, all 20 charged with various sex crimes against children, including third-degree felony online solicitation of a minor and second-degree felony prostitution of a minor.
McLennan County Sheriff's Office Detective Joseph Scaramucci, head of the county's human trafficking unit, said he launched the investigation early last month because he knew more children would be online and potentially vulnerable during school closures and stay-at-home orders in place to limit the spread of COVID-19.
"At this time, there has been no increase or decrease that human trafficking is increasing throughout the state, however with our children spending more time at home, sitting in front electronic devices with access to the internet and social media, this seemed like a good idea to address any concerns where individuals may be seeking to exploit children," Scaramucci said.
Officials reported that the suspects are accused of communicating through an online application with a detective posing as a minor, and trying to arrange sex with what they believed was a child. Others also sought illicit images from minor children to be shared online.
Suspects arrested so far include Russell Wayne Bemis, 60; Timothy Carr-Smith, 50; Brandon Casaubon, 47; David Ray Dabney, 52; Isiah K. Dove, 22; Rudy Garcia, 27; Earl Gumbert, 73; Lloyd R. Guthrie, 52; Ty Campbell Hair, 25; Brian Alan Jeschonek, 58; Danny Dale Kelly, 59; Joshua Kopelow, 32; George William Lee, 43; Ryan Lemons, 39; Melquiades Romero-Lopez, 37; Luke A. Stanton, 36; James McCarter, 66, and Ernest Joel Whittington 68. Gregory Reed, 61, and Jim Kitchen, 55, remain at large, authorities said.
Stanton, a registered McLennan County sex offender from Elm Mott, was arrested on a charge of failure to comply with his sex offender registry when he contacted the undercover officer, officials said.
"While our community has been practicing social distancing, staying at home and sheltering in place, we have found out the predators of our world are hunting our children," Chief Deputy David Kilcrease said. "This was something we were not going to let slide and put off."
Suspects were arrested with assistance from Homeland Security Investigations, the U.S. Marshals Service Lonestar Fugitive Task Force, officers in nearby counties and officers in Mississippi. The arrests came in the past week, including in Blanco, Bell, Freestone, Harris and McLennan counties, among others.
The efforts in McLennan County demonstrate a commitment to keeping work on behalf of people at risk for exploitation at the forefront of criminal justice efforts, said Stanley Seto, Homeland Security Investigations assistant special agent-in-charge.
"We have the unique authorities to have a global footprint, and one of the things we do is child pornography, sex trafficking, human smuggling, narcotics smuggling, and we do a whole plethora of investigative avenues," Seto said. "We also see the great opportunity to continue our relationship with MCSO, specifically Detective Scaramucci, and work together."
Local officials are expected to release information in the coming week with tips for parents and guardians on how to keep track of their children's use of social media and electronic devices.
"When our children are home, (parents') automatic position is that they are safe," Kilcrease said. "The internet allows people to reach inside of that, and parents need to know this is how children are communicating. … So they need to be able to pick up those devices and look at it to be able to protect their children."
Concerned about COVID-19?
Sign up now to get the most recent coronavirus headlines and other important local and national news sent to your email inbox daily.