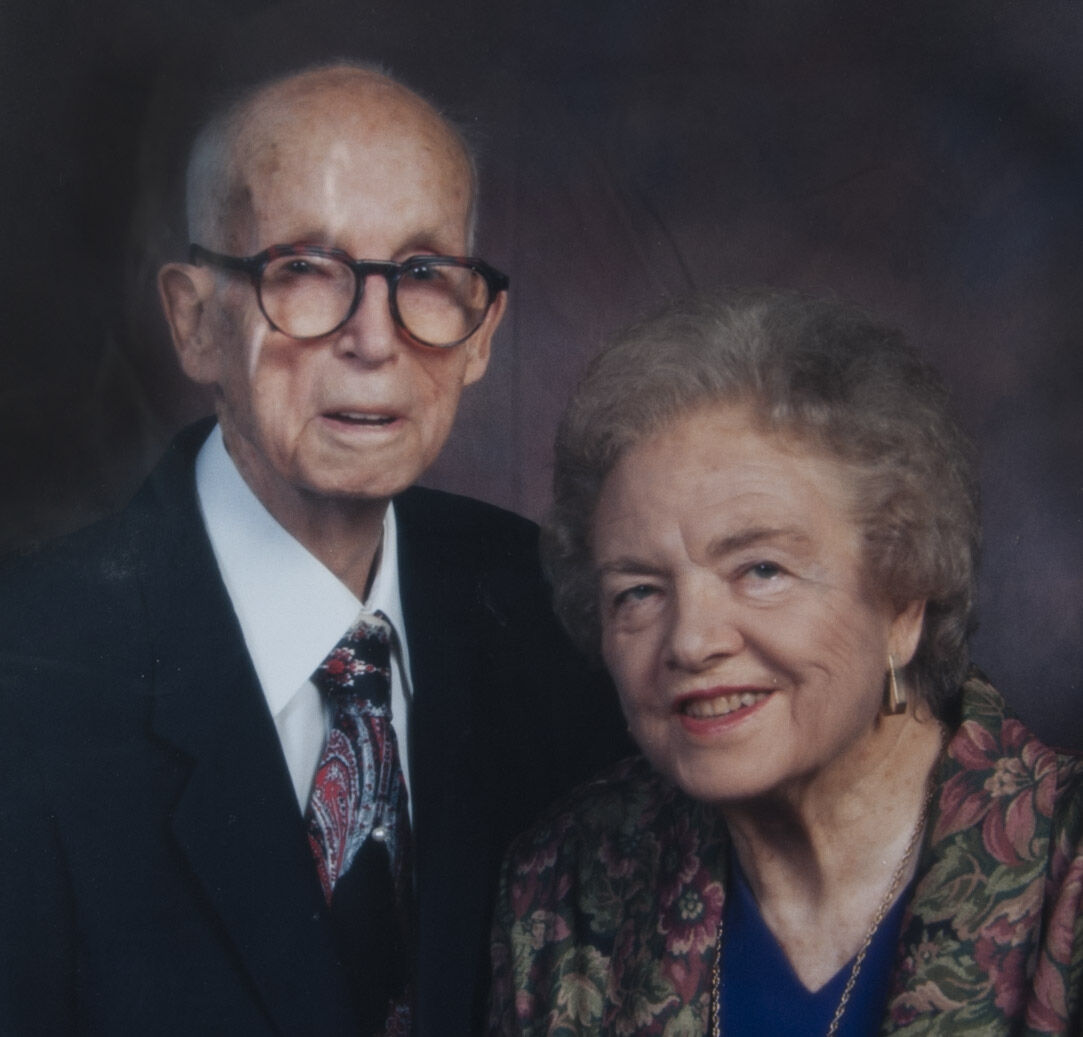 Lisa Hill talked to her grandparents every day. She and her husband, Jerry, checked in on them regularly to see how the feeble, elderly couple was faring.
When they could not reach either Ruby or Orville Loving on May 12, 2001, the Hills drove to the Lovings' home in the 3400 block of Forrester Lane. They had a key to the back door, so they went in and found the home ransacked. Jerry, a retired prison correctional officer, backed out of the house and told Lisa to call police.
After retrieving a pistol from his truck, Jerry made his way through the house until he found the battered bodies of Orville Loving, 89, and Ruby Loving, 86. He stopped his wife from coming down the hallway so she would not see the bloody bodies of her grandparents. Instead, they went to a neighbor's house, sat down in the garage and waited for police to arrive.
Lisa Hill, a retired state parole supervisor, still becomes emotional when she speaks of her grandparents' murders. She knows how the criminal justice system works. But she remains frustrated and upset that the case remains unresolved after 20 years, with no one being held accountable for their deaths.
"I am hoping in my lifetime that it is solved," she said. "But if it isn't, I will have to be at peace with it because I can't let it eat me up."
The Lovings called 911 twice the night before after strangers knocked on their door. The first emergency call came about 9:45 p.m. May 11 when a man knocked on the door claiming to have been involved in an accident on Lake Shore Drive. Another man waited in the car.
The couple grew suspicious and called police with descriptions of the men. Waco police searched the area and found no evidence of a wreck and did not find the men. Two hours later, the doorbell rang again. The Lovings again called police. Officers returned but found no one in the area.
The Lovings were killed hours later. Police have said it is possible that whoever knocked on the door was setting them up for the home invasion robbery that led to their deaths.
The phones were removed, and the home was ransacked. But the only thing missing besides the phones was a small box of old coins, Lisa Hill said.
Waco police Detective Kristina Woodruff spent countless hours working the case, developing suspects and ruling others out. She told the Tribune-Herald for a 10-year anniversary article about the murders that it had been three years since there had been any activity in the case.
Woodruff retired in late 2020, and the case remains pending with the Waco Police Department's special crimes unit, which includes a sergeant and seven detectives. A phone message left for Woodruff was not returned.
Interim Waco Police Chief Frank Gentsch said the Waco City Council recently funded the addition of two new detectives, and one will be assigned to the special crimes unit and devote a portion of their duties to unsolved homicides.
"The special crimes unit are a bunch of dedicated detectives, and they are well-trained," Gentsch said. "We continue to work on those older cases. We don't even consider them cold cases. We consider them an active case until we make an arrest. Number one, it brings closure for the family and brings justice to the victim and the family. Our homicide detectives are very dedicated and want to solve these types of cases to bring closure for the family, and it eats at you when you haven't gotten that done."
The Loving murders are of particular interest to McLennan County Sheriff Parnell McNamara. He said he used the tragic case as a teaching tool in every concealed handgun license class he taught for eight years before he became sheriff, the message being learn to protect yourself because police cannot be everywhere and sometimes even if you call them, you can still get hurt or murdered.
He said after he became sheriff, a Loving family member called and asked if his department could help solve the case.
McNamara, who is starting his ninth year in office, formed a cold case unit three years ago with the Loving case and others in mind. The unit, made up of veteran investigators, has resolved 10 cold cases in that time and currently has 28 active investigations, said Capt. Steve January, a longtime Waco police detective who heads the sheriff's cold case unit.
After January retired from the Waco Police Department, he went to work with McNamara's brother, Mike McNamara, a former deputy U.S. Marshal, as investigators in former McLennan County District Attorney Abel Reyna's office. Reyna gave McNamara and January permission to put together their own file and work on the Loving murder in their spare time, with instructions that if they turn up any new evidence they would share it with Waco police, January said.
McNamara invited Waco police and other area agencies to work with his cold case unit or to share cases they had been struggling with if they wanted the cold case unit to jump in, McNamara said.
"We invited several agencies to join us," McNamara said. "When we realized how many unsolved homicides there were in the area, not just in McLennan County but the whole surrounding area, we wanted to form a unit that would be a dedicated cold-case unit that had officers that did nothing but investigate these horrible, brutal murders that had gone unsolved for years."
McNamara and January said they approached Waco police commanders on three occasions to see if they wanted to assist or wanted the unit's assistance in any of the more than 100 unsolved Waco police homicide cases dating back to 1973. They were rebuffed each time, they said.
"We just felt like there was a need to make a concerted effort to solve these and to at least let the families know that we have not forgotten them," McNamara said. "That was something that once we got into working these cases we realized how important it was to the family members of these victims that law enforcement had not forgotten them and are still trying to solve these. A lot of them said they had not been contacted in years by law enforcement."
McNamara, January, Gentsch and former Waco Police Chief Ryan Holt, who is now a Waco assistant city manager, all declined to address if professional pride, turf disputes or other factors have precluded Waco police from taking advantage of the sheriff's offer to allow the cold case unit to review their older case files.
"I think that the special crimes unit keeps a constant look on all of their cold cases and they review them and they seek out resources to continue to look at those cases," Holt said. "And as there are technological advances, they take advantage of those, as well. It is not just the one case. All of our unsolved cases mean a lot to those investigators and they keep those cases open even though they may be commonly referred to as 'cold.' They still work those cases and take them very seriously and they are dedicated to those cases. They seek every way to bring justice to those families."
McNamara declined to speculate on why Waco police won't share their cases.
"I have no idea. I don't understand that," McNamara said. "I want to make it clear that if any other agency can pitch in and help us solve any of our unsolved homicides, we will welcome them with open arms and take all the help that we possibly can. We don't care who solves it. I just want these brutal murders solved and these cold-blooded killers brought to justice. We are never trying to take a case away from another agency. All we are doing is offering our help to assist them in solving it."
Reyna, the former DA, said he remembers January and McNamara asking him if they could work on the Loving case in their spare time but he told them to share any new information they uncovered with Waco police.
"You did meet a lot of resistance from some agencies in sharing information," Reyna said. "The environment did change, but you would have them not wanting to share information. I don't care how skilled, how well-trained, how wonderful any detective is. I will tell you that having a second set of eyes look at something or a third set of eyes look at something is always going to be helpful as long as they cooperate, and that was the problem. Waco PD said we are good on our own, and when you have that, criminals will always be one step ahead of you because criminals do share information.
"Now, I'll say the environment changed. I had good meetings with (former chief) Holt and (Commander Robert) Lanning, but there were factions that didn't want to share information. It was just that environment. There was resistance. It was, 'These are our cases, we don't need your help.' But why wouldn't you accept someone's offer of help if your case is cold?"
Members of the public supportive of the sheriff's cold case squad have donated at least $10,500 to further its efforts. That has saved taxpayer dollars, McNamara said.
"What that has done is made it possible for us to send our investigators out of county and out of state," he said. "They have gone into Arkansas, Arizona, Louisiana and we have leads in other states and they will be going there. This pays for gas, per diem, hotel bills. If they fly, it will pay their air fare.