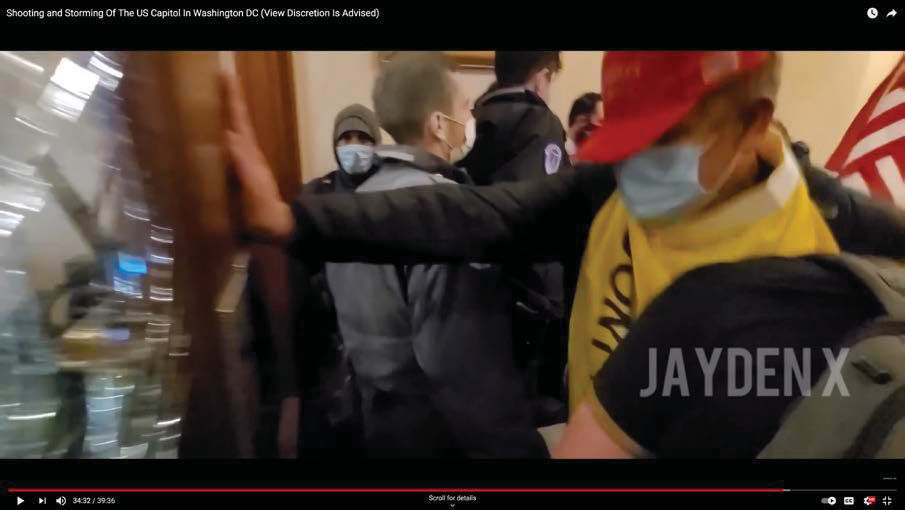 An attorney for area businessman Christopher Grider hopes new video evidence Grider recorded during the Jan. 6 Capitol riot will convince a judge to change her ruling that he constitutes a danger to society and should remain in custody.
Houston attorney Brent Mayr, Grider's attorney, filed a motion Monday asking U.S. Magistrate Susan Hightower for the second time to reopen Grider's detention hearing so he can try to persuade her to allow Grider to remain out on bond pending criminal proceedings in Washington, D.C.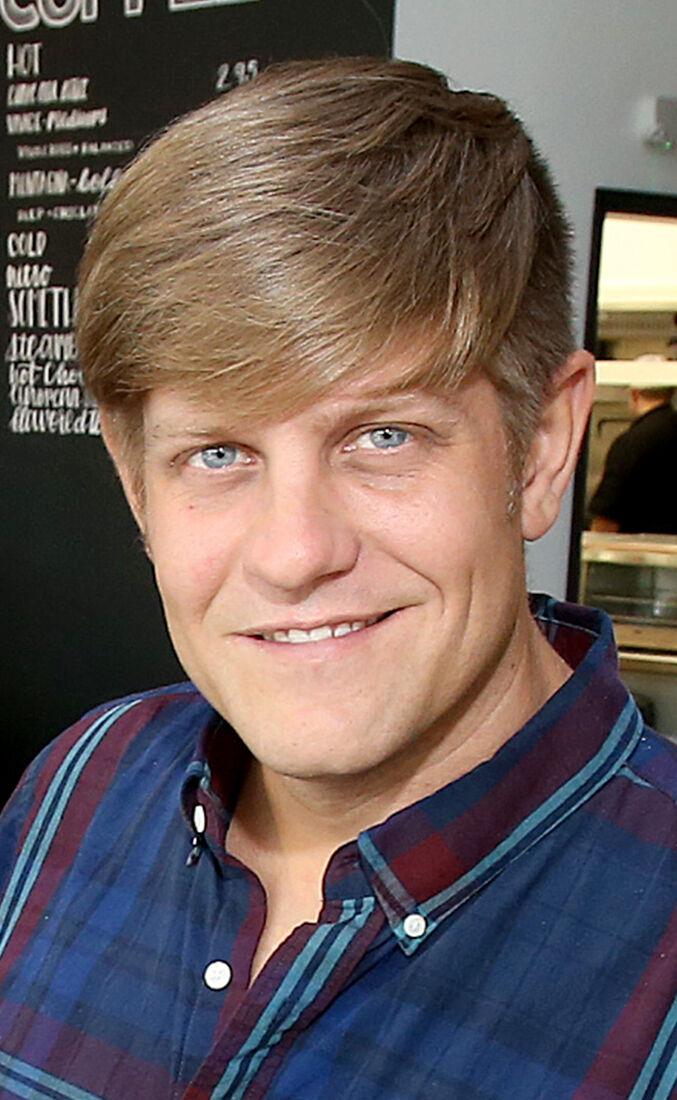 Hightower denied Mayr's previous request for a rehearing Jan. 28, the day after Grider's detention hearing in Austin. In ordering Grider held without bond, Hightower ruled "there is extremely strong evidence that Mr. Grider participated at the forefront in the events that led to the fatal shooting" of Air Force veteran Ashli Babbitt in the doorway to the Speaker's Lobby, which leads to the House chamber.
The judge determined "no condition or combination of conditions of release would reasonably ensure the safety of the community."
Grider, 39, of Chilton, is the co-owner of Kissing Tree Vineyards in Bruceville-Eddy. He has been in custody since surrendering to FBI agents Jan. 21 in Austin.
He was charged in a seven-count indictment in Washington, D.C., last week and faces a maximum of 33½ years in federal prison if convicted on the two felony and five misdemeanor counts against him. The indictment charges him with committing an act of physical violence in the Capitol grounds or buildings; impeding passage through Capitol grounds; and disorderly conduct in a Capitol building.
Grider is also charged with obstruction of an official proceeding and aiding and abetting; disorderly or disruptive conduct in a restricted building or grounds; entering and remaining in a restricted building; and destruction of government property and aiding and abetting.
If Hightower again declines to reopen the detention hearing, Mayr said he will wait until Grider, who is being held in the Limestone County Detention Center, is transferred to Washington, D.C., and then ask U.S. District Judge Ketanji Brown Jackson to reconsider the detention order.
Mayr said he did not have access to videos on Grider's phone at the first detention hearing because the phone was confiscated by federal authorities. He said he since has gained access to a computer at Grider's house and found backup copies of photos and videos from the Capitol riot.
He said Grider did not force his way into the Capitol like so many others but simply walked into an entrance on the west side with hundreds of others that day. In video of Grider walking up to the entrance of the Speaker's Lobby, he was not yelling, making threatening comments or further inciting the riot, Mayr said.
Instead, Mayr argues, Grider can be heard pleading with the Capitol officers to open the doors, saying "people are going to get crushed on the other side if they don't open that door. There are two cops getting crushed."
Mayr said Grider did not bang on the glass in the doorway to the Speaker's Lobby like others. However, prosecutors argued that Grider, in addition to pushing on the door, can be seen handing a helmet to another man and indicating that it is hard and he could use that to break the glass. The other man then used the helmet to shatter the glass before Babbitt tried to climb through. Grider can be seen backing away from the Speaker's Lobby as others are screaming "gun," before Babbitt was shot, the criminal complaint states.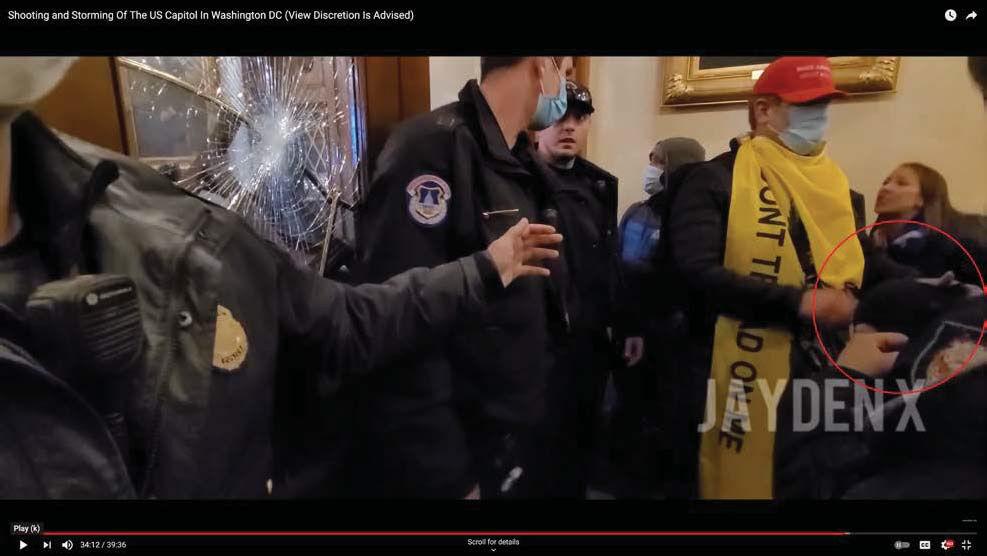 Mayr's motion says that when Babbitt was shot trying to climb through the window to the Speaker's Lobby, Grider "had his back turned and was continuing his attempt to move away from the doors."
"He clearly played no role in that," Mayr said of the fatal shooting. "We are hoping the judge will reconsider her decision and let him come home to his family."
Grider has not been allowed visitors and it has been difficult communicating with his wife by phone because she is hearing-impaired, Mayr said. The Griders have three young sons.
"He is not a member of a right-wing militia," Mayr said. "He doesn't ascribe to QAnon. He went up there for his voice to be heard. He didn't go up there to damage the Capitol and he didn't go up there to do harm to anyone. There were bad people who went up there and had intentions to to bad things, but Christopher Grider was just not one of those people."
Grider went to Washington with a friend for a rally supporting former President Donald Trump's challenge to the election results and his call to "stop the steal." Grider and his friend got separated during the chaos, and his friend did not enter the Capitol, Mayr said.
"He thought they were letting people in to go observe the proceedings," Mayr said. "He literally thought (U.S. Sen.) Ted Cruz was going to come out and speak to them and thank them for letting their voices be heard. He wasn't trying to obstruct the proceedings. He was trying to observe the proceedings."
Assistant U.S. Attorney G. Karthik Srinivasan argued at the detention hearing last week that Grider poses a danger to the community and said he was an "active participant" in the riot and was "part of the causal chain of events that led to the death of an individual."
He said Grider was not merely a "bystander" or someone who "just got caught up in the moment."
"Some would argue that it's not fair to judge someone for something that happened during the worst incident in their life," Srinivasan said. "But sometimes someone can and should be judged on his worst moment because it shows what he is capable of."
Watch video
---
Watch Now: See the chaos as pro-Trump rioters storm U.S. Capitol, now secured
See a recap of key moments as violent protesters loyal to President Donald Trump stormed the U.S. Capitol on Wednesday in a chaotic riot aimed at thwarting a vote to certify Joe Biden's presidential election victory.
Editor's note: This story has been updated to correct the location of the Speaker's Lobby in the Capitol, where Ashli Babbitt was fatally shot. The Speaker's Lobby, decorated with portraits of former speakers of the House of Representatives, has doors into the House chamber and is not connected to the speaker's offices.