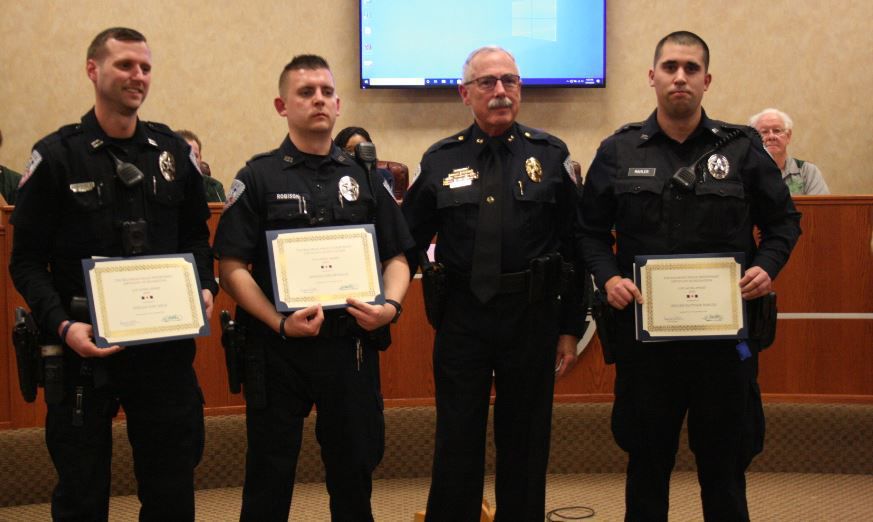 Bellmead officials gave life-saving awards Tuesday night to three police officers for recent actions in the line of duty.
Police Chief Daniel Porter presented officers Matthew Mahler, Tony Auch, and James Robison certificates and uniform bars denoting the award during a city council meeting.
On the night of Feb. 21, Mahler responded with another officer to a call about a group of people gathered around an overpass at Behrens Circle and Interstate 35 and found a 14-year-old boy threatening to jump from the overpass, Porter said. As the other officer secured the roadway below the overpass, Mahler climbed an embankment to talk to the boy.
"Officer Mahler talked to the 14-year-old and attempted to deescalate the situation by intervening between him and others who were present," Porter said. "As the situation progressed (and) the young man looked as if he was ready to jump off the overpass, Officer Mahler put himself in jeopardy by grabbing the young man and pulled him off the railing to safety."
On Oct. 28, Auch and Robison responded to a call from a son who was driving his mother home from a doctor's appointment when she became unresponsive. The driver stopped near Loop 340 and Williams Road, and Auch and Robison were the first officials to arrive.
They were unable to find the woman's pulse and administered CPR until an American Medical Response crew arrived, Porter said. The woman was taken to a local hospital where she recovered, he said.