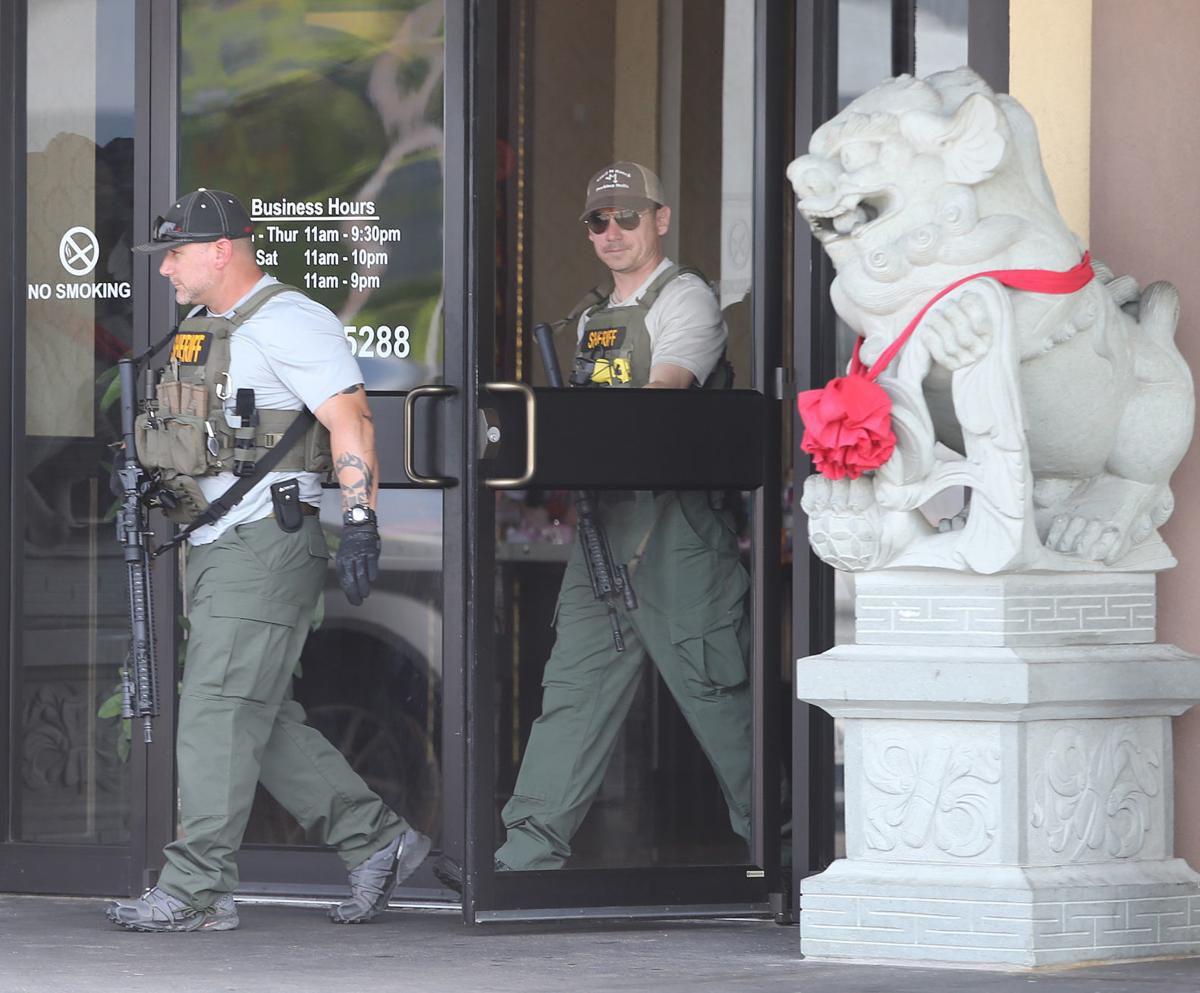 Prosecutors have dropped all charges stemming from last summer's high-profile raid on Vegas Buffet, which had been accused of labor trafficking.
The McLennan County district attorney's office dismissed indictments Thursday against restaurant operator Zhi "Jimmy" Lin and his wife, Yala Yang, clearing them of organized criminal activity and trafficking of persons allegations at the business at 505 N. Valley Mills Drive.
Also cleared were Zhi Lin's brother, Peng Li; and a fourth subject, Sheng Weng; who were arrested shortly after the raid on connected charges of smuggling and trafficking workers to and from the restaurant to benefit the business.
"The alleged victims were subsequently interviewed by the Department of Labor in Dallas post the case being filed, and their statements were inconsistent with original statements they gave about any force, threat or coercion," McLennan County First Assistant District Attorney Nelson Barnes said Friday. "Their statements are inconsistent with any forced labor or trafficking elements."
Retired State District Judge Alan Mayfield signed the dismissal paperwork late Thursday afternoon. Lin's attorney, Russ Hunt, said he is pleased with the dismissals.
"I think the charges were dismissed, because it really, legitimately was not a case of human trafficking," he said. "I think the folks in the district attorney's office realized that, so they knew it would not be a case to prosecute."
McLennan County Sheriff's Office investigators raided the buffet June 1, 2018, after a three-month investigation into suspected labor trafficking violations. Court documents alleged some workers were trafficked in from Guatemala or China and were made to work 13 hours a day, six days a week, earning about $2,000 per month, a pay rate below minimum wage.
"There may be some employment law violations that are outside the scope of this office that may be federal, but there is nothing criminal on the state level," Barnes said. "Some of the workers from Guatemala even gave subsequent statements that they were paid $2,500 per month, but they did not have to pay rent and were allowed to go to and from as they pleased. They even said they could go to the buffet and eat for free on their days off or were paid overtime if they covered extra shifts."
The former suspects were indicted in September 2018 on allegations that the group actively participated in labor trafficking to run the restaurant. Barnes said cases often change, even after indictments, but it was the DA's office's obligation to submit a completed case that could move forward in trial.
"I think the sheriff's office's first brush was that something was going on, and most everything was done early on through translators, so when we had time for cooler heads to sit down and interview these people in a less tight environment … further details got developed outside the scope of the sheriff's office," Barnes said. "The sheriff's office did nothing wrong in this investigation."
Sheriff Parnell McNamara declined to comment on the dismissals.
Translators from UnBound, a organization that assists victims of human trafficking, helped gather information about their work at the restaurant on the day of the raid. Unbound director Susan Peters said she is disappointed in the dismissals.
"We were onsite during the law enforcement operation that occurred at Vegas Buffet, and we observed firsthand that the situation occurring at the restaurant was classic labor trafficking," Peters said. "It is disappointing that after a McLennan County grand jury indicted this case, all charges were dropped. It is very frustrating for everyone involved in wanting justice for the victims."
Authorities said workers who stayed with Lin and his wife were from China and had work visas. The workers from China were not able to give subsequent statements to labor officials. Two of the four workers from Guatemala were unable to be found, but two others gave statements that did not match initial police reports.
According to a University of Texas study released in 2016, about 313,000 victims of human trafficking are in Texas. Of those, 234,000 are labor trafficking victims.
"Many of the labor trafficking victims we have served in Central Texas are trapped in debt bondage or involuntary servitude, and if these cases aren't prosecuted, vulnerable populations will continue to be exploited," Peters said.
District Attorney Barry Johnson said he is comfortable with the decision to dismiss the charges.
"When you look at the cases and the files in detail, you can see, subsequent to police action out there, it was our determination that those were not prosecutable cases," he said.
A similar buffet restaurant opened in September 2018 at the same location, but it is unclear whether the two businesses are related.