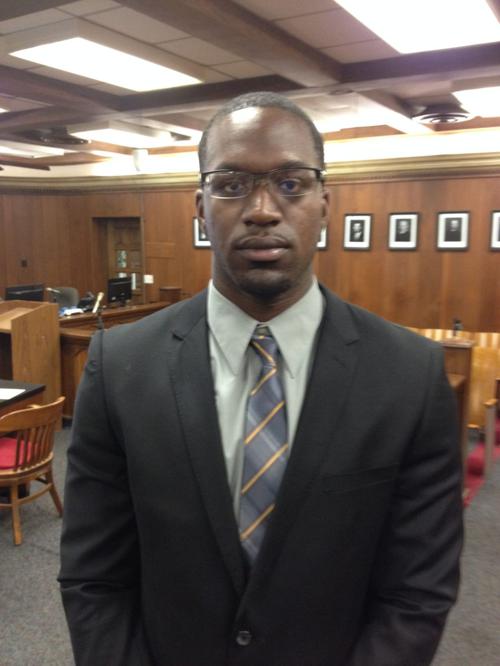 A Baylor University football player insisted "this isn't rape" as he sexually assaulted a freshman soccer player at his apartment and later asked her if she was going to report the incident to police, the former Baylor student testified Tuesday.
The woman, now 20 and playing soccer at another Texas university, told jurors in Waco's 54th State District Court that Sam Ukwuachu sexually assaulted her at The Grove apartments on South University Parks Drive after a Baylor homecoming party in November 2013.
Ukwuachu's attorney, Jonathan Sibley, told jurors in opening statements Tuesday that the couple had a previous relationship and that their sexual encounter was consensual.
Ukwuachu, a product of Pearland High School who won freshman All-American honors at Boise State University, has not played at Baylor since being dismissed from the Boise State football team for unspecified rules violations and transferring in 2013.
The alleged victim, a standout soccer player from Mesquite, testified she met Ukwuachu as an 18-year-old freshman in a class or in athletic department tutoring.
She said early in their friendship, Ukwuachu tried to move a little too fast and she had to tell him to slow down. He eventually earned back her trust, she said, and they studied and watched movies together. She said she spent the night in his bed at his apartment on one occasion, but nothing happened sexually.
She said she saw Ukwuachu at a party at the Waco Convention Center after the Baylor Homecoming football game and he asked her if she wanted to go get something to eat later. He came to her apartment to pick her up, but instead of going to a restaurant or to another party, Ukwuachu drove to his apartment, the woman said.
She said she started to get a little worried, so she texted a friend that they were going to his apartment, she testified.
While watching TV in his room, the 5'2" woman said the 6'4" Ukwuachu started "making moves" and trying to pull off her dress. As he became more aggressive, Ukwuachu forcefully turned her over and stripped off the rest of her clothes before sexually assaulting her, she told the jury.
She testified that she was screaming and yelling "no" throughout the assault. At one point, she said, Ukwuachu told her, "This isn't rape." He also asked if she was going to call "the cops," she said.
She ran to the bathroom. When she came out, Ukwuachu appeared to be asleep, so she left his apartment and called a friend to come pick her up, she said.
"All I wanted to do was go home and pretend it didn't happen," she said. "I wanted to act like it didn't happen."
But the next morning, with coaxing from her friends, she said she realized the severity of the incident, called police and went with her friends to the hospital for a sexual assault exam.
She said she went home with her family for a week. She said the traumatic incident made it hard for her to be around males at that time, even her younger brother and father. When she went back to school, she said it terrified her because she ran into Ukwuachu a time or two.
"Every time I saw him, my heart would just sink, like he still had control of me," she told jurors.
Sibley told jurors in his opening that Ukwuachu's roommate was home at the time of the alleged assault and has said he heard them come into the apartment shortly after 2 a.m. but didn't hear anything after that.
But the woman said she doesn't think his roommate was at home because he would have heard her yelling and screaming and would have come in to see what was happening.
Under cross-examination from Sibley, the alleged victim said she didn't tell her counselor or police that she previously had spent the night with Ukwuachu.
In other state testimony, Cheryl Wooten, a psychologist who works as a counselor at Baylor, said she first met with the woman eight days after the reported assault.
She said the student described in graphic detail how she was assaulted and dominated by the much-larger football player. She diagnosed her with post-traumatic stress disorder and said the woman suffered from flashbacks of the assault, nightmares, mood swings and had trouble sleeping.
She said women sexually assaulted in college are more likely to develop PTSD than combat veterans, adding that studies show that one in five college females will experience an attempted or completed rape.
The student described a frequent nightmare in which she was chased by monsters and was unable to escape. The monsters always had the same eyes — Ukwuachu's eyes, Wooten said.
Wooten said she met with the woman on numerous occasions and she always was consistent in recounting the details of the assault.
Sibley asked her about national studies dealing with false rape accusations on college campuses. Wooten said less than 2 percent are determined to be false reports.
Prosecution testimony will resume at 9 a.m. Wednesday.
Sign up for our Crime & Courts newsletter
Get the latest in local public safety news with this weekly email.