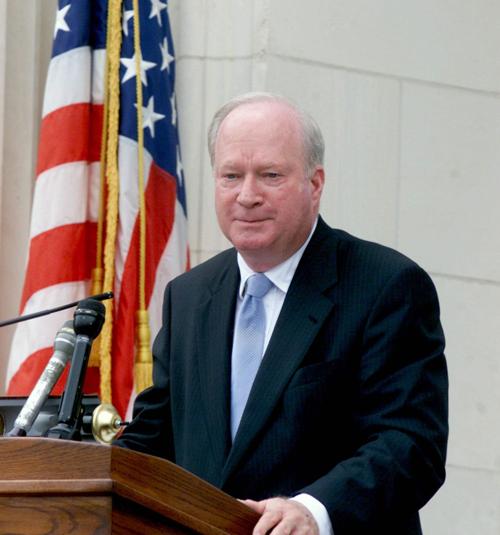 A federal death row inmate is asking that his death sentence be set aside because he alleges former U.S. District Judge Walter S. Smith Jr. was "not functional" because of his drinking and "unfit" to preside over his trial and subsequent appeal process.
Attorneys for Brandon Bernard, who has been on federal death row for 17 years, say in a 32-page motion filed Thursday that "exceptional circumstances" require that Bernard's death sentence be reviewed and vacated.
Bernard, who was 19 at the time, and Christopher Vialva, who was 20, were convicted in Waco's federal court in June 2000 and sentenced to death in the murders of Todd and Stacie Bagley, of Ottumwa, Iowa.
Bernard was sentenced to death only in Stacie Bagley's death, while Vialva was sentenced to death in the murder of both the Bagleys, who were church youth ministers in Iowa.
The motion asks U.S. District Judge Lee Yeakel to vacate the death sentence or to order a hearing "so that evidence may be presented concerning former Judge Smith's unfitness, and how it affected all his decisions respecting Mr. Bernard."
The Judicial Council of the 5th U.S. Circuit Court of Appeals formally reprimanded Smith in 2015 after finding he made "inappropriate and unwanted physical and nonphysical advances" toward a female courthouse staff member in his court chambers in 1998 and lied to investigators about the incident. While the council issued sanctions, including requiring counseling, it said the incident did not warrant impeachment.
In a sworn statement given to investigators, the former clerk said Smith smelled of alcohol and had the appearance of someone who had been drinking.
Smith, former chief judge of the Western District of Texas, also was suspended for one year from hearing any new criminal or civil cases filed after Dec. 3, 2015.
The judicial council renewed its investigation into Smith after complaints surfaced that at least two more women had been mistreated by Smith in his chambers. His retirement ended the investigation.
The motion was filed on Bernard's behalf by Robert C. Owen of the Northwestern Pritzker School of Law in Chicago, Illinois, and John R. Carpenter, an assistant federal public defender from Tacoma, Washington.
The motion states that Smith had a "reputation for drinking" during the time of Bernard's trial, was reported to be "not functional" due to his drinking, and therefore, was "unfit" to preside over his trial.
"Former Judge Smith's lack of functionality in a proceeding where Mr. Bernard's life hung in the balance is an additional 'extraordinary circumstance' that gives this court jurisdiction to hear this motion," the motion states.
The motion also claims that Smith allowed Bernard's application for writ of habeas corpus to "languish" in his court for more than seven years before he finally acted on it and then misapplied the law.
The former clerk who was groped by Smith testified that Smith's law clerk called her during this "time frame, complaining that Smith was 'not functioning,' was 'falling apart' and was unable even to get himself to the courthouse, adding that his condition had forced him to cancel court obligations," the motion alleges.
"Given the Judicial Council's findings and the other allegations of serious impropriety, Walter's Smith's hurried departure from the bench is no surprise," the motion states. "But this story cannot end with Smith's eviction from the courthouse. This court has a vital role to play in repairing the damage for which Smith was responsible..."
Bernard, Vialva and four Killeen teenagers were charged in the June 1999 carjacking of the Bagleys outside a Killeen convenience store. Two of the teens testified against Bernard and Vialva that they plotted to kidnap the couple and drove them around in the trunk of their car while trying to use their ATM cards.
Trial testimony showed that Stacie Bagley read the Bible to her captors as she and her husband pleaded for their lives. Vialva shot them both and set the car on fire while Stacie Bagley was still alive, according to trial testimony.
Former Texas attorney Ty Clevenger, who filed the federal complaint against Smith with the Judicial Council, also filed a complaint against former U.S. District Judge Harry Hudspeth, the chief judge at the time Smith groped the court clerk.
The clerk testified in her statement that she informed Hudspeth about the abuse and he asked her what she wanted him to do about it and took no action.
Hudspeth also has since retired.
"The issues raised by Brandon Bernard go far beyond him or his co-defendants," Clevenger said Friday. "When judges cover up for one another, the impact can be enormous. You have to wonder how many other criminal defendants and civil parties were affected by Judge Smith's alcohol problems."
Sign up for our Crime & Courts newsletter
Get the latest in local public safety news with this weekly email.