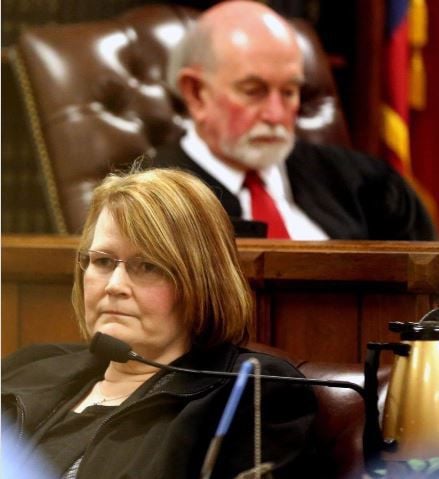 After the March 2013 death of 4-month-old Clara Felton at Marian Fraser's Spoiled Rotten Day Care, Fraser's criminal case has bounced between two district attorney's offices, two state district courtrooms and three appellate courts.
This week, it returned to where it started more than seven years ago — the McLennan County District Attorney's Office.
Fraser, 57, who remains free on bond, was sentenced to 50 years in prison in 2015 after her murder conviction in the death of the child, who died in Fraser's care from a toxic level of diphenhydramine, or Benadryl.
Trial testimony showed the baby's parents, Perry and Laura Felton, did not give the girl Benadryl, and subsequent tests of hair follicles of at least 15 other children in Fraser's care revealed they also had been given Benadryl without their parents' knowledge and permission.
Fraser, who operated the popular day care in her Hilltop Drive home for 25 years, testified at trial she never gave Benadryl to the children in her care without their parents' knowledge.
The Texas Court of Criminal Appeals in April effectively awarded Fraser a new trial after it declined to consider her appeal for a second time. Fraser's appeal started in Waco's 10th Court of Appeals but was transferred to Amarillo's 7th Court of Appeals under a state docket equalization program.
The Amarillo court reversed the conviction in December, ruling an "egregious" error by 19th State District Judge Ralph Strother involving the definition of "reckless" behavior prevented Fraser from getting a fair trial.
The same appeals court previously reversed the murder conviction in 2017 on different grounds, but the Texas Court of Criminal Appeals, after granting a petition for discretionary review from Tarrant County prosecutors, vacated that ruling and sent the case back to the 7th Court. The Amarillo court reversed the case again and Fraser won a new trial when the Court of Criminal Appeals declined to consider the case again.
Tarrant County prosecutors agreed to try the case in Waco's 19th State District Court after former McLennan County District Attorney Abel Reyna recused his office because Reyna is friends with the Feltons and one of his office prosecutors at the time had a child at Fraser's day care.
Fraser's case started in 54th State District Judge Matt Johnson's court but was transferred to Strother's court after Johnson recused himself because he knows many of the parents whose children Fraser cared for.
After the case finally was reversed, there was confusion about who was going to prosecute the retrial. Nelson Barnes, McLennan County District Atatorney Barry Johnson's first assistant, said last week that Tarrant County prosecutors would be handling the retrial.
But this week, the prosecutors who tried Fraser filed motions with Strother's court to withdraw from the case, and DA Johnson and Tarrant County District Attorney Sharen Wilson agreed DA Johnson's office would take the case.
Meanwhile, Fraser has hired a new attorney, Christy Jack, of Fort Worth. Jack said she has been sitting back waiting to see which DA's office will handle the case.
"We are ready for whichever team shows up," Jack said. "We are just waiting to see who they put on the mound and which team takes the field."
Barry Johnson said that while McLennan County Judge Scott Felton, the child's grandfather, presides over the commissioners court, which sets most of the budget for the DA's office, he perceives no conflict that would require him to recuse his office.
"I hate it for the Felton family that they are going to have to relive that thing, but as far as I am concerned, we have the best prosecutors in the state of Texas and we will be getting in there to make sure the law is correct and make sure it is tried in a proper manner," Barry Johnson said. "The conflict that existed at the time, with a prosecutor having kids in that day care, doesn't exist anymore, and I really feel more comfortable with our office handling it anyway. We can make sure the law is correct and get it done in an expeditious manner, which needs to happen for the Feltons."
Fraser had been wearing a GPS ankle monitor while on appeal bond, but Strother agreed to lift that order after Jack filed a motion in July assuring him Fraser is a longtime Waco resident, has no passport and is not going anywhere.
No trial date has been set for the retrial.
Sign up for our Crime & Courts newsletter
Get the latest in local public safety news with this weekly email.