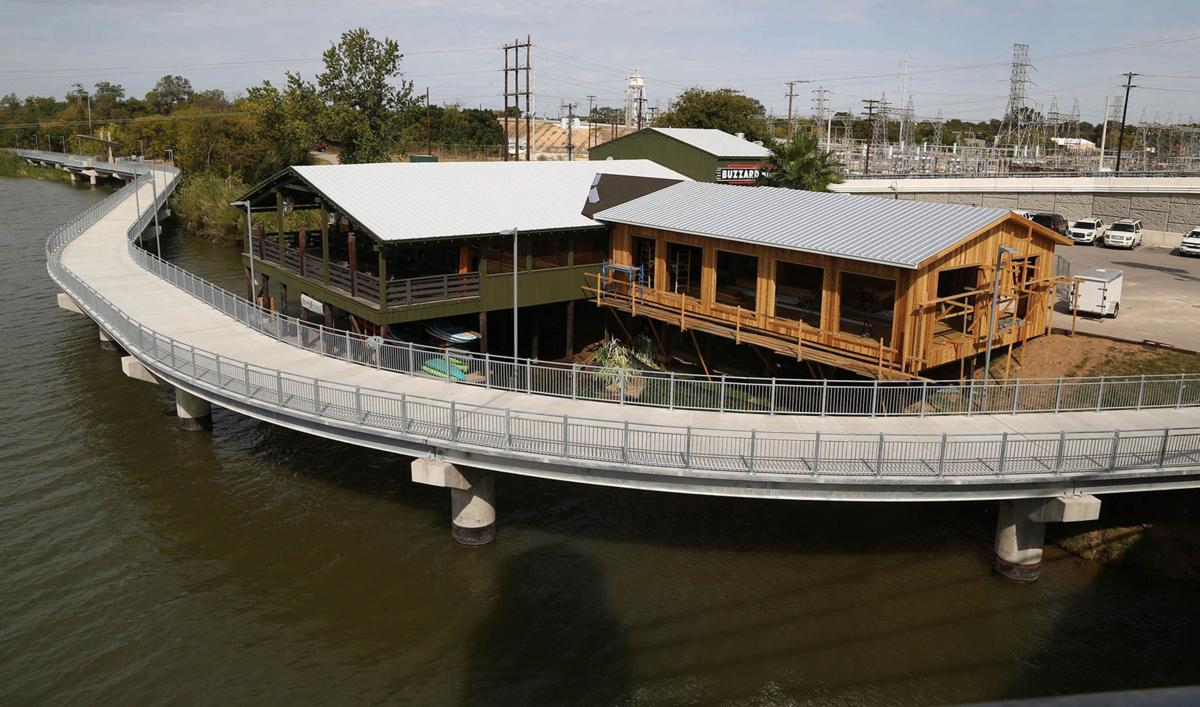 A former manager at Buzzard Billy's is suing the owners of the Waco restaurant, claiming she was fired after filing sexual harassment and discrimination complaints against her supervisor.
Martha Ogburn, 55, of Waco, is seeking unspecified damages in her lawsuit, filed Tuesday in Waco's 414th State District Court against Brazos Waterfront LLC, the company that owns the restaurant just upstream from Baylor University's McLane Stadium on the Brazos River. Her suit cites claims for sex discrimination, sexual harassment and retaliation.
Ogburn alleges she was fired from her position as general manager after she complained about what the lawsuit describes as the creation of a hostile work environment by her supervisor, Andy Lella.
Becky Lindsey, an owner of Buzzard Billy's with her husband, Claude Lindsey, said Wednesday that Lella no longer works at Buzzard Billy's. She declined additional comment because she said she has not been served with the lawsuit.
Lella, who is not named as a defendant in the lawsuit, said Wednesday in a statement provided through an attorney that he was not aware of the lawsuit. He said he left Buzzard Billy's in February or March but declined to say if he resigned or was fired.
"I am more than surprised at these allegations, and I absolutely deny them," Lella said. "Ms. Ogburn previously filed an unemployment/ wrongful termination/discrimination claim with the Texas Workforce Commission that was denied, and her current complaints were very conspicuously absent from that action. This is the first time I've ever heard of them.
"And she didn't sue me, she sued Buzzard Billy's. It appears to be an attempt to smear my reputation in a lawsuit I'm not involved with in order for Ms. Ogburn to gain some type of advantage. It's not true," he said.
Ogburn's attorney, Amy Carter of Dallas, said the "facts are particularly egregious, especially given the retaliatory action when she was bringing up the manager's bad behavior."
"It is a small community and she attends church with the owners of the company and that has caused her some anxiety in her general life now because she feels like they ignored her pleas for safety for herself and the other employees at the restaurant," Carter said.
According to the lawsuit, Lella began a pattern of discrimination in July 2020 by telling Ogburn that Buzzard Billy's had too many male servers at the time and instructed her to hire more females.
That same month, an employee recommended a former co-worker for a bartender or server position and the lawsuit alleges Lella asked, "Does she have big tits?"
The following month, the lawsuit claims, Lella demanded Ogburn fire a hostess and hire someone "hotter," meaning more attractive. Lella said if she asks why she was being fired, to lie and say she could not work because she wore a medical boot. When Ogburn informed her she was being fired because she wore a medical boot, the hostess threatened to sue for discrimination, the suit alleges.
"On or about Aug. 2, 2020, Ms. Ogburn spoke with Becky Lindsey, an owner of Buzzard Billy's, about Mr. Lella's comments and the hostess' threats," the suit states. "Ms. Lindsey told Ms. Ogburn that she knows Mr. Lella is a sexist but asked her 'to be patient for now.' Furthermore, in response to the hostess' threats, Ms. Lindsey said, 'bring it on.'"
The following week, Ogburn hired a man for a busser position. She told Lella and he asked the gender of the new hire, the suit alleges.
"When told the gender, Mr. Lella became irate and began to publicly berate her, explaining that 'he is not what we are looking for.' When Ms. Ogburn asked what she was supposed to look for, he replied, 'hire 8 female servers,'" according to the lawsuit.
Ogburn rescinded the job offer and told the man they were not hiring bussers at that time, the suit states. She reported the incident to Claude and Becky Lindsey.
"And again, neither did anything to address the wildly sexist behavior," the suit alleges.
Later, the suit alleges Ogburn was seating customers when she saw Lella on a FaceTime call with a naked woman while Lella was sitting at a table.
"The woman's entire naked body was exposed and within view of Ms. Ogburn and at least five other employees," the suit claims. "In full view of not only his naked FaceTime partner, but Ms. Ogburn and the other present employees, Mr. Lella began making sexual comments and behaving in a sexual manner, including flicking his tongue, licking his lips and blowing kisses at the woman."
The suit alleges Lella "continued to engage in the sexual activity over FaceTime" for 15 minutes in the "open, public section of Buzzard Billy's."
Ogburn again reported Lella to the Lindseys, the suit states. Becky Lindsey asked if she was the only one to see it. Ogburn said at least five other employee saw the FaceTime conversation. Becky Lindsey asked Ogburn to get statements from the employees, and Ogburn also told her then about another employee who wanted to complain "about being sexually harassed by Mr. Lella," according to the lawsuit.
On Aug. 19, 2020, Lella fired Ogburn, the suit alleges. When she asked why, the suit claims Lella said, "I do not have to tell you why." Ogburn tried to call and text the Lindseys but neither answered, the suit says.
"Not only was Ms. Ogburn forced to endure gender discrimination and sexual harassment, but she was retaliatorily fired after bringing up her manager's consistently discriminatory and harassing behaviors," the suit states.